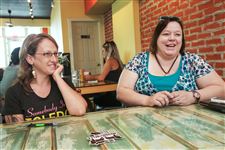 Rachel Richardson, the director of development, left, and Amanda Zuehlke, interim editor, discuss plans to expand Toledo Streets, the newspaper sold to benefit the homeless and formerly homeless. The paper has gained support from TARTA, Lucas County, Lourdes University, and the Toledo mayor.
THE BLADE/KATIE RAUSCH
Enlarge | Buy This Image
The odds are stacked against a publication going into business on a shoestring budget and hanging around long enough to talk about it in this rapidly changing, high-tech communications world.
But Toledo Streets — like many other newspapers written by and for those who are homeless or struggling to pay bills — is different.
It's part of a growing trend of newspapers written by, produced, and sold by street people nationally that are defying conventional wisdom and enjoying modest success, even as money is being lost and jobs have been cut in many mainstream publications nationwide.
Those behind Toledo Streets attribute their success to their business model: They are in the business of changing lives of the people they serve, literally, with temporary jobs intended only to help them smooth over a rough stretch of time and get back on their feet with job skills that can get them back into the work force.
"From my standpoint, if someone's a vendor for two to three years, we've failed them," said Ken Leslie, founder of 1Matters, the group behind Toledo Streets.
The paper is hawked by vendors who get 75 cents of every $1 issue they can sell.
That teaches them money-management skills, promotes a work ethic, and renews confidence, said Amanda Zuehlke, the paper's founding and current editor.
Less known is how the vendors also are enticed to help sell advertising.
And how Toledo Streets is catching on.
Toledo Area Regional Transit Authority has signed on as a sponsor.
Lucas County has contributed $20,000 in work force development grants.
Toledo Mayor D. Michael Collins' administration is contributing $9,000 from the mayor's discretionary fund.
Moe Gonzalez sells copies of Toledo Streets near 16th and Jefferson streets last year. Vendors pay 25 cents for each paper and are able to keep the difference on the $1 price.
THE BLADE
Enlarge | Buy This Image
Lourdes University in Sylvania is setting up a program to provide vendors three classes in job-seeking skills. Those will include, but are not limited to, writing resumes and cover letters, instruction that Toledo Streets employees also have been giving.
"The first few years, Toledo Streets was getting its roots in the ground, and now it's growing," Mr. Leslie said.
Another positive sign of potential growth and stability is the newspaper's decision to hire its first developmental director, Rachel Richardson, a local musician and director-curator of Art Corner Toledo, which specializes in murals in the UpTown Toledo and Old West End districts.
Ms. Richardson will work on a part-time basis trying to secure more sponsors and grants for Toledo Streets.
She said she plans to work with area lawyers and the city's police department on fund-raising efforts now that many of them have become familiar with the publication through sales in the vicinity of the Lucas County Courthouse.
"Compassion is a huge element," Ms. Richardson said. "As soon as I learned about the paper, I believed in it. It's in the compassion business.
Mr. Leslie said the eventual goal is to have it break away from 1Matters and sustain itself as a free-standing organization, much like street papers 1Matters helped create in Ann Arbor and Detroit.
Toledo Streets focuses on helping the city's have-nots, not only through the opportunity to help them write and make a little spending cash, but also in lifting their spirits psychologically.
Many vendors have attested to that over the years.
"The problem is once you've been beaten down so far, you stop believing in yourself," said Mr. Leslie, who was once homeless himself.
The paper has applied for nonprofit status. Once granted, that could open new funding opportunities, Ms. Zuehlke said.
Toledo Streets was created in 2009.
An Oct. 17 gala is being planned to mark its 5th anniversary.
"Number 1, it's always going to be about the vendor," Ms. Zuehlke said. "We are working with people at rock bottom and willing to work and bring themselves up."
Toledo Streets is part of the International Network of Street Papers, which represents street newspapers in 40 countries.
The publications are served by an online news agency called Street News Service, with stories published in three languages.
It operates like a news co-op, with articles exchanged among its member papers for free.
Contact Tom Henry at: thenry@theblade.com or 419-724-6079.
Guidelines: Please keep your comments smart and civil. Don't attack other readers personally, and keep your language decent. Comments that violate these standards, or our privacy statement or visitor's agreement, are subject to being removed and commenters are subject to being banned. To post comments, you must be a registered user on toledoblade.com. To find out more, please visit the FAQ.