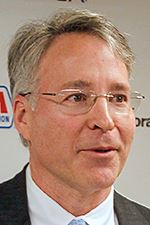 Hylant
THE BLADE
Enlarge | Buy This Image
The water crisis that gripped the Toledo area over the weekend is being deemed by many as a colossal wake-up call when it comes to protecting the Great Lakes.
The Great Lakes Protection Fund estimates 1 trillion gallons of water are drawn for human use daily from the world's largest freshwater system.
"There's a lot of pressure on that system to support human life," said Richard Hylant, chairman of the fund's board and an executive at the Toledo-based Hylant Group.
"We've got to take care of it."
Mr. Hylant said more than a quarter of the people who get their drinking water from the Great Lakes — 11 million of a total 40 million — get it from Lake Erie, the smallest and shallowest of the five lakes.
Algal blooms are nothing new, he said, and toxic algae always existed alongside its more benign relatives. The scale of the bloom that forced Toledo to declare its drinking water unsafe is a result of decades of environmental changes in the lakes.
"The actual chemistry in the lake is different because of invasive species," Mr. Hylant said.
He said invasive zebra and quagga mussels are the primary source of trouble. The mussels filter the water, allowing sunlight to penetrate deeper into the lakes and creating increased opportunity for harmful algae to proliferate.
"Most people put this at the feet of runoff from farming," Mr. Hylant said. "That's a major contributing factor, but it's kind of like throwing gasoline on a fire that was already there."
Heavy use of water-soluble phosphorus on crops coupled with efficient field-drainage systems and altered lake chemistry results in a prime environment for problem algae.
Mr. Hylant said addressing invasive species will take generations, but steps to reduce the size of algal blooms can be taken much faster by reducing the use of phosphorus and taking steps to slow or prevent runoff.
"You're probably not likely to get them to go away, but you can hopefully manage to get them to be smaller events," he said.
Guidelines: Please keep your comments smart and civil. Don't attack other readers personally, and keep your language decent. Comments that violate these standards, or our privacy statement or visitor's agreement, are subject to being removed and commenters are subject to being banned. To post comments, you must be a registered user on toledoblade.com. To find out more, please visit the FAQ.