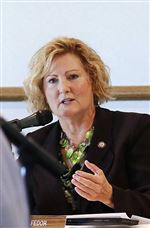 Rep. Teresa Fedor speaks during Friday's Lake Erie Legislative Caucus meeting at Maumee Bay State Park in response to Toledo's water crisis.
THE BLADE/LORI KING
Enlarge | Buy This Image
With as many as 13 members of the Ohio General Assembly hearing testimony and a standing-room-only crowd of as many as 250 people at a time — many of them northwest Ohio office-holders and other public officials — a special Lake Erie Legislative Caucus was held Friday at Maumee Bay State Park. It was a rallying cry in response to the algae-induced Toledo water crisis earlier this month, when 500,000 metro Toledo residents were deprived of safe drinking water for three days.
Toledo Mayor D. Michael Collins, the city's point man throughout the ordeal and one who has taken a lot of heat for overdue repairs to Toledo's Collins Park Water Treatment Plant since then, was there to listen but didn't offer testimony.
The hearing drew attendees such as Chris Taylor, the plant's retired chief chemist and mentor to several other regional water plant employees; environmental activists from as far away as Chicago, and solid representation from Ohio's agricultural lobby, including two members of the Ohio Farm Bureau who delivered testimony.
The marathon event took more than 5½ hours, despite co-chairmen Rep. Sen. Randy Gardner (R., Bowling Green) and Rep. Chris Redfern (D., Catawba Island) trying to enforce a five-minute limit on each speaker.
Subjects such as tourism, public health, science, and politics were discussed, with most speakers describing the Toledo water crisis as a turning point for Lake Erie's ecological health.
Great Lakes scientists have said in recent years the lake has been on a downward slide this century, after finishing the last century as one of America's biggest environmental comeback stories.
Burning rivers
To Frank Greenland, watershed programs director of the Cleveland-based Northeast Ohio Regional Sewer District, the Toledo water crisis will become as much of a galvanizing moment as the Cuyahoga River's 1969 fire, which propelled Lake Erie into the national spotlight.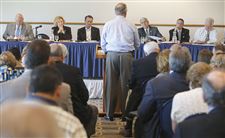 Jack Fisher, executive vice president of the Ohio Farm Bureau, speaks during the 5½-hour Lake Erie Legislative Caucus meeting on Friday.
THE BLADE/LORI KING
Enlarge | Buy This Image
In his book, Burning Rivers: Revival of Four Urban-Industrial Rivers that Caught on Fire, federal biologist-author John Hartig also notes there have been three other Great Lakes waterways so polluted by filth they also caught fire at various times.
But the 1969 Cuyahoga fire was a symbolic turning point for ecological restoration last century, because it led to the modern era of sewage treatment as an impetus for the federal Clean Water Act and the Great Lakes Water Quality Agreement with Canada, both taking effect in 1972.
He called for mandatory controls on farm runoff and other sources of nonpoint pollution that feed algae with phosphorus.
"We will be ineffective at solving this problem unless we find a way of solving nonpoint pollution," Mr. Greenland said. "This program cannot be voluntary. If the Clean Water Act was voluntary, we would be nowhere close to where we are today."
State Rep. Mike Sheehy (D., Oregon), agreed the time has come for mandatory controls on agricultural runoff.
"It's like running a red light. The red light is not a suggestion," Mr. Sheehy said. "The era of cheap water is over."
Global story
To help illustrate how the story of Toledo's water crisis became a global story, Mr. Gardner read from an email he'd received. It began, "Is the water crisis [in Toledo] as bad is it is being reported in Africa?"
The other co-chairman, Mr. Redfern, opened the hearing by saying he considers the algae-induced problems with Toledo's water supply "the greatest crisis, the greatest challenge facing the Great Lakes."
Though barely two weeks ago, the algae-induced water crisis has sent shockwaves through Ohio's tourism industry and its business community, which fears how the global perception of the ordeal will hamper economic development, officials said.
Larry Fletcher, Lake Erie Shores & Islands executive director, said tourism along Ohio's eight Lake Erie shoreline counties was recalculated as having an economic impact of $12.9 billion on the state's economy before the Toledo water crisis, up from the previous estimate of $11.5 billion.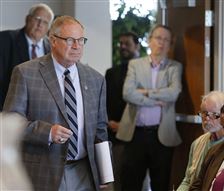 Toledo Mayor D. Michael Collins attended the special caucus meeting about Lake Erie at Maumee Bay State Park but didn't offer any testimony.
THE BLADE/LORI KING
Enlarge | Buy This Image
He said the negative exposure in the national media and the international press is simply impossible to overcome right away.
"A lot of people thought that was a Toledo issue," Mr. Fletcher said. "But the economic impact was felt up and down the shoreline. So I would submit to you, it was a Lake Erie issue. And because it impacted the state's tourism, it was an Ohio issue."
The hearing's first testimony was delivered by Adam Rissien, Ohio Environmental Council agricultural and policy director, who urged legislators to declare the Maumee River a "distressed watershed" and get tougher with regulations for protecting Lake Erie. No major American city should have to worry about a safe water supply, Mr. Rissien said.
Declaring the Maumee River a distressed watershed would make it easier for regulators to impose tougher rules on the agricultural industry for its fertilizer runoff, the largest source of algae-feeding phosphorus, Mr. Rissien said.
Testing protocols
Mr. Redfern said he's tired of the Ohio Environmental Protection Agency pointing out deficiencies in the Toledo water plant when the state and federal agencies have both failed to ever set a firm testing requirement for Lake Erie water treatment plant operators.
"The Ohio EPA is critical of the [Collins Park Water Treatment Plant], but there is no state testing requirement," Mr. Redfern said. "Attacking a system for not coming up with a protocol? That responsibility rests squarely with the Ohio EPA and the U.S. EPA."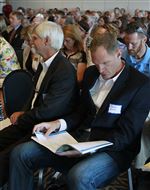 CTY watercausus16p 08/15/2014 The Blade/Lori King Jason Kolb, of Algix Water Solutions, reads during a special Lake Erie Legislative Caucus meeting at Maumee Bay State Park in Oregon, Ohio.
THE BLADE/LORI KING
Enlarge | Buy This Image
Until recently, there was no standardized testing protocol. As a result of the Toledo water crisis, the Ohio EPA, Toledo, and other plant operators have come to a consensus on how testing should be done. But the U.S. EPA has not developed a national testing protocol.
And, as Mr. Redfern noted, there still continues to be no state or federal law requiring water treatment plant operators to test for toxic microcystis algae.
Banning winter application of manure is a "no-brainer" to improve protection of the Maumee River and Lake Erie watersheds, Bill Myers of the Ohio Farm Bureau said.
David Spangler, the Lake Erie Charter Boat Association's 2014 Captain of the Year, said he and other charter boat captains hoped last September's temporary algae-induced shutdown of Ottawa County's Carroll Township water treatment plant, a first for Ohio, would have been the worst episode.
"We were hoping that would be the end of the situation, but it obviously has mushroomed to something much bigger," Mr. Spangler told legislators.
Ottawa County Sanitary Engineer Kelly Frey, who oversees the Port Clinton-based regional water plant that serves several thousand Ottawa County residents, said he continues to have great anxiety over what works best at neutralizing microcystis algae inside water plants and why.
Lack of research
A common refrain among him and other water treatment plant operators from Monroe to Sandusky has been the lack of U.S. Environmental Protection Agency research and testing requirements for the toxin produced by that type of algae, microcystin.
They've had pretty good luck keeping it out of the water supply through a suite of chemicals, but they want more research and clarification about which products work best and why.
"What I don't have is the confidence it's going to be removed from our water treatment plants with the technology we have. It may be fine, but I need the research," Mr. Frey said.
The Port Clinton plant is one of Ohio's newest, about 20 years old.
Mr. Frey said he has been following the Toledo water crisis closely.
"I've heard a lot of discussion about tearing that plant down and building a new one. Well, tell me what you're going to build, because I'd like to know what removes it [the algae]," Mr. Frey said.
He said the algae problem "is way ahead of the technology, in my opinion."
Without a testing requirement from the Ohio EPA or the U.S. EPA, area plant operators are left to guess how soon they should begin testing and how late they should continue outside of the most obvious testing period, the July-to-October algae season. "We basically do it when we feel like it," Mr. Frey said.
Mr. Frey said the city of Port Clinton and Ottawa County have made a decision to post water treatment records online as they become available.
Mr. Redfern pointed out several times during the hearing that the Ohio EPA and the U.S. EPA have never made testing a requirement, nor have they done the kind of research plant operators say they need to know what works best and why as they make adjustments inside their plants. All of that testing is voluntary.
Mr. Frey said he gets a lot of his scientific research "by googling what's done in other countries."
Plant operators got a verbal pat on the back from one of the region's longtime and most high-profile environmental activists, Lake Erie Waterkeeper founder Sandy Bihn, whom several legislators referred to simply as "Sandy."
"In my view, the water plant operators are heroes. These have been proactive people who have done things voluntarily," Ms. Bihn told the panel.
Contact Tom Henry at: thenry@theblade.com or 419-724-6079.
Guidelines: Please keep your comments smart and civil. Don't attack other readers personally, and keep your language decent. Comments that violate these standards, or our privacy statement or visitor's agreement, are subject to being removed and commenters are subject to being banned. To post comments, you must be a registered user on toledoblade.com. To find out more, please visit the FAQ.