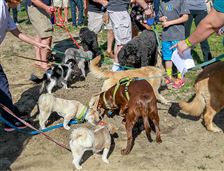 Dogs sniff for hot-dog treats as part of the groundbreaking ceremony for the Glass City Dog Park.
THE BLADE/LORI KING
Enlarge | Buy This Image
A new doggy playground set to open in a little more than a month is taking shape in South Toledo.
Appropriately punctuated by happy barks from the canines in attendance, Toledo Unleashed on Saturday held a ground-breaking ceremony for the Glass City Dog Park being built at Woodsdale Park off the Anthony Wayne Trail. A leash-cutting ceremony is slated for Sept. 27.
"We have been working on this for a number of years, and this is a pretty sight to see for all of us," said Tina Yoppolo, the nonprofit organization's president.
Some of the fencing has been installed on the 4.4 acres once occupied by the South Toledo YMCA for which Toledo Unleashed signed a five-year lease in December with the city of Toledo.
PHOTO GALLERY: Click here for more photos from the ground-breaking
The park will have three fenced areas for dogs to play off-leash: one for dogs 25 pounds and smaller and two for larger dogs that will be used alternately to provide idle time for its grass to recover.
A membership application process also opened Saturday, with Toledo Mayor D. Michael Collins becoming the first member with his golden retriever, Chloe. The city has supported the nonprofit's efforts.
"I just said, 'Go ahead and do it. Do it and we will support it,' " Mayor Collins said. "This is a quality-of-life issue."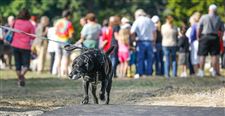 The park will have three fenced areas for dogs to play off-leash: one for dogs 25 pounds and smaller and two for larger dogs that will be used alternately to give the grass time to recover.
THE BLADE/LORI KING
Enlarge | Buy This Image
Lucas County has also contributed to the park. The county's 2015 dog-license forms will provide a space for dog owners to contribute to the park's ongoing maintenance expenses.
"With these things, you can start them, but you've got to sustain them," said Pete Gerken, a county commissioner. "We tried to set up a system where we have some money coming in now and some money coming in later."
Block Communications, The Blade's parent company, is also a donor.
"Block Communications has always been one of the major contributors to the quality-of-life issues in Toledo," company President Chip Carstensen said. "We feel it is important that the citizens in Toledo have the things that improve their quality of life. This is no exception."
City Councilman Rob Ludeman, appearing in his role as a board member of the Toledo Animal Shelter, announced the animal rescue was donating $10,000 to the construction of a second pavilion at the park in memory of patron Joyce Dudek.
"Not all our votes are unanimous, but this vote was unanimous," Mr. Ludeman said.
Ms. Dudek had donated property in Monclova Township to the shelter for a dog park, but zoning restrictions there did not allow it and the property was sold.
Toledo resident Randy Anaya attended the ceremony with his two Great Danes, Shadow and Deebo.
He moved to the city from Texas in September and was surprised there wasn't a dog park.
"When we first moved here, we were in a one-bedroom apartment," he said, noting his dogs now have a fenced back yard to play in. "They like getting out. They like running around with other dogs."
Mr. Anaya is signing up for membership to the park and plans to attend the grand opening.
"It's going to be awesome. We'll probably be out here two or three times a week at least," he said. "This is long overdue."
Membership for two dogs will be $40 a year, with charter memberships good through Feb. 13 set at $10. Annual memberships will begin Feb. 14 each year. The list of requirements and the application are online at toledounleashed.org.
Contact Alexandra Mester: amester@theblade.com, 419-724-6066, or on Twitter @AlexMesterBlade.
Guidelines: Please keep your comments smart and civil. Don't attack other readers personally, and keep your language decent. Comments that violate these standards, or our privacy statement or visitor's agreement, are subject to being removed and commenters are subject to being banned. To post comments, you must be a registered user on toledoblade.com. To find out more, please visit the FAQ.