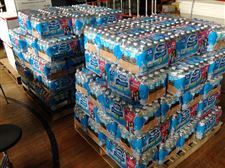 Perrysburg Schools bought about 160 cases of bottled water and has asked parents that if there is a drinking ban to send students with a bottle of water and a packed lunch.
THE BLADE/MATT THOMPSON
Enlarge | Buy This Image
Area school districts are taking a proactive approach in case of another do-not-drink water advisory from Toledo by stockpiling water and asking parents for help.
Perrysburg Schools bought about 160 cases of bottled water and has asked parents that if there is a drinking ban to send students with a bottle of water and a packed lunch.
In a letter sent Wednesday to students' homes, Perrysburg Schools said it plans to stay in session if another ban comes.
"We are on alert. Our custodians know to cover faucets and we have bottled water available. However, we wouldn't be able to maintain it more than a day or two," said Aura Norris, human resources director for the district. "Long term, we ask parents to send water with their kid."
In Toledo Public Schools, a spokesman said they've started looking into the cost and logistics of providing two bottles of water a day for each student and employee. But that has a big price tag attached: It would cost $24,000 a day to provide the 23,000 students and 4,000 employees with a total of 54,000 bottles of water.
The district will not have the water on the first day of school — Tuesday — but is talking with vendors about the possibility of getting water for the next two weeks.
Sylvania Schools is storing a three-day supply of drinking water and plans to acquire up to a five-day supply in case there is another water emergency.
Like other school districts, it also has a plan to implement a lunch menu that serves food that does not require water, such as bananas, canned fruit, chicken nuggets, a district spokesman said.
The district is stocking up on hand sanitizers in all classrooms, bathrooms, and public areas and expects to send parents a detailed letter next week about its water plan.
Maumee Valley Country Day School has 150 gallons of bottled water and sanitary hand wipes available. According to a letter sent to parents, officials plan to educate students on safe uses of water and will stay open if possible.
Washington Local Schools has a contingency plan in place for major events, but the district likely would close if there was a water advisory.
"It is difficult to imagine that we could hold school without a kitchen or the ability to wash hands," spokesman Wendy Farran said in an email to The Blade.
In Perrysburg, even though the district would provide lunches without using tap water, supplies wouldn't last long if most children didn't pack a lunch. The limited lunches would include lunch meat sandwiches and peanut butter and jelly, as well as prewashed veggies and dip.
The district said it would be able to get more water to replenish supplies after a day or two.
"It is good to have," Ms. Norris said of the plan. "Have awareness and a little stockpile. Hopefully we don't need it, but we're being prepared."
She said during a water alert, Gordon Food Service would provide the district with a shipment of bottled water packages that day. The water was $4 a case, including delivery. The stockpiled water's "use by" date is May, 2018. Ms. Norris said the water could be sold at schools before then and restocked if needed.
Perrysburg district administrators came up with the plan by talking with the Wood County Health Department and its own food service department.
Styrofoam trays would help the district provide food when it could not use tap water to wash dishes.
Even with the plan, though, the district said it would close if authorities say toilets cannot be flushed or if the county health department says a closure is needed.
One private school in Perrysburg was doing its own preparation Thursday. At St. Rose School, principal Bryon Borgelt said the school plans to stay open during a water crisis.
It also has asked parents to send children to school with water and a lunch, in the event of a water ban. Mr. Borgelt said the school has 75 cases of bottled water and gallon jugs for sanitation purposes.
Penta Career Center, a Perrysburg Township vocational school that has students from several area districts, plans similar tactics to stay open in case of another water advisory.
Monica Dansack of Penta said the school would serve sandwiches and packaged pizza for lunch. It also has hand sanitizers and wipes in case sinks can't be used for hand washing.
Maumee Schools has enough water to finish a school day if a drinking ban happened during the day. A parent notification system will be used if a water emergency happens and Maumee will decide on a day-by-day basis whether to keep schools open during a water crisis, officials said.
Staff writers Marlene Harris-Taylor and Natalie Trusso Cafarello contributed to this report.
Contact Matt Thompson at: mthompson@theblade.com, 419-356-8786, or on Twitter at @mthompson25.
Guidelines: Please keep your comments smart and civil. Don't attack other readers personally, and keep your language decent. Comments that violate these standards, or our privacy statement or visitor's agreement, are subject to being removed and commenters are subject to being banned. To post comments, you must be a registered user on toledoblade.com. To find out more, please visit the FAQ.