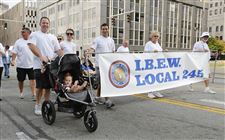 Members of the International Brotherhood of Electrical Workers Local 245 march in the Toledo Labor Day Parade. On Monday, thousands of union members marched through downtown past streets crowded with area residents and several dozen politicians.
THE BLADE/JETTA FRASER
Enlarge | Buy This Image
Thousands of marchers celebrated the history of organized labor Monday in a parade that was long on trucks, antique cars, and people walking in large groups.
Union local members tossed out countless pieces of candy and other items, including nurse caps that bore the phrase, "Future Nurse."
A young woman planning to be a nurse caught one of those hats.
PHOTO GALLERY: Click here to view slideshow.
Madison Lester, 19, of Oregon, an Ohio State University sophomore, is planning to enter OSU's nursing program.
"It was a good parade," Ms. Lester said as one of the last entries, a long row of Chevrolet Corvettes, rumbled by, and as she twirled her parade keepsake. "The bands were good. Could have been more."
Ms. Lester and her mother, Renee Lester, 49, of Oregon attended their first Labor Day Parade to see a friend march with Ironworkers Local 55.
The Lesters may have been in the minority in being at their first Toledo Labor Day Parade.
Many spectators indicated they had been coming for years.
Dal Lawrence, co-grand marshal of the parade, said he's missed only one in all the years it has been held.
"I was present at the creation when Dale Stormer started all this," Mr. Lawrence, 82, said, in reference to the late former head of the Toledo-area AFL-CIO. Mr. Lawrence was president of the Toledo Federation of Teachers from 1967 until he was succeeded by his wife, Francine Lawrence, in 1997. She stepped down in 2011.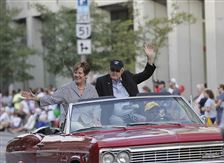 Francine, left, and Dal Lawrence serve as grand marshalls of the parade.
THE BLADE/JETTA FRASER
Enlarge | Buy This Image
Coincidentally, the teachers' union float won the first Coughenour Award, a cup and plaque selected and awarded by the family of the late Ron Coughenour, who was executive secretary and treasurer of the Toledo Area AFL-CIO from 1991-2003.
The winning float depicted students and teachers dressed in pioneer clothing on one side and a robot on the other, a large apple in the middle, and the slogan: "The Promise of Public Education."
Mayor D. Michael Collins joined other elected officials in observing the parade from the reviewing stand rather than walk with the union he headed for 10 years, the Toledo Police Patrolman's Association.
"I could have walked with the TPPA but I felt it more important to be here," Mr. Collins said, as he shook hands with passing marchers.
He said the size of the parade and the mood of the marchers signaled hope in the future of Toledo.
"Work force development is critical to the economic future of our city. We can certainly tell the world from what we have here that what we have is a work force that is value-added," Mr. Collins said. "I think they're demonstrating Toledo labor believes in Toledo."
More than 100 union locals and associated groups participated. The parade included marching bands from the Start, Woodward, and Rogers high schools, the Spencer Township Cowboys, an antique fire truck, Shriners driving Jeepsters, and the Maritime Academy of Toledo Drum Line, and many others.
Another first this year was a large labor picnic held after the parade at the Lucas County Fairgrounds in Maumee.
Unlike some years, there was no celebrity politician in the parade, and the overall tenor seemed to lack any political acrimony, even with it being a political year.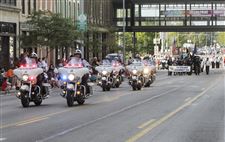 The motorcycle unit of the Toledo Police Department leads the Toledo Labor Day Parade.
THE BLADE/JETTA FRASER
Enlarge | Buy This Image
Dennis Duffey, secretary-treasurer of the Ohio State Building and Construction Trades Council, walked with International Brotherhood of Electrical Workers Local 8. He said the days of unions automatically following the Democratic Party are waning.
The OSBCTC has endorsed Republican Mike DeWine for re-election as state attorney general, breaking with the usual union preference for Democrats.
"Democrat, Republican, independent, we don't care anymore, if you support our issues," Mr. Duffey said.
The organization is expected to decide on a gubernatorial endorsement Oct. 2.
Darla Wolfe of Swanton stood with a banner reminding marchers of the deaths of five union workers in the construction of the Veterans' Glass City Skyway bridge.
"My brother was one of the iron workers," she said, referring to Robert Lipinski, Jr.
"A lot of the trades people work hard. A lot of them have dangerous jobs. We need to look out for each other," said Ms. Wolfe, 53, who is a crane operator and a member of the International Union of Operating Engineers.
Sandy Covarrubias, 50, of East Toledo said she's been coming to the parade all 32 years that she has been with her husband, IBEW member Patricio, 55.
"I support the labor union. Without them there'd be nothing. You wouldn't have a liveable wage," Ms. Covarrubias said. She had her two grandsons with her.
"We usually watch [the parade] until Local 8 comes through and then we get in with the group," she said. "We've done this since we were married."
Spectators enjoyed overcast but rain-free weather.
This year's parade T-shirts commemorated the 80th anniversary of the Auto-Lite strike of 1934 in Toledo, one of the turning points in the U.S. labor movement.
Contact Tom Troy: tomtroy@theblade.com or 419--724-6058 or an Twitter @TomFTroy.
Guidelines: Please keep your comments smart and civil. Don't attack other readers personally, and keep your language decent. Comments that violate these standards, or our privacy statement or visitor's agreement, are subject to being removed and commenters are subject to being banned. To post comments, you must be a registered user on toledoblade.com. To find out more, please visit the FAQ.