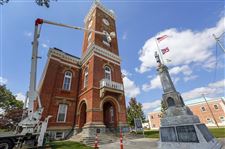 An employee of Brian Brothers Painting and Restoration of Piqua, Ohio, paints window shingles on the exterior of the Fulton County Courthouse in Wauseon. The painting is part of a three-phase restoration project that's under way.
THE BLADE/AMY E. VOIGT
Enlarge | Buy This Image
WAUSEON — Walk into the Fulton County Courthouse and history smacks you to attention like the rap of a gavel.
It's a splendid building with one of the grandest courtrooms in Ohio, if not the entire United States.
Attorneys who enter the common pleas courtroom for the first time — awestruck by stately furnishings and elaborate architecture, the cut-it-with-a-knife aura of justice, dignity, and respect — have been known to whisper with near reverence, "This is why I went to law school."
PHOTO GALLERY: Click here to view more photos
Vond Hall, a Fulton County administrator since 1994, said he has visited many courthouses, and while some were beautiful, there were "none quite like this one.
"Our courthouse always has been a building of great respect, and the commissioners approach it from that perspective," Mr. Hall said.
Built between 1870 and 1872 at a cost of $44,350, the local landmark in downtown Wauseon features a Romanesque-style, 100-foot-tall clock tower. It is listed in the National Register of Historic Places and has been preserved and protected on purpose and with pride.
It is the common pleas courtroom's spectacular glass dome that strains the neck.
It's not a quick glance. It's a look up and up. Thanks to tedious and oh-so-careful brushing by hand of the dome's sooty exterior in 1999, light glints and glances from the work of art.
Local lore is mixed on the majestic murals adorning the courtroom walls.
Some say unemployed artists painted the murals during the Great Depression as part of a government relief program. Others say the murals were added to the courtroom in 1899. According to local accounts, an artist who redecorated the courthouse in 1924 painted clothing to cover bare-breasted women posed in the mural scenes added feet to the Goddess of Liberty so she "wouldn't look like a freak" and adjusted wings of an eagle "so the old bird will not be mistaken for a buzzard."
A three-phase restoration project under way involves exterior work: tuck-pointing and painting plus restoration of the tower's clock. The hands of time have stopped the clock; repairs are scheduled to restart its ticking.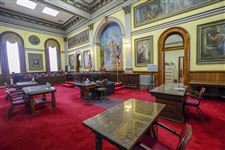 Local history can be found on murals that adorn walls in the Fulton County Courthouse. The murals went up sometime between 1899 and the Great Depression.
THE BLADE/AMY E. VOIGT
Enlarge | Buy This Image
For nearly 150 years, Fulton County's history and its court system have centered on this building, and Mr. Hall said no plans exist to do anything but maintain and use the historic structure owned by county residents, used by county residents, and maintained for county residents.
The courthouse, located along South Fulton Street in downtown Wauseon, is the county's third.
The first Fulton courthouse in Ottokee was a two-story frame building built in 1851, and it was destroyed by fire in 1864. A successor was built of brick in 1865.
Delta and Wauseon vied for the county court to move to their communities. Eventually Wauseon became the county seat and a new courthouse, the one that is still used today, was constructed there.
Now the original two-story frame courthouse could come to life as a highlight of a proposed historical museum/​welcome center. Incorporating the first county courthouse into the design of the new building was suggested by John Swearingen, Jr., director of the Fulton County Historical Society.
Such a design would tie into the "whole notion of the value of the county courthouses, incorporating all the way back to the original," Mr. Hall said.
Fulton County received $1 million from the state capital budget for the new building, he said. The museum/​welcome center is to be built on county-owned land across from the Fulton County Fairgrounds along State Rt. 108 north of Wauseon.
The new center's design would include a red barn, a nod to Fulton County's agrarian heritage, and exhibit themes would connect to the county motto: "We will find our way or make our own."
Going from the past to the present, exhibits featuring county residents making their own way would tell visitors how area residents are starting up wineries, building hotels and golf courses, and how Sauder Village continues to expand, for instance.

Fulton County received $1 million from the state capital budget for a museum and ​welcome center that would include a red barn. The design is a nod to the county's first courthouse, which was built in 1851 and destroyed by fire in 1864.
Stories would be told about people who have been living in their parents' basements who are coming up and out to get their own places to live as job opportunities improve in the county, he said.
Mr. Swearingen said county residents support the new museum because it will take the county's history out of its Wauseon location to a place where all communities and townships can be represented in an expanded fashion.
"People love the idea of moving out of Wauseon proper," Mr. Swearingen said. "There is a stigma that we now have a Wauseon museum and don't care about other towns."
Fulton County's courthouse is a sentimental place for Commissioner Perry Rupp, whose mother worked there; he often stopped by while walking home from school during the 1960s.
Although Mr. Rupp is no history or preservation buff, he said he values the courthouse, the county's center of government for many years.
Many Ohio counties have let their old courthouses decay beyond the point at which they can afford to maintain them, Mr. Rupp said, but Fulton County's commissioners appreciate the need to keep ahead of repairs to preserve the courthouse in Wauseon.
Mr. Rupp and the county's maintenance director attended a courthouse symposium earlier this year in Columbus, and he said the movement to preserve such buildings extends beyond Ohio to across the nation.
The Fulton County Courthouse's importance can be seen in many pictures displayed in the county, Commissioner Paul Barnaby said. The courthouse is a focal point of those pictures, representing the feeling of the whole county, he said.
"This is our landmark which we base our activity around," Mr. Barnaby said.
Contact Janet Romaker at:jromaker@theblade.com or 419-724-6006.
Guidelines: Please keep your comments smart and civil. Don't attack other readers personally, and keep your language decent. Comments that violate these standards, or our privacy statement or visitor's agreement, are subject to being removed and commenters are subject to being banned. To post comments, you must be a registered user on toledoblade.com. To find out more, please visit the FAQ.