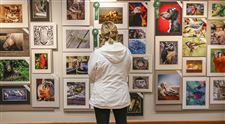 In a display area at the National Center for Nature Photography at Secor Metropark in Sylvania Township, more than 300 submissions for the Photo Arts Club of Toledo's photo contest hang on a wall. The glossies were from a variety of artists.
THE BLADE/JETTA FRASER
Enlarge | Buy This Image
After a seven-month renovation, the National Center for Nature Photography has opened with three exhibits.
On Sunday, Secor Metropark in Sylvania Township hosted a community celebration for the newly remodeled building, constructed in the 1950s. The gallery that features award-winning nature photography was enlarged and brightened, as some walls were knocked down and more windows were constructed, letting in natural light.
The upgrades added 1,000 square feet to the two-story building, bringing total gallery space to 3,000 square feet. The refreshed look transformed office space into display and programming areas, placing operational duties upstairs.
PHOTO GALLERY: Click here to view more photos
Visitors got a first look at children's books author and photographer David FitzSimmons' Curious Critters: Larger than Life!, which detailed animal and insect portraits.
Art Weber, director of the Metroparks' photography center, produced Ohio's Sand Country: We Call It The Oak Openings, a traveling collection of 25 photographs highlighting the unique plants and animals within the Oak Openings Region of Lucas County.
"We are hoping to bring the exhibit to libraries, nature centers … throughout Ohio to spread education of the Oak Openings Region beyond our backyard," Metroparks spokesman Scott Carpenter said.
Secor Metropark is "one of the bookends" for the Oak Openings Corridor, an ongoing project to create a continuous greenway connecting the Metroparks with local and state parks that makeup the rare ecosystem, he said. The other bookend is the Metroparks Oak Openings Preserve in Swanton.
In a new display area hung more than 300 submissions for the Photo Arts Club of Toledo's annual photo contest. The glossies were from a variety of artists, showcasing a multitude of scenes and subjects that aren't necessarily nature-based.
The project cost about $600,000 for the building renovations, Mr. Carpenter said, with the Metroparks using money from its capital improvement fund. Another $300,000 was spent beautifying its landscaping and adding two new patios decorated with pergolas for outdoor events.
A compass rose was stamped into the freshly poured patio concrete. Measuring about 20 feet across, the compass was strategically placed at the start of the park's trailhead and where walkways are planned to connect the Oak Openings Corridor, a scenic eight-mile route coursing through parks and preserves.
Visitors were provided maps or transportation to tour new park areas, specifically an unnamed property on Eber Road that will eventually become part of the corridor.
The National Center for Nature Photography, Secor Metropark, 10001 W. Central Ave., will be open from 10 a.m. to 4 p.m. Fridays, Saturdays, and Sundays.
Contact Natalie Trusso Cafarello at: 419-206-0356, or ntrusso@theblade.com, or on Twitter @natalietrusso.
Guidelines: Please keep your comments smart and civil. Don't attack other readers personally, and keep your language decent. Comments that violate these standards, or our privacy statement or visitor's agreement, are subject to being removed and commenters are subject to being banned. To post comments, you must be a registered user on toledoblade.com. To find out more, please visit the FAQ.