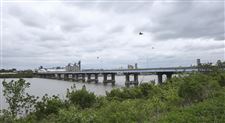 Plans for rebuilding the DiSalle Bridge include better ramps at South Avenue, where trucks to and from the riverfront terminals must make hairpin turns and rapidly change speed.
THE BLADE/JEREMY WADSWORTH
Enlarge | Buy This Image
The digging has barely begun on the Ohio Department of Transportation's I-75 reconstruction north of downtown Toledo, but not long after that work is done, even more orange barrels may sprout on an even bigger project.
Replacement of the DiSalle Bridge, by far Toledo's busiest Maumee River crossing with more than 75,000 cars and trucks on a typical day, is now tentatively scheduled to start in late 2019 and take four years to complete.
With freeway reconstruction between the South Avenue interchange just north of the DiSalle and Glenwood Road in Rossford included, that project's bill is now estimated at $225 million.
And as soon as late 2017, construction could start on the other section of I-75 in Toledo south of I-280 that isn't already torn up: the stretch between the South Avenue interchange and Dorr Street.
That project, which would include rebuilding the downtown viaduct where I-75 interchanges with the Anthony Wayne Trail and its Erie and Michigan streets legs to downtown Toledo, has a $195 million estimated price tag and is expected to last for three years.
The combined bill of $420 million, when adjusted for inflation, exceeds by about $90 million what the state spent last decade to build the Veterans' Glass City Skyway and rebuild I-280 at either end of it.
The difference is 15 years of inflation and a lot more road reconstruction to be done, said Mike Gramza, planning administrator at ODOT's district office in Bowling Green.
State officials say the money for the I-75 work in Toledo will come from ODOT's regular construction funding, rather than the Ohio Turnpike bond program now being used to widen I-75 between Perrysburg and Findlay, because the DiSalle reconstruction and related work won't significantly expand capacity on the freeway.
What the two projects will do, however, is replace a string of aging bridges near downtown Toledo beneath which state workers have had to place wooden cribbing to catch crumbling concrete. They've also had to replace left-hand entrance ramps at the Trail interchange with ramps entering I-75 from the right, and eliminate dangerous ramp merges at either end of the DiSalle.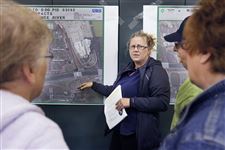 Denise Koch-Vargo talks to her neighbors, who live on Selkirk Street, during a public meeting at Westfield School on ODOT's latest plans for I-75. Part of the project would extend Selkirk Street, making it no longer a dead-end, prompting concerns about traffic.
THE BLADE/JULIA NAGY
Enlarge | Buy This Image
Among about 70 people who turned out Tuesday evening for an ODOT "open house" meeting at Westfield Elementary School about the two projects, the DiSalle replacement was by far of greater interest, mostly because its footprint includes a dozen residential properties on either side of the river and one business on Sumner Street that will have to be condemned.
Two homes on Woodmore Street, in a small neighborhood across from Hollywood Casino Toledo, are on that list, along with 10 on streets in the South End neighborhood.
"This is nothing but for the casino," said Paul Floering, a Sumner Street resident whose home is slated for removal to help make way for the embankment supporting a new South Avenue entrance ramp to southbound I-75.
Mr. Floering acknowledged the existing ramp is dangerous, and that his personal displeasure would be reduced if he thought he were going to get a decent amount of money for his property. Its assessment is low because of blighted areas nearby, he said, even though his immediate neighbors keep their properties up well.
ODOT officials said the ramp relocation has more to do with providing safer freeway access from South Avenue, including for trucks headed to I-75 from Toledo's riverfront grain and aggregates terminals.
Such trucks must make a hairpin turn from westbound South to the existing ramp, and the top of the ramp has no acceleration space at its merge into I-75 traffic. Crashes there have involved drivers that stopped on the ramp because they couldn't safely merge into I-75 traffic and were hit from behind, and others who forced their way in without enough room.
John Harman, who lives near I-75 on St. Mary's Street but whose home will stay, said he avoids the South Avenue ramp because it's dangerous.
"This here has needed done for years," he said.
And Ray Bartlett, who lives on Jervis Street, said he's thrilled that the work will include replacing I-75's crumbling bridge over nearby Segur Avenue, where emergency concrete patching has required multilane closings several times recently.
"My whole neighborhood shakes because of that thing. When a semi goes over it, [stuff] falls off my walls," he said.
Leister Game and Novelty on Sumner is the one business likely to be displaced by the new South ramp, and Ralph Ruff, its owner, said that it's mainly a catalog business for which the location is unimportant, beyond its already being paid for.
ODOT officials said the state can offer relocation assistance, but Mr. Ruff said that with his 80th birthday coming up, it might be "a good opportune time" to close up shop.
"It'll be up to my family to decide if they want to keep the business going," he said.
Although small strips will be needed from 17 or 18 properties to do the I-75 work between South and Dorr, no total condemnations will be required for that construction, said Doug Rogers, ODOT's project manager.
The main issue with that project, he said, is the possibility of long-term ramp closings while both the viaduct and the Trail beneath it are rebuilt in several phases. ODOT has dropped the idea, meanwhile, of moving northbound I-75's 14th Street entrance to a new ramp off Michigan/​the Trail.
Mr. Gramza said ODOT's plan for the DiSalle project is to maintain two lanes in each direction. The current bridge has three, and its replacement will have those, plus another lane for the entrance and exit ramps at the South and Miami interchanges at either end.
State officials will post signs urging traffic to use alternate routes to avoid the work zone but did not consider closing I-75 altogether so the DiSalle replacement could be built faster, Mr. Gramza said.
"With all the local traffic we have, there is no reasonable detour for this project," he said.
ODOT's current projects on I-75 in Toledo — reconstruction between Dorr and I-475 and reconstruction and widening between I-475 and I-280 — are scheduled to end next year and in 2018, respectively.
The 2017-2019 timing for the South-Dorr section and 2019-2023 schedule for South to Glenwood, Mr. Gramza said, is tentative but not definite.
"That's the best information we have right now — that's when we have the funding available," he said.
Contact David Patch at: dpatch@theblade.com or 419-724-6094.
Guidelines: Please keep your comments smart and civil. Don't attack other readers personally, and keep your language decent. Comments that violate these standards, or our privacy statement or visitor's agreement, are subject to being removed and commenters are subject to being banned. To post comments, you must be a registered user on toledoblade.com. To find out more, please visit the FAQ.