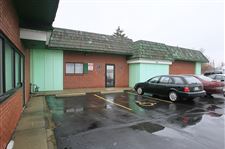 The Capital Care Clinic at 1160 West Sylvania Avenue in Toledo.
THE BLADE/JETTA FRASER
Enlarge | Buy This Image
A Lucas County judge today ruled that Toledo's only remaining abortion clinic may remain open.
Common Pleas Judge Myron Duhart reversed the July 29, 2014, order of the Ohio Department of Health ordering Capital Care Network to close its surgical center. The West Toledo clinic had been ordered to close because it did not have a transfer agreement with a "local" hospital to provide emergency care for its patients.
RELATED: Read the text of Judge Duhart's ruling
Capital Care had secured such an agreement with the University of Michigan System, some 52 miles away in Ann Arbor, after the University of Toledo Medical Center, the former Medical College of Ohio, decided to not renew its agreement with Capital Care effective July 31, 2013.
DeWine
Blade Enlarge
The 30-page decision was issued a day after Ohio Attorney General Mike DeWine filed a motion that a pro-life group hoped would expedite a decision in the Lucas County case, although Judge Duhart said it was reports of a provision added to the state budget by the Senate Finance Committee this week that spurred his decision.
The provision, which has since been removed from the budget, would have added the requirement that an abortion clinic have a transfer agreement with a hospital within 30 miles of the clinic.
"It was my decision to issue the order today given the pending legislation apparently that has been introduced," he said. "Not knowing what the time frame of the pending legislation is, I thought it would be germane and important to make sure that issues that were present prior to, this court made its decision."
The Attorney General's Office had asked in its motion that the court consider litigation in a Cuyahoga County court case involving a Cleveland abortion clinic.
A motion for notice of supplemental authority was filed Thursday in Capital Care Network's challenge to an order from the state Department of Health to close following a hearing officer's recommendation that the clinic lacked a valid emergency care agreement with a local hospital.
Attached to the attorney general's motion is the Cuyahoga County Common Pleas Court decision from last month that said Preterm Abortion Clinic of Cleveland didn't have standing to challenge abortion-related amendments passed in 2013 as part of the state budget bill.
Attorneys for Preterm had appealed Judge Michael Russo's summary judgement ruling.
Judge Duhart had granted an emergency motion nearly a year ago that allowed the clinic to operate while he considers the merits of the appeal.
Guidelines: Please keep your comments smart and civil. Don't attack other readers personally, and keep your language decent. Comments that violate these standards, or our privacy statement or visitor's agreement, are subject to being removed and commenters are subject to being banned. To post comments, you must be a registered user on toledoblade.com. To find out more, please visit the FAQ.