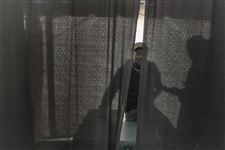 A man receives medical care at Saturday's Tent City event in Toledo, which is organized by 1Matters. The organization also runs Veterans Matter, which is hosting '11/11@7' events to raise awareness about veteran homelessness.
THE BLADE/SHELBY KARDELL
Enlarge | Buy This Image
In cities across America this year on Veterans Day, service clubs will host fund-raising rallies to benefit homeless veterans, thanks to a partnership between two Toledo nonprofit groups.
Veterans Matter is joining with the National Exchange Club, a service organization based in Toledo, to host "11/​11@7" events to support Veterans Matter's efforts to get homeless veterans in permanent housing.
In nearly 50 cities across the country, National Exchange Club chapters will host coordinated events at 7 p.m. on Nov. 11. Events will kick off in cities including Toledo, Houston, Indianapolis, Detroit, Nashville, Washington, Ann Arbor, and New York. Each city will have events tailored to the size of the groups there.
National Exchange Club has more than 650 clubs across the country and more than 20,000 members.
The partnership is an extension of what Ken Leslie, founder of Veterans Matter, calls Toledo's history as "an incredibly compassionate community," adding that bringing the effort to the national level is a way to export Toledo's compassion in a big way.
Broadening their reach will "expand our ability to house so many veterans and means so much to that man, woman, or child who will now have the power of the pillow and the key," Mr. Leslie said.
National Exchange Club supports several causes related to issues of youth, healthy cities, and patriotism. Veterans Matter now joins under their "Americanism" platform. Tracey Edwards, executive vice president of the National Exchange Club, said the work done by Veterans Matter fits well into their mission.
Local clubs have worked for years with Mr. Leslie's other efforts with homeless people, and bringing the effort to other cities made sense, she said.
"We talked about how our people have big hearts for veterans and are always looking for ways to help and honor them," she said. "We thought this would be a perfect fit for National Exchange Clubs nationwide to get involved."
11/​11@7 events are meant to educate local chapters about the problem of veteran homelessness. The U.S. Department of Housing and Urban Development reported in 2014 there were approximately 50,000 homeless veterans in the United States.
In Toledo, local National Exchange chapters will host a USO-style evening of entertainment and fund-raising at the Conn-Weissenberger American Legion hall, 2020 W. Alexis Road in Toledo. It begins at 7 p.m.
Festivities will include a silent auction, chili cook-off, musical performance by Toledo duo Candice Coleman and Chris Brown, and dancing. There will be "war bonds" to purchase in financial support of veterans that symbolize the bond between homeless veterans and the larger community. Service members are encouraged to come to the event in uniform.
Veterans Matter has helped 815 veterans get permanent housing across 110 cities. Mr. Leslie said the goal is to find homes for 2,000 veterans.
The Toledo event is sponsored by the Exchange Clubs of Toledo, West Toledo, Maumee, and Greater Maumee Bay, the Veterans' Service Commission of Lucas County, and the Lucas County commissioners.
Veterans Matter was founded under the umbrella organization of 1Matters, which includes programs such as the Toledo Streets newspaper and Tent City, the annual event that hosts a weekend of medical care and other services for those who need them.
Veterans Matter works with the U.S. Department of Veterans Affairs and HUD Veterans Affairs Supportive Housing program and provides money for housing deposits for veterans who are otherwise ready and able to secure permanent housing.
Mr. Leslie said the average cost of a housing deposit is $750. Proceeds from the 11/​11@7 events will go toward those deposits and the larger effort to end veteran homelessness.
For more information about Veterans Matter or the 11/​11@7 events, go to veteransmatter.org.
Contact Lauren Lindstrom at llindstrom@theblade.com, 419-724-6154, or on Twitter @lelindstrom.
Guidelines: Please keep your comments smart and civil. Don't attack other readers personally, and keep your language decent. Comments that violate these standards, or our privacy statement or visitor's agreement, are subject to being removed and commenters are subject to being banned. To post comments, you must be a registered user on toledoblade.com. To find out more, please visit the FAQ.