Some call it Lake Erie's "perfect storm," one so powerful 100 years ago that it caused four ships to sink within 18 hours.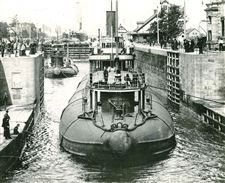 Capt. Walter J. Grashaw survived the Colgate wreck on a raft.
NATIONAL MUSEUM OF THE GREAT LAKES Enlarge
In all, 49 lives were lost in the lake's Canadian waters, but those crew members are being remembered right here in Toledo.
"This massive [storm] affected communities across the lake," said Carrie Sowden, archaeological director for the Toledo-based National Museum of the Great Lakes, and who is giving a presentation about the storm during a lecture series today. "This storm is Lake Erie's own perfect storm; this coming together of different weather fronts to create something horrific on top of Lake Erie. The human loss is of greater significance."
Thursday marks the 100th anniversary of what is known as the "Black Friday Storm." It didn't occur near Toledo or even Ohio, but those with the national museum believe people should be aware of it.
"I think people should be interested in Great Lakes' history," Ms. Sowden added. "It's how this area was developed."
Four commercial vessels sank as a result of the storm, which included the schooner D.L. Filer, the whaleback freighter James B. Colgate, the Canadian steamer Merida, and the lumber hooker Marshall F. Butters. Sailors were rescued after masses of other boats searched the water. Throughout the night, winds reached as high as 60 mph.
Chris Gillcrist, executive director of the museum, said the storm was the worst in Lake Erie history. Twenty-three people died after the Merida sank, five people died after the D.L. Filer sank, and 21 people died after the James B. Colgate sank. While everything was lost on the James B. Colgate, Captain Walter J. Grashaw survived after spending about 35 hours clinging on to a small raft before he was rescued by a passing boat.
Mr. Gillcrist said the storm happened during a time before names were created for hurricanes. But he described it as a strong storm that came up from the Gulf of Mexico to Lake Erie and met with two other weather systems. He said a hurricane will most often lose its strength as it crosses over land, but the storm can still contain extreme power.
"With hurricanes they still carry a significant punch even as far away as the Great Lakes," Mr. Gillcrist said. "[The storm] was so powerful that it sank four large commercial vessels. There is a reason why Lake Erie has more shipwrecks because it is probably the most dangerous of all the lakes.
"The storm lasted for almost a full day and it was too much for those boats to weather," he said.
Ms. Sowden said she will speak today about the stories behind the loss of the sunken vessels, the heroism during the disaster, and the impact the storm had on the area.
Because of heavy demand, Ms. Sowden will be giving two presentations, at 5 p.m. and 7 p.m. Both are sold out, but a waiting list is available.
Mr. Gillcrist said that while most of the museum's events usually sell out, the pace at which Ms. Sowden's presentations did sell out showed the public is interested in shipwrecks and their history.
"Black Friday: Lake Erie's Perfect Storm" is scheduled to be hosted at the National Museum of the Great Lakes at 1701 Front St. in Toledo.
Contact Geoff Burns at: gburns@theblade.com or 419-724-6110.
Guidelines: Please keep your comments smart and civil. Don't attack other readers personally, and keep your language decent. Comments that violate these standards, or our privacy statement or visitor's agreement, are subject to being removed and commenters are subject to being banned. To post comments, you must be a registered user on toledoblade.com. To find out more, please visit the FAQ.