The feud between Toledo and Lucas County over who should pay the costs of prisoners arrested on state charges has taken its toll on taxpayers' wallets, but it has been lucrative for some highly paid lawyers.
Toledo City Council on Tuesday reviewed spending an additional $50,000 for Andy Douglas and the law firm of Crabbe, Brown and James for the litigation involving the city, the Corrections Center of Northwest Ohio, and Lucas County.
If approved next week during council's regular meeting, that will bring the city's total paid to Mr. Douglas via his Columbus-based law firm to $137,477.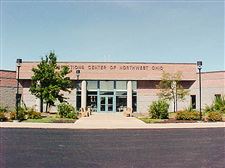 Part of the dispute involving the Corrections Center of Northwest Ohio, Lucas County, and the city of Toledo, has been over operating issues.
CCNO Enlarge
"I am sorry to say, we are talking about a controversy over millions of dollars," council president Steven Steel said Tuesday. "We will see what council wants to do, but the city was the victor at the trial-court level, so it is the county's decision to keep this going."
Mr. Douglas, a retired Ohio Supreme Court justice, charges the city $200 an hour. The county has paid even more in the legal battle.
Fritz Byers, a private attorney, has represented the Lucas County commissioners on the legal issues related to a 1970 lawsuit involving crowding and conditions at the county jail and litigation involving the Toledo lawsuit over jail incarceration costs since 2015. He has received $193,627 in taxpayer's dollars since June, 2015, county records show.
Mr. Byers represents The Blade on First Amendment issues.
Laura Lloyd Jenkins, county administrator, said she could not pinpoint the exact dollar figure paid to Mr. Byers for his work on the lawsuit with the city. He been paid nearly $129,000 since the lawsuit was filed in December, 2015, records show.
A resolution was approved in November, 2015, authorizing an hourly rate of $195 for Mr. Byers. He is paid out of the county's general fund budget.
County Sheriff John Tharp, a defendant in the complaint, is represented separately by assistant attorneys of county Prosecutor Julia Bates.
County Commissioner Pete Gerken said the outside services of Mr. Byers are needed in the lawsuit because the county and sheriff may have separate interests in issues that are argued in the lawsuit.
"It saddens me that we are forced to spend money on attorneys," Mr. Gerken said. "At the end of the day, we should be working to settle the lawsuit and reach an agreement so we could quit paying attorneys. Remember, the city sued us. We are defendants in this action."
The Corrections Center of Northwest Ohio has paid nearly $122,000 to Columbus attorney Marc Fishel since it was named as a defendant in the lawsuit filed by Toledo. Mr. Fishel and his firm provided other legal work, including a review of documents for amending the facility's operating agreement, said Jim Dennis, CCNO executive director.
According to CCNO records, Mr. Fishel was paid $102,528 in 2016 and submitted invoices of $11,289 for work he has done so far this year. Mr. Dennis said he could not say how much of the $122,000 paid to Mr. Fishel was for work on the lawsuit.
CCNO officials said the Corrections Commission of Northwest Ohio, which is the 10-person governing board for the 638-bed facility near Stryker, Ohio, has budgeted $20,000 in 2017 to cover legal costs. Mr. Dennis said the costs incurred for the lawsuit are taken from surplus jail operation funds.
Lucas County and the four other members — Defiance, Fulton, Henry, and Williams counties — pay $72.67 per day for each inmate housed from courts within their jurisdictions. Lucas County, with 323 beds, is the largest contributor for jail operations.
The Corrections Commission authorized Mr. Dennis to hire Mr. Fishel in June, 2015. His hourly rate is $190, according to CCNO documents.
Toledo Law Director Adam Loukx said outside counsel was necessary for the city since he and other city attorneys could be called as witnesses. Mr. Loukx was present during public and behind-closed-door meetings with county and CCNO officials leading up to lawsuits filed between the parties, he said.
"We initially and continue to use Mr. Douglas because of a conflict of interest," Mr. Loukx said.
In March, county attorneys urged a specially assigned, three-judge panel of the 10th District Court of Appeals to overturn a decision in Lucas County Common Pleas Court that sided with the city.
Judge Linton Lewis, Jr., a retired Perry County judge, was brought in last year to hear the case for the common pleas bench. On June 27, he found Lucas County responsible for the costs of incarcerating those charged or convicted in Toledo for misdemeanors under state law rather than the municipal code — even if city police made the arrests and sentencing occurred in Toledo Municipal Court.
Part of the dispute is over CCNO's operating agreement. The regional jail "worked well economically and harmoniously for more than 25 years until the mayor of the city of Toledo chose to disrupt it," according to Mr. Byers.
Mr. Loukx said the 10th District Court of Appeals judges could decide "any day."
Meanwhile, the legal fees continue to mount for taxpayers. That includes any updates — billed by the hour — to councilmen or the commissioners by either attorney in executive session.
The jail was established in 1987 by Toledo and Lucas, Henry, Fulton, Williams, and Defiance counties and opened in 1990 to primarily house those awaiting trial or sentenced for misdemeanor offenses.
At the time of Judge Lewis' decision in Lucas County, Toledo attorneys argued the city had paid to incarcerate 752 people charged under state law rather than city code under the terms of its pact with CCNO. Lucas County argued Toledo was bound by the fifth amended agreement for CCNO operations. That agreement was approved by a two-thirds majority of the center's board but not by the two Toledo representatives. The city had been a party to the four preceding pacts.
Judge Lewis found that the fifth amended agreement could not be used to force the city to continue to pay 35.65 percent of the jail's operating costs, the equivalent of about 228 beds.
Instead, he found the prior version of the agreement applied, and that included a provision allowing a member to withdraw from CCNO by defaulting on its quarterly advance payments. The city was no longer a member 60 days after it became delinquent.
The city has continued to send prisoners to CCNO but only pays the costs associated with those charged under the city code while Lucas County pays for those charged under state law.
Contact Ignazio Messina at: imessina@theblade.com or 419-724-6171 or on Twitter @IgnazioMessina.
Guidelines: Please keep your comments smart and civil. Don't attack other readers personally, and keep your language decent. Comments that violate these standards, or our privacy statement or visitor's agreement, are subject to being removed and commenters are subject to being banned. To post comments, you must be a registered user on toledoblade.com. To find out more, please visit the FAQ.