Toledo city councilman Larry Sykes walks out of a bar on Adams Street to speak to police after an altercation.
The Blade/Andy Morrison
Enlarge | Buy This Image
The morning after Toledo councilman Larry Sykes was arrested, charged with assault, and photographed in an orange jumpsuit for a mugshot, the local Democratic Party decided to stand by the endorsed incumbent seeking reelection next month.
Police arrested Mr. Sykes, 68, after he was involved Thursday night in a confrontation with a local activist at an UpTown bar during a candidates' event sponsored by the Toledo City Paper.
Julian Mack, 33, accused Mr. Sykes of grabbing him by the neck and punching him after the two men exchanged words at about 7:30 p.m.
Shaun Strong, Mr. Sykes' campaign manager, said no punches were thrown. He said Mr. Mack was antagonizing Mr. Sykes and grabbed Mr. Sykes' arm as the councilman tried to walk away peacefully.
VIDEO: Activist Julian Mack on altercation with councilman Larry Sykes
Toledo Municipal Court Judge C. Allen McConnell released Mr. Sykes on his own recognizance. Mr. Sykes is set for a hearing Monday regarding the misdemeanor charge, according to court records.
Court records said the own recognizance bond was issued "per telephone," meaning Mr. Sykes did not have to appear for the morning arraignment.
Activist Julian Mack shows cell phone video to Toledo police officers after an altercation with councilman Larry Sykes.
The Blade/Andy Morrison
Enlarge | Buy This Image
Judge McConnell did not return a telephone call seeking comment.
Scott Ciolek, a Toledo attorney not involved with Mr. Sykes' case, said that often happens.
"That does happen quite a bit," Mr. Ciolek said. "Attorneys can contact judges by phone and they will tell them exactly what the case is about, and they will set bond so a non-dangerous person can be released from the jail."
Joshua Hughes, chairman of the Lucas County Democratic Party, released a statement Friday about the incident, backing Mr. Sykes.
"Councilman Sykes is a proven and dedicated servant for the citizens of Toledo with a record of public service that speaks for itself, and is innocent until proven guilty. The Lucas County Democratic Party stands behind their endorsement and is still in full support of its candidate," it read.
Mr. Hughes was not at the event.
"I spoke with several people who were in attendance," he said. "Any time someone is alleged to have committed a criminal wrongdoing the presumption remains he is innocent until proven guilty. If an assault in fact occurred, absolutely not, that is not the sort of behavior the party condones."
The alleged altercation happened at Georgjz, 1205 Adams St.
Mr. Mack told The Blade he walked up to Mr. Sykes, whom he described as a "big man" in "a big hat." Mr. Mack said to Mr. Sykes, "What's up, big man in the big hat."
He said Mr. Sykes responded by saying, "Don't talk to me, boy." Mr. Mack said Mr. Sykes used the phrase several times, to which Mr. Mack said, "Don't talk to me like that."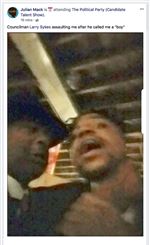 Facebook post of Julian Mack describing how Larry Sykes assaulted him at an Adams Street bar Thursday.
FACEBOOK Enlarge
Mr. Mack said Mr. Sykes then went inside. He followed, and tapped Mr. Sykes on the shoulder.
"Then he grabbed me by my [expletive] neck and punched me in my [expletive] face," Mr. Mack said Thursday.
Mr. Mack recorded at least part of the altercation with his smart phone. He showed a video to a Blade reporter Thursday night that showed Mr. Sykes with his hand around Mr. Mack's neck and yelling. The video did not show what occurred before that interaction. Mr. Mack refused to release any video to the newspaper.
RELATED: Mack admits he sometimes agitates as part of activism
A Toledo police spokesman said he was unsure if investigators possessed a copy of the video Mr. Mack filmed. He said if the department did, officials would consider it evidence and withhold its release.
Mr. Sykes could not be reached for comment Friday, but he released a statement.
"Last night, I was pursued and harassed," it said. "In hindsight, it would have been better to call the police so they could have intervened. Mr. Mack pursued me, spoke in a belligerent manner, and grabbed me. I also saw an object in his hand. Nonetheless, I recognize at all times public officials are held to a higher standard. I apologize to any citizens of Toledo who believe I compromised that standard."
Mr. Mack Friday criticized the county Democratic Party and its decision to stand by Mr. Sykes.
"People may reference things that I have said that are critical of law enforcement, but that doesn't mean that I don't expect them to do their job and I am thankful that they did do their job, they showed up swiftly and de-escalated the situation, got to the bottom of it, realized that I was the victim in the situation and I was assaulted," he said.
"Under what circumstances should a candidate resign?" Mr. Mack said. "I'm not calling for his resignation. Yes, he is innocent until proven guilty....We shouldn't have elected officials who assault constituents."
He said he would like to sit down and talk with Mr. Sykes discuss the incident.
Mr. Strong said Mr. Mack was the instigator and antagonized Mr. Sykes while cursing at him.
Mr. Sykes tried to walk away peacefully on several occasions, Mr. Strong said. Mr. Mack grabbed Mr. Sykes' arm, then Mr. Sykes snatched his arm from Mr. Mack and "put a hand out to block him and said 'Leave me alone.'"
"There was no punching," Mr. Strong said.
Mr. Strong after Mr. Sykes was arrested said: "It's unfortunate that a troublemaker ... can trump up felonious charges against a member of the community who has a long history of public service and doing good in the community."
Mr. Mack called 911 to report the incident.
"Yeah, I was just assaulted by Larry Sykes ... city councilman," he calmly told the dispatcher.
"I tried to talk to him and he grabbed me by my throat. You know, I just tapped him on his shoulder and he grabbed me by my throat. I have video evidence," Mr. Mack said.
The bar was packed with candidates whose names will appear on the Nov. 7 ballot.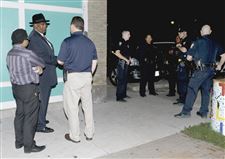 Councilman Larry Sykes speaks to Toledo Police after an altercation with Julian Mack at a bar on Adams Street, Thursday, Oct. 19, 2017. The Blade/Andy Morrison
THE BLADE/ANDY MORRISON
Enlarge | Buy This Image
Sam Melden, also an endorsed Democrat for Toledo City Council, said he did not see what happened.
"I think Julian and Larry got into an argument ... apparently it ended in some physical activity," Mr. Melden said. "I heard them start talking, Larry walked away, Julian followed him. I think the whole thing is really unfortunate, and I think if either one of these guys had last night to do over they might handle it differently."
Alfonso Narvaez, an endorsed Republican candidate for council, said: "I heard a smack and Larry and Julian go at it."
Sam Melendez, a spokesman for Toledo Mayor Paula Hicks-Hudson, said as he arrived Thursday night he saw Mr. Mack following Mr. Sykes outside, heading toward the bar, yelling, "'Hey big man in the big hat.'"
"Larry was walking, trying to ignore him, then he walked into Georgjz, and Julian, with camera in hand fly in right behind him, running after him," Mr. Melendez said. "Larry was not 10 feet in the bar and Julian grabs Larry's shoulder and that was the first contact there was. Larry just spun around and reacted. I didn't see a strike — more of a push. At that point, one of the bouncers or bartenders pushed Julian out of the bar and Larry went to watch the show."
About 30 minutes after the incident, police officers led Mr. Sykes into the back of a squad car with his hands apparently handcuffed behind his back.
Sgt. Robert Furr said police had video evidence of what happened, but he did not elaborate.
Mayoral candidate Wade Kapszukiewicz, an unendorsed Democrat who was also at the event, said Mr. Sykes' "behavior [was] unbecoming of a public official. He embarrassed himself and the city of Toledo. I think public officials need to hold themselves to a higher standard. I think the public deserves no less."
Toledo Police Chief George Kral Friday said officers in the area responded quickly to the call.
"Any time there's an assault, it's unfortunate, but we're handling this investigation as we would any other investigation," Chief Kral said.
When asked if the involvement of a public figure makes any difference, he replied he would be naïve to say no. However, police perform their jobs regardless of positions, Chief Kral said.
Mayor Hicks-Hudson on Friday declined to comment.
Mr. Sykes finished third in the Sept. 12 primary election, tallying 11,000 votes. Twelve council candidates, including Mr. Sykes, are on the general election ballot on Nov. 7.
Mr. Sykes worked for Fifth Third Bank for 30 years, retiring as a vice president of business development and community affairs. He was appointed to the Toledo Board of Education in 1997 and elected to that seat two years later. He was on the school board through 2013, when he was elected to council.
Mr. Mack is a local activist who's been involved in many causes related to social justice and inequality, including Black Lives Matter and the Community Solidarity Response Network.
He was recently involved in an incident that led authorities to charge Ruth Leonard, a candidate for Toledo Board of Education, with disorderly conduct. Mr. Mack in that incident is accused of yelling, "[expletive] the police," from the window of a vehicle driven by Ms. Leonard as the pair passed officers making a traffic stop near Dorr Street and Lawrence Avenue.
Staff writers Lauren Lindstrom and Mike Sigov contributed to this report.
Contact Ignazio Messina at: imessina@theblade.com, 419-724-6171, or on Twitter @IgnazioMessina.
Guidelines: Please keep your comments smart and civil. Don't attack other readers personally, and keep your language decent. Comments that violate these standards, or our privacy statement or visitor's agreement, are subject to being removed and commenters are subject to being banned. To post comments, you must be a registered user on toledoblade.com. To find out more, please visit the FAQ.