BOWLING GREEN — Bowling Green Mayor Dick Edwards has concerns about how activists have portrayed his administration and Bowling Green city government in general as being too conciliatory with the controversial NEXUS Gas Transmission LLC pipeline project.
Yet a recent court filing shows the city isn't putting up a fight, and is granting the pipeline developer permission for "immediate possession" of city-owned land it needs.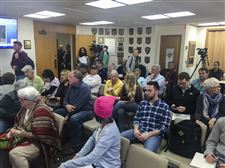 Bowling Green residents gathered in May at a panel discussion in Bowling Green council chambers with experts about the proposed NEXUS Gas Transmission pipeline.
THE BLADE/NOLAN ROSENKRANS
Enlarge | Buy This Image
In an interview with The Blade on Tuesday, Mr. Edwards asserted it's a misunderstanding. He said the city is virtually powerless to stop an interstate pipeline project sanctioned by the Federal Energy Regulatory Commission, or FERC. He said its time and money are better spent working within the system and getting as much accountability as possible from the Ohio Environmental Protection Agency and other agencies.
He said that although Bowling Green has chosen to take a less-confrontational approach than Waterville, Oberlin, and Green, Ohio — which don't want to grant access — it is every bit as concerned about the safety of the project.
"No one single issue has caused me more distress in my role as mayor than the NEXUS pipeline issue," Mr. Edwards said during the interview and at the beginning of a prepared statement his office sent out to the media on Wednesday.
He said he has been "assured and reassured" by the Ohio EPA and other agencies of government that "every effort will be made to monitor the project to ensure public safety and our drinking water."
Mr. Edwards cited recent conversations with Ohio EPA Director Craig Butler during his interview, adding that Mr. Butler assured him his agency will "make every effort to make sure they have people on the ground to do it right."
But the same agency drew scorn from a boisterous crowd of nearly 600 people — many of them public officials — inside the Waterville Primary Community Room on March 16, 2016, when it took comments on the pipeline company's plan to build a compressor station along Moosman Drive south of Neapolis-Waterville Road, about halfway between Waterville and Whitehouse.
The Ohio EPA ultimately approved the air-discharge permit necessary for that project in September, 2016, saying it had no legal justification for rejecting it.
The agency has said numerous times it will do what it can within the law to protect the region from pipeline risks. Mayor Edwards said he believes people need to give regulators a chance to do their jobs.
In his statement, Mr. Edwards added he "has long been sympathetic with environmental causes and concerns" and has "developed a huge distaste for more and more pipelines."
But Mr. Edwards accused those behind a proposed city charter amendment on the Nov. 7 ballot of misrepresenting the city's sentiment. The proposed amendment is not a referendum on the NEXUS project, he said.
It calls for no more pipelines to be laid in property the city owns in Middleton Township nine miles away but within 700 feet of the city's water reservoir.
NEXUS is a division of Houston-based Spectra Energy. Spectra merged with Canada's largest pipeline company, Enbridge, Inc., last February.
On Oct. 2, NEXUS — which had warned landowners statewide it would initiate eminent domain proceedings against them if they didn't voluntarily agree to negotiate a price for easement access along the pipeline route — did just that with a suit it filed in U.S. District Court in Akron. Dozens of sites across Ohio are named, including land owned by Bowling Green.
Terry Lodge, an attorney representing residents who obtained signatures for the ballot initiative, noted that Bowling Green's city attorney, Michael J. Marsh, put up no defense and told the court in writing that none of the issues raised by NEXUS in its complaint will be challenged by that city. In his two-page response, filed Oct. 11, Mr. Marsh further stated Bowling Green "consents [NEXUS] to immediate possession" of the easement rights through the city.
"They didn't put up any fight," Mr. Lodge said, adding that the response amounted to a "lay down" and took away any leverage the city had.
"I don't understand folding," he added. "The city would have had a lot more sway had it participated in the proceedings."
Mr. Edwards said he is trying to make the best of a situation in which he has "very deeply felt and rooted concerns about the proximity of the pipeline" and wishes it was designed to follow a different route.
He said Bowling Green has not been involved with eminent domain proceedings as long as he's been around, if ever.
"The city cannot stop the federal government from doing this," he said. "I've been trying to look at this whole thing realistically."
NEXUS spokesman Adam Parker said the pipeline company does not comment on pending litigation, but vowed safe construction and operations.
He said NEXUS acquired more than 97 percent of easement rights without eminent domain, and that the project remains "on track to meet its targeted in-service [date] late in the third quarter of 2018 in order to serve markets in Ohio, Michigan, and Ontario."
Contact Tom Henry at thenry@theblade.com, 419-724-6079, or via Twitter @ecowriterohio.
Guidelines: Please keep your comments smart and civil. Don't attack other readers personally, and keep your language decent. Comments that violate these standards, or our privacy statement or visitor's agreement, are subject to being removed and commenters are subject to being banned. To post comments, you must be a registered user on toledoblade.com. To find out more, please visit the FAQ.