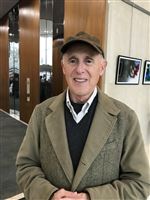 Frank Kass, chairman of Continental Real Estate Cos. of Columbus, in Toledo Government Center after briefing Toledo Council on Marina District project.
Tom Troy Enlarge
The original plans for a Marina District residential and commercial development are being expanded all the way to the corner of Main and Front streets, according to an update given Tuesday to Toledo Council by developer Frank Kass.
Mr. Kass, chairman of Continental Real Estate Companies of Columbus, said he has property on East Toledo's gateway corner under contract. He answered questions at council's agenda review meeting.
Council is being asked to approve spending $1.78 million in city utility and capital-improvement funds to extend Morrison Street beyond Front into the Marina District for the proposed Gateway Lofts. The money would pay for building the street extension and installing water and sewer utilities.
The Gateway Lofts would cost up to $50 million to be developed under Mr. Kass's initial plans, which are along Main Street and the Maumee River.
The expanded project goes up to Front, where another $15 million to $20 million would be invested in a bank branch, retail space, office space, and other commercial uses, according to council's legislation.
Council is expected to vote Tuesday on the development agreement that would commit $700,000 from the capital-improvement fund to construct Morrison from Front to Riverside Drive starting in early 2018. The remaining $1.08 million would come from utility funds to pay for water and sanitary and storm sewer improvements.
Mr. Kass was the first of about five developers starting in 2000 to work on the Marina District, with little success. He was invited back by Randy Oostra, president and chief executive of ProMedica, which acquired the land for $3.8 million from the Chinese firm Dashing Pacific Group Ltd.
Continental Real Estate intends to buy 15 acres of the 70-acre Marina District from ProMedica.
Mr. Kass is also redeveloping the old Colony neighborhood in West Toledo, where ProMedica is building a 13-story, $355 million hospital addition called Generations Tower, which would be outfitted with a mixed-use development consisting of an extended-stay hotel, apartments, and an assisted-living facility.
The northern portion of the Marina District, formerly a power-plant site, is slated to become a Metroparks Toledo park. The portion closest to Main Street is being developed by Mr. Kass into 360 apartments, along with a restaurant, club house, and other amenities.
He described the pricing of the development as "at the high end of affordable," or higher than normal Toledo rates but comparable to apartment rents in Perrysburg and Ottawa Hills. He predicted tenants would be millennials looking either to work downtown or to reverse-commute. He also predicted that people selling their houses will consider renting in the Marina District.
Examples of monthly rents were $1,200 to $1,400 for a 950-square-foot, two-bedroom unit; and $900 for a 700-square-foot, one-bedroom apartment.
Mr. Kass indicated that the appearance of buildings now along Front's west side north of Main would not help Gateway Lofts succeed.
"The grounds have to really look good, and being next to a Metropark and a river is what finishes that off. The adjacencies were very important to us. I did not want to be looking at the backs of some of those buildings," Mr. Kass said.
He said ProMedica encouraged him to buy the buildings.
"The problem was we should have bought them before we announced the Marina District," Mr. Kass said, prompting laughter.
Bill Burkett, the city's commissioner of economic development, said the city needs to commit its $1.78 million as part of a development agreement with the Marina District developer so Mr. Kass has the assurances to go ahead with the property acquisition.
Contact Tom Troy at tomtroy@theblade.com, 419-724-6058, or on Twitter @TomFTroy.
Guidelines: Please keep your comments smart and civil. Don't attack other readers personally, and keep your language decent. Comments that violate these standards, or our privacy statement or visitor's agreement, are subject to being removed and commenters are subject to being banned. To post comments, you must be a registered user on toledoblade.com. To find out more, please visit the FAQ.