Instead of sleeping in or watching television during the first Friday of their Christmas break, more than 60 students from the greater Toledo region opted to wrap Christmas presents from their regional toy drive donated to ProMedica Toledo Children's Hospital.
This year, the student-led toy drive collected more than 9,000 toys, tripling last year's total.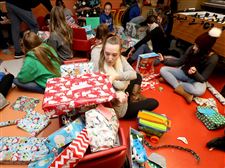 Lake High School's Chloe Umbaugh places a wrapped present in a wagon as part of a toy drive at ProMedica Toledo Children's Hospital.
The Blade/Lori King
Enlarge | Buy This Image
Students from four area high schools — Anthony Wayne, Lake, Springfield, and Scott — assembled at the children's hospital Friday morning to gift wrap some of the donated goods.
On the children's hospital's fifth floor, home of the pediatric unit, students lugged seven wagons full of toys into a corner room where they prepared to wrap the presents. Toys and Christmas-themed wrapping paper littered the floor.
The students worked frantically as they prepared to get the presents wrapped and delivered to Santa. It looked like his workshop.
"I like wrapping gifts," said Emersyn Haney, a sophomore at Springfield High School, as she helped wrap a Battleship board game.
After wrapping each gift they labeled them with either a blue or pink placard and wrote a brief description of the present.
Come Christmas morning, every child admitted into the hospital will receive two gifts from Santa Claus.
"I just been watching the progress of bringing all the toys, and I've always wanted to come and make a difference, especially for these kids because it's sad that they have to be here on such a wonderful time of the year," Miss Haney said.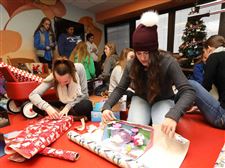 Lake High School juniors Chloe Umbaugh, center, and Ally Goetz, right, wrap presents for a toy drive at ProMedica Toledo Children's Hospital.
The Blade/Lori King
Enlarge | Buy This Image
McKenna Reitz, a Springfield High teacher, started the toy drive three years ago. With the assistance of Leadership Toledo, the drive has expanded across the region with other high schools and area businesses collecting toys.
Despite generating the idea three years ago, Mrs. Reitz said the students deserve the lion's share of the credit.
"It's indescribable what these students have taken upon themselves in order to brighten a child's holiday," she said. "They've really taken upon them to grow it and strengthen what this cause is really about. I'm kind of like a proud mom."
Kristina White, the Springfield district's spokesman, and director of community impact for Leadership Toledo, said this toy drive has been transformative for the students involved. "It isn't just a project or a toy drive," Ms. White said. "It's so much deeper than that. They care about the children and the impact they're now having on them."
Grace Blandin, a senior at Lake High, said her school started a friendly competition among classes to collect more toys. "It was exciting to get involved," she said. "Now we can wrap the presents so they look cool for the kids."
Mason Jeakle, a Springfield High senior, said he enjoyed being able to see the impact of the toy drive "firsthand."
Ms. White said she was "blown away by the students' efforts and the response from the community.
"It's not about the numbers," she said. "It's about impact. Whether it's 1,000 toys or one toy, it means everything to that one child in that moment."
Contact Javonte Anderson at janderson@theblade.com, 419-724-6065, or on Twitter @JavonteA.
Guidelines: Please keep your comments smart and civil. Don't attack other readers personally, and keep your language decent. Comments that violate these standards, or our privacy statement or visitor's agreement, are subject to being removed and commenters are subject to being banned. To post comments, you must be a registered user on toledoblade.com. To find out more, please visit the FAQ.