Bruce Wayne is the hero we need, not the hero we deserve.
Mr. Wayne, of Tiffin, embarked on a record-setting quest more than 14 months ago, trying to break the mark for most consecutive days eating a meal from Chipotle Mexican Grill. As of Wednesday, Mr. Wayne has eaten a burrito, bowl or salad from the restaurant for 430 consecutive days, making him the official record holder.
Much to his surprise, Mr. Wayne's efforts have drawn attention across the state, and it's now gaining the eyes of a national audience; he was on the phone with someone from NBC's 'Today' on Wednesday.
"Before this challenge even started, I could visualize reaching 425 and 426 and having fun with what ifs, but never in my wildest dreams could I imagine this story would get the attention that it has. I'm continually blown away," Mr. Wayne said.
The idea started after Mr. Wayne — yes, that's his birth name — decided to start living healthy and eat a cleaner diet with more organic foods. Knowing Chipotle's menu is full of organic foods and meats, he set his sights on the restaurant.
Then he hopped online and tried to find different challenges. He saw plenty of videos of people eating a burrito as fast or as many in one sitting as they could, but it wasn't until he saw the record held by Devin Cunningham of Washington of 425 straight days eating Chipotle when Mr. Wayne found his calling.
"The day I found what his record was, I said, 'That's me. That's what I'm going for,'" Mr. Wayne said. "I knew I would break it, right then and there."
The day it all started for him was October 31, 2016, coinciding with Chipotle's Boo-rito promotion, where customers get a burrito for $3 if they come dressed in a costume. It doesn't take much to know what costume Mr. Wayne wore — his Batman suit. He wears his bat suit for charity events and birthday parties, taking full advantage of the name his parents gave him. Instead of running away from his name, he's fully embraced being Bruce Wayne in real life.
"I realized a long time ago (my purpose on earth) was to entertain people, and my name is an extension of that," he said. "I've had a lot of people when I'm out some place, they'll grab me and have to introduce me to someone. They have fun introducing me to people, and I love meeting new people. ... I'll run with (my name) till I can't run no more."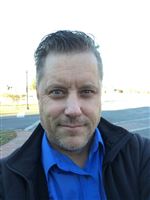 Bruce Wayne
Mr. Wayne has been to Chipotle restaurants in two different states, but he normally frequents the Tiffin location. Not only is it in his hometown, but frequenting the same location adds to his accountability. When detractors or doubters confront him, he has a paper trail of receipts and staff at a restaurant to back up his claims. And a few months ago when Chipotle had its credit card system compromised — which Mr. Wayne fell victim to — it taught him that each location has security footage that banks together in one location.
"If anyone who wants to split hairs on accountability, let's roll that tape," he said. "... To any of my detractors that say those two words 'prove it,' don't sing it, bring it. Ever since October 31, 2016, I can provide you with a hard receipt for every single day Chipotle has been open."
Holidays and vacations would add a wrinkle to these plans for someone not as prepared. According to Mr. Wayne, Chipotle locations close for at least four holidays annually, so he will purchase an extra bowl the day before to keep the streak alive. And when he's going out of town, he will locate the closest Chipotle to where he will be before he even leaves Tiffin.
Just because he goes to the same location on a consistent basis and has contingency plans built into his quest, Mr. Wayne isn't a creature of habit in terms of his order. He'll mix up what he gets, but his go-to order is steak bowl with white rice, fajita vegetables, any of the hot sauces, cheese, and lettuce, and he tops it off with their vinaigrette.
Over the last 14 months, Mr. Wayne estimates he's spent $3,400 on meals at Chipotle. And not all of his meals have been paid of out of his pocket — he said there have been "scores" of times someone has left a gift card for him at the Tiffin location.
Not only do all those meals add up financially, but also on his digestive system. Despite what people's first reaction might be to an overload Mexican food on someone's stomach, Mr. Wayne claims to have had no ill effects from his diet.
"I'll never be able to explain in an adult conversation that the food does not make me sick because I see it daily," he said. "I must have a stomach made of iron, my colon is indestructible, I've heard it all."
Mr. Wayne, who is single and works at Tiffin Developmental Center taking care of intellectually challenged adults, hasn't found anyone who could entertain the idea of eating Chipotle every day for 430 days. But not only did he enjoy every step along the way, claiming to have never tired of the food, he doesn't see an end in sight.
He won't give a number he's planning on stopping at for two reasons — that number constantly changes, and he doesn't want to give his competition a number to shoot for to "knock the king off the throne."
"I don't have any intention of stopping any time soon, but one day I'll wake up and know it's time to stop or, keeping it real, if something medically happens, I'll stop," Mr. Wayne said.
Contact Jeremy Schneider at jschneider@theblade.com, 419-724-6368, or on Twitter @thewerewolfawoo.
Guidelines: Please keep your comments smart and civil. Don't attack other readers personally, and keep your language decent. Comments that violate these standards, or our privacy statement or visitor's agreement, are subject to being removed and commenters are subject to being banned. To post comments, you must be a registered user on toledoblade.com. To find out more, please visit the FAQ.