For the past 13 years, John Hartig has been the first and only manager of the Detroit River International Wildlife Refuge — the world's first and only binational wildlife refuge.
Now, he's adding Fulbright scholar to his resume.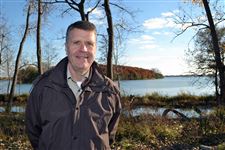 John Hartig will serve as the Fulbright Canada Research Chair in Governance.
Mr. Hartig's retirement from the U.S. Fish and Wildlife Service took effect Saturday, and — after an open house and reception planned for him Tuesday — he's off for the Balsillie School of International Affairs in Waterloo, Ont., where he will serve as the Fulbright Canada Research Chair in Governance for the next six months.
Then he'll fill out the remainder of his three-year Fulbright appointment traveling the Great Lakes region on behalf of the International Association for Great Lakes Research and others. He'll take a hard look at how effective the United States and Canada have been at addressing pollution at 43 local hot spots identified as "areas of concern" under the 1987 amendment to the Great Lakes Water Quality Agreement the two nations first signed in 1972.
Recovery efforts for each of those areas are set forth through planning documents called remedial action plans, or RAPs.
"The question is, what have we achieved and what have we learned?" Mr. Hartig said during a telephone interview last week from Waterloo, where he visiting in preparation for his move there.
Trained as a limnologist — a scientist specializing in lake ecology — Mr. Hartig became familiar with AOCs and RAPs while working earlier in his career at the International Joint Commission. The commission is a State Department-level agency that since 1909 has helped the United States and Canada resolve boundary-water disputes, especially in the Great Lakes region.
He also has worked with the Greater Detroit American Heritage River Initiative.
John Hartig's retirement from the U.S. Fish and Wildlife Service took effect Saturday.
The Blade/Tom Henry
Enlarge | Buy This Image
His findings are to be published in a scientific journal and used by members of Congress as they debate the fate of federal efforts such as the Great Lakes Restoration Initiative, a cleanup program that began in 2009 and is now funded at $300 million per year.
In December, Canada created a companion program called the Great Lakes Protection Initiative, with its first year of funding set at $44.8 million for cleanups on the lakes' Canadian side.
Mr. Hartig, 65, a native of Allen Park, Mich., south of Detroit, oversaw land acquisitions along the Detroit River and Lake Erie shore between the Motor City and Monroe, including the river's Canadian side, as the world's first binational wildlife refuge was built from scratch. It was envisioned and ultimately made possible by legislation pushed through Congress by former U.S. Rep. John Dingell (D., Dearborn), and Canada's Parliament.
He said he's especially proud of being part of the Detroit River's first-ever successful spawning reef for mighty lake sturgeon, a 300-pound fish that co-existed with dinosaurs for at least 85 million years. He also has been involved in multiple cleanup and wetland-restoration projects that have improved water quality.
The refuge started out with 300 acres dedicated to conservation in 2001. It now has 18,700 acres, much of it in Monroe and Wayne counties.
"I've obviously got some mixed feelings," Mr. Hartig said of his departure. "I've been really honored to be part of it."
A product of the '60s, he remembers summer vacations with his family at a northern Michigan cottage and fishing in the Detroit River, which he said was "a mess" from pollution back then.
"I was really appalled. I would ask my parents why it had to be like that," Mr. Hartig said.
The first Earth Day in 1970 got his adrenaline going as a high school senior. From then on, Mr. Hartig said, he got hooked on the Great Lakes.
He has written or co-written more than 100 publications on the environment, including four books.
One of them, Burning Rivers: Revival of Four Urban-industrial Rivers that Caught on Fire, chronicles pollution that resulted in fires on top of four Great Lakes rivers.
Many people know only about the famous Cuyahoga River fire of 1969. But in his award-winning book, Mr. Hartig discusses how the Cuyahoga burned multiple times, and that there were lesser-known fires on the Rouge, Chicago, and Buffalo rivers.
Mr. Hartig said his next book, which he plans to start writing soon, will be titled Waterfront Porch and be about how Detroit transformed its formerly industrial waterfront into a gathering place for people and wildlife through construction of Detroit RiverWalk.
He is a board member of the Detroit RiverFront Conservancy. His many awards include being named the John Muir Association's 2015 Conservationist of the Year. He also received the 2013 Conservation Advocate of the Year Award from the Michigan League of Conservation Voters.
Contact Tom Henry at thenry@theblade.com, 419-724-6079, or via Twitter @ecowriterohio.
Guidelines: Please keep your comments smart and civil. Don't attack other readers personally, and keep your language decent. Comments that violate these standards, or our privacy statement or visitor's agreement, are subject to being removed and commenters are subject to being banned. To post comments, you must be a registered user on toledoblade.com. To find out more, please visit the FAQ.