City of Toledo officials are attempting to clear up confusion and jump-start payments to area non-profits that receive Community Development Block Grant funding with a training session about new federal requirements when submitting for reimbursement.
Family House executive director Renee Palacios raised the concern last week, saying her organization had not received any of the approximately $160,000 of CDBG and Emergency Solutions Grants that the shelter was awarded for the fiscal year beginning July 1.
The Family House shelter on Indiana Avenue in Toledo. Family House executive director Renee Palacios says her organization had not received any of the approximately $160,000 in grants that the shelter was awarded for the fiscal year.
The Blade/Dave Zapotosky
Enlarge | Buy This Image
Both grants are given by the U.S. Department of Housing and Urban Development.
Bonita Bonds, acting Department of Neighborhoods director, said last week that delays were due in part to the federal government.
"First it was the delay in Washington," she said. "When the Trump Administration came in, they made a decision that they were not going to fund any HUD programs.
"By the time that Washington decided to fund and what those numbers would look like, we did not get the money until late October, early November. Normally we would know about May or June."
Among the hang-ups was a new requirement for groups using funds for staff compensation to submit activity logs detailing work in 15-minute increments.
Ms. Bonds said they were notified by HUD in September of this new requirement. An email from the neighborhoods department to grant recipients dated Oct. 16 relays that message and includes a sample activity log. City officials told recipients they would have to submit logs for work going back to July 1.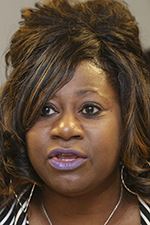 Director of Neighborhoods Bonita Bonds
THE BLADE/DAVE ZAPOTOSKY
Enlarge | Buy This Image
Ms. Palacios said her staff was unsuccessful in submitting these forms and told they were too vague.
"The tricky thing is we weren't getting enough guidance," she said of how to remedy it.
Others, such as officials from the Maumee Valley Habitat for Humanity, said initial holdups due to the new HUD requirements have since been resolved.
"The city was effective at instructing us how to complete these logs, and guided us through the process," Executive Director Michael McIntyre said.
"While this delay put a financial strain on our organization to perform the specific construction work we committed to, earlier this month we were fully funded for all the previous work performed since [July 1]," he said. "After discussions with the Department of Neighborhoods, we would expect no further delays in funding through the rest of this year of CDBG funding, allowing us to continue with this needed work."
The organization was awarded $137,500 this year.
William Farnsel, executive director of NeighborWorks Toledo Region, said his organization has been delayed in receiving reimbursements from its $492,000 allotment due to confusion over what needs to be included on the activity logs.
The organization uses the funds for several housing rehabilitation and financial coaching programs.
"Now we're playing catch-up from July," he said.
When asked how much they have received, he answered, "Not much," adding he looks forward to working with the new city administration going forward.
A scheduled December meeting to train groups about activity logs was canceled because several groups expressed conflicts, Ms. Bonds said. Organizations that miss a required meeting are fined $200, she said.
Mayor Wade Kapszukiewicz's position is that "the bottom line is, we are going to make sure every agency is funded," said city spokesman Ignazio Messina on Thursday.
The mandatory trainings will be Friday for homeless and non-homeless service providers who receive these grants, as well as for organizations looking to apply for future funding.
Contact Lauren Lindstrom at llindstrom@theblade.com, 419-724-6154, or on Twitter @lelindstrom.
Guidelines: Please keep your comments smart and civil. Don't attack other readers personally, and keep your language decent. Comments that violate these standards, or our privacy statement or visitor's agreement, are subject to being removed and commenters are subject to being banned. To post comments, you must be a registered user on toledoblade.com. To find out more, please visit the FAQ.