ADRIAN — Liberty loves belly rubs.
The female golden retriever readily flops on the floor at the Lenawee Humane Society to receive affection. But it wasn't long ago that she and others were cowering in the corners of their kennels.
"It was very visible, very obvious, that they had been bred over and over and over without human love, affection, contact," Marcie Cornell, executive director, said. "They have their babies, they take care of their babies, but they go into the corner when people come."
The Adrian shelter last month took in 101 dogs and five cats from a Rome Township farm. The Lenawee County Sheriff's Office reported deputies seized a total of 213 dogs, 32 horses, five cats, two peacocks, and a donkey from poor living conditions in 8800 block of Shepherd Road south of Onsted, Mich.
Sharon Kay Evans, 53, is charged with felony animal cruelty. The case was bound over Wednesday to Lenawee County Circuit Court and Ms. Evans is to appear for arraignment there Feb. 14.
VIDEO: Marcie Cornell, Executive Director of the Lenawee Humane Society
On Jan. 24, the Lenawee County District Court ordered the animals forfeited. They were officially released Monday, allowing the various rescues holding them to begin finding new homes.
Capt. Jeff Ewald said the order relieved a major burden from the sheriff's department, in part because it had been paying more than $2,500 per day for their care.
"And that was just for their daily care, not any veterinary care," he said.
One dog at the humane society was returned to someone who could prove ownership. Captain Ewald said four of the horses also had other owners as determined through various registries. Three were returned, while a pregnant mare was surrendered.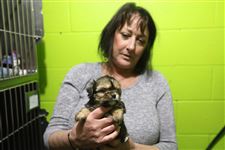 Lenawee County Humane Society Executive Director Marcie Cornell holds a puppy who was born to one of the 100 dogs in the organization's care Wednesday at their shelter in Adrian, Mich.
The Blade/Katie Rausch
Enlarge | Buy This Image
Ms. Cornell said the animals at the Adrian shelter arrived with severe matting, intestinal worms, and dental disease among other issues.
"Dental is a big one," she said. "Almost every one of the animals, even ones that are too young to have dental issues, have dental issues because of their poor nutrition, poor breeding."
Several females have also given birth to their puppies and many more are pregnant.
So far, 47 dogs have been spoken for. The shelter focused first on its list of pre-approved adopters and those who were affected in some way by the case, including shelter staff and volunteers, law enforcement, and courthouse employees.
"We actually have more applications than we have dogs, which is a really good problem to have," Ms. Cornell said.
Captain Ewald and his wife on Wednesday adopted a small black dog they named Blossom. The shelter had shared photos of Blossom when she arrived heavily matted and filthy.
"My wife just couldn't stop thinking about that picture," the captain said. "She's going to be spoiled now."
Ms. Cornell said many dogs had to learn basic things like how to interact with people, navigate stairs, walk on a leash, or even just play.
"They didn't do that," she said. "They were in cages too small to even exist, much less play."
The shelter is handling adoptions by appointment only, and working strategically to open kennel spaces as quickly as possible. Several of the organization's regular programs had been temporarily halted to care for the animals from the case.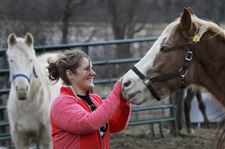 Anna Mueller, Assistant Director of Starry Skies Equine Rescue, embraces a horse affectionately renamed Freddy Eddy Flintstone Thursday at the center near Ann Arbor.
The Blade/Katie Rausch
Enlarge | Buy This Image
As for the remaining horses and donkey, they are now in the care of Starry Skies Equine Rescue and Sanctuary in Ann Arbor. Founder and director Tricia Terry said the rescue typically has about 80 horses, but had been down to the low 40s before the Lenawee bunch arrived.
"This isn't more horses than we're used to dealing with," Ms. Terry said. "This is a lot more pregnant horses than we're used to dealing with."
The rescue confirmed six mares are pregnant and suspect at least three more. Several are considered high-risk pregnanices — particuarly a very young, small mare named Emerald.
"We have a mare that's between 18 months and 2½ years old that still has her baby teeth and that's due to foal in a month," Ms. Terry said. "That's our biggest concern. A horse of that age is not physically ready. It's the equivalent of a 13-year-old girl having a child."
Several of the horses are going to require extensive socialization. Five are completely unable to be handled, including the three suspected pregnant mares. The lead male of the group is dangerous, acting every bit like the stallion he is.
Some are undersocialized but already beginning to come around, while others have clearly been handled to some extent in the past. A gelding named Freddy Eddy Flintstone is particularly friendly and actively seeks attention — sometimes maybe a bit too insistently.
"Their personalities will come out more as they settle here a little bit," Ms. Terry said. "But we are hopeful that within a month, we'll be able to get at least a few of them up for adoption."
Many of the horses are underweight and need treatment for issues such as intestinal worms and fungal infections. Their appearance, while still rough, is misleading because of their heavy winter coats and bloated bellies from worms and pregnancies.
"They look in better condition than they are when you touch them," Ms. Terry said.
The donkey and two horses with major medical needs are in a foster home. One stallion that was found in a stall in a partially collapsed barn where the gate had long been buried in muck has unknown significant neurological issues. A mare has a serious condition called purpura hemorrhagica.
VIDEO: Tricia Terry, Starry Skies Equine Rescue and Sanctuary
"Their skin literally can swell and then slough off," Ms. Terry said. "So she's getting intravenous steroids."
Lenawee County has never handled such a large animal case before, Captain Ewald said, and a number of positives have come out of it.
"We learned a lot from this whole incident on what the resources are that are out there and available," he said. "I couldn't be happier with how it turned out. It's one of those worst nightmares you really don't ever want to deal with."
Ms. Cornell said the case has strengthened old relationships and formed new ones among area law enforcement agencies, animal welfare organizations, and others.
"It's forced us to look within and find the loopholes on how this can happen and what we can do to help stop it in the future," she said. "While it's been a tragedy and an overwhelming burden for the staff and our finances, we've learned a lot of things along the way."
Contact Alexandra Mester amester@theblade.com, 419-724-6066, or on Twitter @AlexMesterBlade.
Guidelines: Please keep your comments smart and civil. Don't attack other readers personally, and keep your language decent. Comments that violate these standards, or our privacy statement or visitor's agreement, are subject to being removed and commenters are subject to being banned. To post comments, you must be a registered user on toledoblade.com. To find out more, please visit the FAQ.