While most Toledo residential water users are charged for water that never moves through their pipes, it appears most suburban customers are paying only for what they use.
Last month, The Blade reported 71 percent of Toledo's residential customers — excluding seniors who receive a discount — use less water than they pay for, based on the city's quarterly minimum charges. In places like Maumee, Perrysburg, and other parts of Lucas County, a much smaller percent of utility customers pay for water they never use.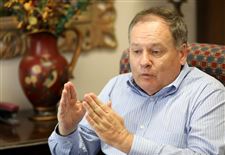 Mayor Richard Carr said all the revenue Maumee takes in from water rates go to make improvements in the water system. 'Maumee has mitigated the lead in our lines because of the extra charge to our residents,' Mr. Carr said.
The Blade/Kurt Steiss
Enlarge | Buy This Image
In Lucas County, 44 percent of residential customers use less than the 2,000-cubic-foot minimum for which they're billed. In Maumee and Perrysburg, the number is even less significant. Only 20 percent of residents in those communities pay for unused water, while Sylvania doesn't require a minimum payment at all.
The discrepancies underscore some of the complications at stake as leaders from Toledo, Lucas County, Maumee, Perrysburg, Sylvania, Whitehouse, Fulton County, Monroe County, and the Northwestern Water & Sewer District continue to meet in an effort to form the Toledo Area Water Authority, a regional water system with a goal of equalizing water rates over time.
RELATED: Suburban leaders 'frustrated' with regional water talks
However, many entities involved are also exploring alternatives. Maumee, Perrysburg, and the Northwestern Water & Sewer District are conducting a study to evaluate the possibility of receiving water from Bowling Green, while Sylvania and Monroe County agreed to a similar study looking at tapping into Detroit's regional system.
Varying usage rates
In Toledo, all customers who use between zero and 2,000 cubic feet of water each quarter are charged the same $49.87 fee, except for those who receive the senior discount. More than 70 percent of all other rate payers use less than the minimum quarterly amount each quarter.
Maumee and Perrysburg charge slightly higher quarterly minimums, but far more customers in those areas meet their usage floors, which are lower than Toledo's.
In Maumee, residents pay a quarterly minimum of $59.20. Customers using between 1,000 and 5,000 gallons pay the same rate, with step rates implemented for usage above 5,000 gallons.
Even if Maumee's minimum rates might be higher than such rates in other communities, all revenue the city takes in from the water has been spent on improving the water system, Mayor Richard Carr said.
"Maumee has mitigated the lead in our lines because of the extra charge to our residents," he said.
Public service director Joe Camp said Maumee's current minimum rates have been in place for at least 10 years. Finance Director Debra Cartledge said Maumee has approximately 7,500 accounts, and only 850 use less than 5,000 gallons.
The quarterly minimum in Perrysburg is based on 900 cubic feet and amounts to $51.63 per quarter. Public utilities commissioner Mark Dunsmoor said Perrysburg has more than 10,000 residential water customers; 1,975 have been under the minimum usage the last two quarters.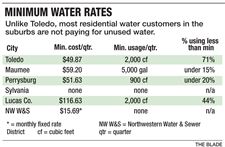 THE BLADE
Enlarge | Buy This Image
"That could change from quarter-to-quarter," Mr. Dunsmoor said. "People use less in the winter, and we have snowbirds who come and go."
Maumee and Perrysburg use rate-setting guidelines established by the American Water Works Association. The association sets guidelines for minimum charges and says they can be used as "a means to recover a portion of fixed costs." Minimums are generally set at a "relatively low level equal an amount that is typically used by most customers in a month," the guidelines state.
Sylvania charges customers $11.65 per 1,000 gallons but does not have a minimum. Mayor Craig Stough said the city is examining the possibility of a fixed cost for reading water meters, sending bills, and providing for lines.
"Someone could have an inactive meter and pay zero," Mayor Stough said. "That's the way it's been for a long time. But we don't want to charge Sylvanians for water they're not using."
Lucas County has 16,396 residential users, and 7,209 use less than the minimum of 2,000 cubic feet, about 44 percent. Users are charged $29.37 for Lucas County distribution and $87.26 for Toledo's water supply, for a total quarterly minimum of $116.63.
Possible rate decrease for Toledo, Lucas County
Lucas County sanitary engineer Jim Shaw said the county has asked Toledo to take a look at adjusting minimum rates.
"I think it's definitely something Toledo is considering," Mr. Shaw said. "We're tied to Toledo's contract, so we'll basically do what they do. But we have established a fixed portion. When you look at our actual rate, the fixed portion is pretty much establishing our fixed cost. And then the 2,000-cubic-foot minimum, if they lower it, we'll lower ours."
The Northwestern Water & Sewer District owns and operates several water systems in Wood County, including those in Rossford and Perrysburg Township. All customers pay a $15.69 monthly fixed rate to cover costs of operating the utility, although average water bills for district customers can be much higher. The district made about $20 million in repairs to Rossford's system, which drives up costs.
"The majority of the fixed rate is used to repair and maintain the 460 miles of water lines and the equipment necessary to transport the water from our water providers to our customers," northwestern district spokesman Theresa Pollick said in an emailed statement. "There are other fixed costs associated with operating a utility such as labor and benefits, facility costs, and maintaining the vehicles necessary for the operation."
Ed Moore, Toledo's director of public utilities, told The Blade last month it may be time to revisit the city's minimum rates.
Representatives from Toledo and its suburbs are scheduled to meet again Monday.
Contact Jay Skebba at jskebba@theblade.com, 419-376-9414, or on Twitter @JaySkebba.
Guidelines: Please keep your comments smart and civil. Don't attack other readers personally, and keep your language decent. Comments that violate these standards, or our privacy statement or visitor's agreement, are subject to being removed and commenters are subject to being banned. To post comments, you must be a registered user on toledoblade.com. To find out more, please visit the FAQ.