Holding a "Black Lives Matter" sign and wearing a rainbow sash, Kay Chapman, 61, of Toledo stood next to her partner Jacqueline Nathan, 67.
The two blended in with thousands of others dressed in "Toledo loves love" T-shirts and carrying signs in support of Northwest Ohio's largest and most recognized event for the LGBTQ community.
The eighth annual Toledo Pride parade took off noon Saturday on Adams Street, filling the streets with color all the way down to Promenade Park with participants cheering "love is love."
"You couldn't pick a better gay district than Toledo," Allison Dow, local business owner of House of Dow, said while holding a "Make America Gay Again" flag.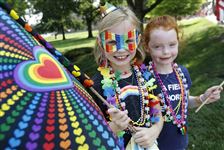 Sisters Jillian Casey-DeBacker, 8, left, and Olive, 6, were ready to go as they waited for the start of the Toledo Pride Parade along with their mothers Liz Casey and Jen DeBacker of Sylvania Saturday, along the parade route in downtown Toledo.
THE BLADE/KATIE RAUSCH
Enlarge | Buy This Image
PHOTO GALLERY: Toledo Pride
Her store sells vintage clothing and provides a safe and inclusive environment for the trans community, she said.
Drag queen Deja Dellataro, 35, of Toledo lead this year's parade wearing a sheer see-through sequin mermaid dress. She has attended the parade since it first started.
"You get a whole feel of what Toledo is," Miss Dellataro said.
The parade featured 115 groups — the biggest the parade has ever been, Miss Dellataro said. Last year the parade included 80 groups.
Parade coordinator Brent Rabie said not all organizations participating in the parade are gay, but rather, supporters of LGBTQ.
He added since the parade's inception, he has seen "Toledo becoming a more and more accepting community."
But Toledoans weren't the only ones offering support to the LGBTQ community.
Ashley Yeater and Tes Swingler, both 24, of Norwalk, Ohio, came to support people who had gone through similar struggles of being bisexual.
Miss Yeater said she wants events like this to open more people's minds.
Founder of Toledo Pride Lexi Staples created the event with a similar mission. Since it first started at the Erie Street farmers market, the parade has grown to include thousands of people.
More than 10,000 people attended last year, Mr. Rabie said, with even more expected to be at this year's event.
"We went from being in a small area with one food vendor to now," Nicole Khoury, member of the board of directors said. "You can't even walk because there are so many things to do."
Ms. Khoury added Toledo Pride is the first nonprofit to host an event at Promenade Park since the park first opened.
Parents and Friends of Lesbians and Gays celebrated its 45th birthday at the parade carrying a bright yellow banner.
Member of PFLAG Renee Mulligan brought her 4-month and 6-year-old granddaughters to get them involved in supporting the LGBTQ community earlier than she did.
"Its something for everyone," she said. "It started from a five-minute parade down by the farmers market ... every year it's bigger and bigger."
Ms. Chapman and Ms. Nathan also joined the crowd in cheering from the sidelines.
"It's important to be present in the community and to show pride and to celebrate the diversity and the wonderful different facets that make our community stronger," Ms. Nathan said.
The couple has traveled nationally supporting different pride parades.
Among the supporters, Lois Poley, 82, of Toledo was there to support her children participating in the parade.
"I believe in people living the way they want to," she said. "I enjoy going to parades like this and I enjoy being around people that are gay... I just love them."
The sponsors for this year include Greyhound, Owens Corning, project iAM, and Turner Custom Design among others.
Contact Areeba Shah at ashah@theblade.com, 419-724-6066, or on Twitter @areebashah_.
Guidelines: Please keep your comments smart and civil. Don't attack other readers personally, and keep your language decent. Comments that violate these standards, or our privacy statement or visitor's agreement, are subject to being removed and commenters are subject to being banned. To post comments, you must be a registered user on toledoblade.com. To find out more, please visit the FAQ.