An East Toledo man is accused of shooting another man three times last month.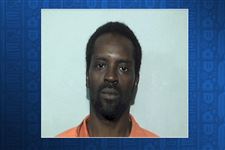 Brown
Odell Brown III, 36, of the 2100 block of Consaul Street, is charged with felonious assault, a second-degree felony.
On Aug. 31, Mr. Brown is accused of shooting Rodney Stewart in the chest, arm, and groin while in the 720 block of North Michigan Street, according to an affidavit filed in Toledo Municipal Court.
Mr. Brown was arrested Thursday by Lucas County Sheriff's deputies and was booked in the Lucas County jail.
He appeared in Toledo Municipal Court on Thursday, where bond was set at $75,000 at no percent.
Guidelines: Please keep your comments smart and civil. Don't attack other readers personally, and keep your language decent. Comments that violate these standards, or our privacy statement or visitor's agreement, are subject to being removed and commenters are subject to being banned. To post comments, you must be a registered user on toledoblade.com. To find out more, please visit the FAQ.