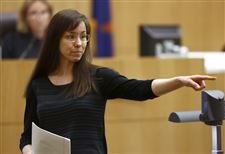 Jodi Arias points to her family as a reason for the jury to give her a life in prison sentence instead of the death penalty, during the penalty phase of her murder trial at Maricopa County Superior Court in Phoenix.
ASSOCIATED PRESS Enlarge
PHOENIX — A judge in Jodi Arias' murder case says she expects to set a new trial date for late September.
During a hearing today in Phoenix, Judge Sherry Stephens gave attorneys additional time to file motions as Arias' lawyers want the jury's finding that made her eligible for the death penalty vacated.
A new hearing was set for Aug. 26.
Arias was convicted of murder May 8 in the death of boyfriend Travis Alexander.
The same jury failed to reach a unanimous decision on whether to sentence Arias to life in prison or death. While her murder conviction stands, prosecutors must now decide whether to try again for a death sentence with a new jury or to settle for life in prison.
Arias admitted she killed Alexander, but claimed self-defense.
Guidelines: Please keep your comments smart and civil. Don't attack other readers personally, and keep your language decent. Comments that violate these standards, or our privacy statement or visitor's agreement, are subject to being removed and commenters are subject to being banned. To post comments, you must be a registered user on toledoblade.com. To find out more, please visit the FAQ.