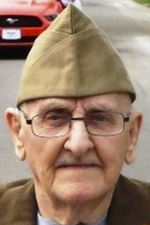 Glenn D. Ritzenthaler
Glenn D. Ritzenthaler of Tiffin, a retired carpenter and referee who was a community volunteer and a U.S. Army veteran of the Korean War, died Sept. 5 at Mercy Health Tiffin Hospital. He was 89.
He died of apparent congestive heart failure following a bout with pneumonia, his daughter, Lynne Cartwright, said.
Mr. Ritzenthaler retired about 2000 after about 50 years of building and remodeling scores of homes in Tiffin with his father-in-law, Vinton Dysinger, from whom he had learned the trade, Mrs. Cartwright said.
He also officiated area football and basketball games — from grade-school to high-school level — retiring after 29 years in the 1990s. He was inducted into the Tiffin Columbian Athletic Hall of Fame in 2004 and into the Ohio High School Athletic Association Officials Hall of Fame in 2006.
Mr. Ritzenthaler also used his carpenter trade skills to volunteer to help build 48 homes for Habitat for Humanity, from the late 1980s until it became difficult for him to walk a few years ago. While he was still with the group, he was awarded the Habitat's Golden Hammer Award for his service, his daughter said.
"He was a very dedicated carpenter," Jim Ruess of Tiffin, a fellow Habitat volunteer, said. "I followed him and I learned a lot from him."
Mr. Ruess added that Mr. Ritzenthaler had put in a lot of volunteer hours in retirement.
Over the years, Mr. Ritzenthaler also made summer trips to other states, spending a week at a time to help other Habitat chapters build homes. He was proud of once meeting former President Jimmy Carter, a fellow Habitat volunteer, on one such trip to Georgia years ago, his daughter said.
"He was always very willing to help. He volunteered a lot of his time," Mrs. Cartwright said. "Possibly, that was because when he grew up, he didn't have anything."
"He was very active, always very busy, because he was self-employed. He built every house that I ever lived in. And he was always very active in sports," she said.
Mr. Ritzenthaler was born Oct. 7, 1928, in Tiffin to Harry and Martha Ritzenthaler.
In 1946, he graduated from Columbian High School, Tiffin, where he ran track and played basketball and football. He later attended what was then Heidelberg College, where he played football.
About 1950, he joined the Army and served in Germany during the Korean War until his honorable discharge in 1952.
Upon his discharge, he returned to Tiffin to learn carpentry.
Also in 1950, he married Marta Dysinger. She died in 1998.
In his free time, he enjoyed watching ball games, playing cards, and riding his red scooter in community parades.
Mr. Ritzenthaler was a member of First Presbyterian Church, Tiffin.
His other memberships included Elks Club No. 94, of which he was a past exalted ruler and a lifetime member; Lions Club, and Allen Eiry Senior Center, all in Tiffin.
Besides his wife, he was preceded in death by sisters Jo Ann Barth, Margaret Thomas, Kate Sendelbach, Ardinell Border, and Helen Ritzenthaler, and a brother, Don Ritzenthaler.
Surviving are his daughter, Lynne Cartwright, and two grandsons.
Visitation will be at 10 a.m. Wednesday at First Presbyterian Church, Tiffin, where a celebration of life will begin at 11 a.m. that day.
Arrangements are by Hoffmann-Gottfried-Mack Funeral Home & Crematory.
The family suggests tributes to the church, Seneca County Habitat for Humanity, or Community Hospice Care of Tiffin.
Contact Mike Sigov at sigov@theblade.com, 419-724-6089, or on Twitter @mikesigovblade.
Guidelines: Please keep your comments smart and civil. Don't attack other readers personally, and keep your language decent. Comments that violate these standards, or our privacy statement or visitor's agreement, are subject to being removed and commenters are subject to being banned. To post comments, you must be a registered user on toledoblade.com. To find out more, please visit the FAQ.