How global warming is changing our world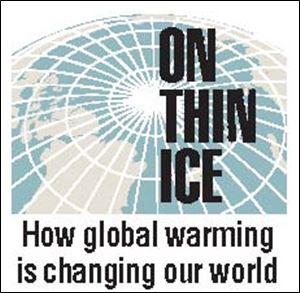 Day 1

Global warming grips Greenland, leaves lasting mark: (10/12/08) ILULISSAT, GREENLAND-- Beyond the howl of sled dogs echoing across this hilly coastal village is the thunderclap of ancient icebergs splitting apart, a deafening rumble you feel in your bones.There's no mistaking its big, loud, and powerful boom, a sound that can work up to a crescendo like rolling thunder. Or be as sudden as a shotgun blast. Lifelong Greenland resident Karen Jessen Tannajik said people who live in Ilulissat -- an Inuit word for icebergs -- notice more about what's been calved by the village's nearby Sermeq Kujalleq glacier than sights and sounds.
Scientist defies danger, goes deep for answers on receding ice sheet: (10/12/08) With his mountaineering gear, ropes, and a buddy system that keeps him anchored, Konrad Steffen rappels down cracks into the heart of Greenland's ice sheet.One mistake and he's dead. The crevices he enters, called moulins, are like vertical caves, or deep wells. Or Arctic versions of black holes, some of them plunging to depths of 500 feet and consisting of ice more than 100,000 years old. They are an unforgiving master of the laws of physics, ready to suck unprepared intruders down to wherever gravity will take them in one of the most slippery, remote, and harrowing places on Earth.
Ohio State facility holds eons of atmospheric history: (10/12/08) Scott Hall on Ohio State University's west campus is an unlikely place to find some of the world's top climate-change research.A nondescript building that's about a 20-minute stroll from one of college football's most glorified stadiums, Scott Hall is home to the Byrd Polar Research Center. For nearly 50 years, the center - named after explorer Admiral Richard E. Byrd - has brought together climatologists, glaciologists, and oceanographers to study opposite poles of the Earth. The center's star attraction is its collection of ice cores.
Day 2
Climate change called certain and most predictions are bad: (10/13/08) If the threat of more West Nile virus, smog, contaminated water, higher food prices, invasive species, toxic algae, lake level declines, and deaths from heat waves isn't enough to wake up people to problems associated with climate change, consider this: Ohio might lose its namesake nut to arch rival Michigan.That's right. The buckeye. Some fear the buckeye tree won't be able to handle the state's warming climate and will instead adapt to a more moderate climate in Michigan, a cruel fate of irony for Ohio's official tree. But that may be the least of the region's concerns if other predictions about climate change come true - forecasts that go well beyond reduced opportunities for skiing, snowmobiling, ice fishing, and other forms of winter recreation.
Warming likely to affect fishing, shipping industries: (10/13/08) Walleye and yellow perch -- the backbone of the Great Lakes region's multibillion dollar recreation and tourism industry -- will likely be harder to catch as the lakes warm. Algae will proliferate, sucking more oxygen from the water. Walleye and yellow perch are two cool-water species that likely will be out-competed for food by warm-water fish. Lake trout and brook trout are two others. The devastation, though, could be overshadowed by what happens to the shipping industry if lake levels become chronically lower, as predicted under the current regime of climate-change scenarios. The two issues could work in tandem to wreak havoc on the region's economy.
Day 3

Politics, money blur climate change picture: (10/14/08) Achieving meaningful reductions in greenhouse gases that cause global warming could result in higher taxes and electric bills while also driving up costs for everything from food to electronics.By how much? That's one of the great unknowns, though many of the world's top climate scientists believe that failing to act is a foolhardy risk that could irreversibly harm the planet and cost more in the long run. This year's presidential election is historic. It is the first time both major parties are fielding a presidential candidate who vows to tighten rules on coal-fired power plants specifically to cut back on heat-trapping carbon dioxide and other emissions warming the Earth's climate.
Summit looks to update Kyoto treaty: (10/14/08) Two months from now, leaders from 189 countries should know what their chances are of modernizing an 11-year-old climate treaty that strives to take on global warming from a global perspective.More than 8,000 people are expected to attend a Dec. 1-12 summit in Poland that, if all goes as planned, will be a preamble to a historic treaty that emerges from negotiations in Denmark at the end of 2009. At stake is the future of the Kyoto Protocol, a controversial treaty that 38 industrialized countries signed in Japan in 1997. The Kyoto accord sought to achieve meaningful - though costly - reductions in greenhouse gases on a global scale.
Midwest has lots at stake in 'clean coal': (10/14/08) Coal is king when it comes to generating electricity in the United States, producing nearly half of the nation's power.Industry-heavy Ohio gets about 80 percent of its electricity from coal-fired power plants. Michigan consumes slightly less energy than Ohio but is still among the nation's leaders for industry and is also heavily reliant on coal. Because it is the largest emitter of greenhouse gases, coal's future has become one of the world's largest policy issues. Can it be pulverized and burned in the traditional way without releasing so much heat-trapping carbon dioxide into the atmosphere? Is it worth the cost of replacing old coal-fired power plants with newer ones?
Day 4
Energy independence possible, but elusive goal: (10/15/08) It would be nice to think more people could do what Ralph Semrock did. The Ottawa County man built a three-story, 2,440-square-foot house out in the country that's earth-bermed and creates its own electricity. It also uses energy so efficiently he is able to sell his surplus power to FirstEnergy Corp. His dream is to someday wean himself off the region's electrical grid. Located 10 miles east of Oregon, the house has energy-efficient windows, extensive foam insulation, a rain garden, and heat radiating from below a 7-inch concrete basement floor, as well as its own wind turbine and solar panels. It was designed by Mr. Semrock, an Owens Community College professor who owned a solar energy business from 1978 to 1981.
Options for replacing coal are few, costly:(10/15/08) Efforts to curb greenhouse gases that cause global warming have sparked interest in new technologies, rejuvenated pleas for energy conservation, and resulted in development of co-generation projects in which steam from one industrial facility is captured and used to generate electricity at another. But when it comes to replacing coal-fired power plants that are the country's biggest source of greenhouse gases, there are not many viable options. At least for now.