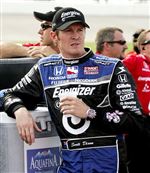 Dixon
Mark Humphrey / AP Enlarge
BROOKLYN, Mich. Scott Dixon started the 2007 racing season auditioning for the role of IndyCar Series bridesmaid. In four of the first nine races, Dixon was first runner-up, but never the guy in the winner s circle.
But second place was no longer good enough, apparently, and following the past three races, Dixon has worn the crown each time. Now he comes to Michigan International Speedway for tomorrow s Firestone Indy 400, looking to make it four in a row and surge ever closer to points leader Dario Franchitti.
During his recent hot streak, Dixon has sliced Franchitti s points lead from 65 to just 24. If Dixon s Target Chip Ganassi Racing team can maintain the momentum at MIS, the first of the final five races on the IndyCar Series schedule, things get really interesting.
The biggest thing that s happened, that s helped us, is winning races, Dixon said about the groove his team finds itself in. It definitely helps everybody on the team, from the spotters to the mechanics everybody just gets on a lot better. I think decisions are made a little easier. People just like hanging out with each other.
Dixon, the 2003 IndyCar Series champion, won that title with the same kind of consistency he has displayed this year. The native of Australia, who is a citizen of New Zealand, won three races in 2003 and added five second-place finishes.
A win this weekend at Michigan would set a series record for consecutive triumphs and break a string of sub-par performances on the two-mile, D-shaped oval tucked in the Irish Hills.
In four previous appearances at MIS in IndyCar Series events, Dixon has a best finish of fifth place in 2003, but he slipped to seventh in 2004, and then has been 19th and 16th the last two years.
Obviously, we re going to try to go for four in a row, but going into Michigan, it s probably the worst place to try to do that because it s a tough race. Definitely a lot of people have a good shot at that race because it is track racing, and you never really know until the last lap, Dixon said.
I know I haven t had a huge run at Michigan before, but definitely I would like to change that record.
Dixon said last year s disappointing finish did not accurately reflect how competitive he felt his car was in the race.
Last year we were quick I think we were running second or third. I think we were even leading and then we ran out of fuel on the yellow, which threw us out of that race, Dixon said. I had to help out my teammate [Dan Wheldon] there, and he ended up finishing third. So it was a good result for him, and I think we had a car that was probably quicker than him.
Dixon said that with just four race dates left on the calendar following Michigan, he has to keep the heat on and maybe rattle Franchitti, the winner of this year s Indy 500.
We know what we ve got to do. We ve basically got to go as fast as we can, apply as much pressure as possible, and try and win every race, and that s what we ve been doing for the last few races of the season, Dixon said.
I think we ve had the ball roll our way in a few instances, and I m sure that Dario now is kind of looking over his shoulder. We ve definitely taken a big step on his points. And it s gotta be sort of getting to them a little bit, but that s what we can hope.
Dixon said it would mean a lot to be the first IndyCar Series driver to win four straight races, especially since the circuit has gone exclusively to Honda engines, further leveling the competitive playing field. He said he enters today s qualifying at MIS with the mind-set that he ll have the equipment capable of producing a win.
We re confident I know what our team s made up of, Dixon said. I know the development work that we ve been doing. I know from the recent test that our car has been extremely fast. They re still there.
All I hope is that our sort of streak or our confidence level or the momentum we ve got going doesn t sort of blow out any time soon. That s what we ve got to keep going and just keep our focus on. But I think we re in a pretty good situation at the moment.
Contact Matt Markey at:mmarkey@theblade.comor 419-724-6510.
Guidelines: Please keep your comments smart and civil. Don't attack other readers personally, and keep your language decent. Comments that violate these standards, or our privacy statement or visitor's agreement, are subject to being removed and commenters are subject to being banned. To post comments, you must be a registered user on toledoblade.com. To find out more, please visit the FAQ.