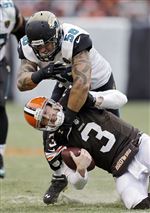 Brandon Weeden is tackled by Jacksonville's Jason Babin during the third quarter on Sunday. Weeden suffered a concussion at some point in the game.
ASSOCIATED PRESS Enlarge
BEREA, Ohio — Another stinging defeat. Another damaged quarterback.
The Browns are losing games and key players at an alarming rate.
With Brandon Weeden sustaining a concussion in Sunday's troubling 32-28 loss against Jacksonville, and Jason Campbell still not medically cleared to practice after suffering a head injury last week against Pittsburgh, Browns coach Rob Chudzinski began preparing for Sunday's game at New England not knowing who he will start at quarterback against the powerful Patriots.
Weeden played the entire game against the Jaguars and didn't complain about any symptoms until afterward, when he was diagnosed with the concussion. Weeden was sent home Monday after reporting to the Browns' training facility and is following the league's protocol on head injuries. Chudzinski did not know "exactly" when Weeden got hurt.
Campbell has been cleared to resume football activities, but he still can't practice. If he's not on the field Wednesday, the Browns (4-8) may have to start Alex Tanney, who was signed last week off Dallas' practice squad. He's best known for a YouTube trick-shot video he made at Division III Monmouth (Ill.) College and has not played a single down in a regular-season NFL game.
Chudzinski said it's also possible the Browns will sign a free-agent quarterback.
"These next 24 to 48 hours will be key," Chudzinski said. "We have a number of contingency plans. All the possibilities are open right now."
Tanney was given a small package of plays last week so he would be ready in case he had to play against the Jaguars. Ideally for the Browns, Campbell will be ready, but the way their luck has gone lately, they're preparing for the worst.
"We can wait," Chudzinski said. "We have a few days to let it sort it out, and we'll have to know something by the time that we get into practice. If Alex is the guy, then we'll have him ready and have him working and he'll have a package where he can be successful."
Chudzinski said it's possible the Browns' coaching staff may have to prepare several gameplans for Sunday, one tailored to the strengths of whoever is behind center.
"We'll have different possibilities and we'll have to see how it plays out during the course of the week, when guys can practice or be cleared to practice or be cleared to play and how much practice time they would need," Chudzinski said. "It may be different for each guy."
Their quarterback conundrum comes at a sensitive time for the Browns (4-8), who are reeling after blowing a lead in the final four minutes and losing to the Jaguars. Once at 3-2, Cleveland has dropped six of seven and had a season filled with optimism slide toward another filled with failure.
Still, Chudzinski tried to spin some optimism into an otherwise dreary situation.
"I see good signs in the direction and the progress and the improvement," he said. "Those things get overshadowed by the end results. Obviously, that's the tough thing, especially in the last few weeks. But this is what I came here for. We have a plan. I believe in that plan, and I'll navigate us through this to the better days that lay ahead for us. I'm fully committed and undaunted in doing that."
Guidelines: Please keep your comments smart and civil. Don't attack other readers personally, and keep your language decent. Comments that violate these standards, or our privacy statement or visitor's agreement, are subject to being removed and commenters are subject to being banned. To post comments, you must be a registered user on toledoblade.com. To find out more, please visit the FAQ.