L: Michigan's Glenn Robinson III, left, does a reverse dunk as Minnesota's Oto Osenieks (10) and Austin Hollins. R: Ohio State guard Shannon Scott attempts to drive.
Three weeks ago, the Ohio State basketball team was unbeaten and ranked third nationally. Hand-wringing over how the Buckeyes would score was offset by a defense that made the basket seem even smaller for opponents and the time-honored touch of coach Thad Matta.
Pass GO, please collect your fifth straight trip to the Sweet 16.
Michigan, meanwhile, was unranked with four losses. Already walloped by the void of national player-of-the-year Trey Burke and fellow first-round NBA draft pick Tim Hardaway, Jr., UM learned Mitch McGary — the tireless sophomore forward who averaged a double-double in last year's NCAA tournament — needed potential season-ending back surgery.
The defending national runner-ups were trending toward the NIT.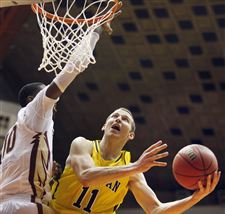 Michigan guard Nik Stauskas is leading the Big Ten in scoring with 18 points per game.
ASSOCIATED PRESS Enlarge
Then came the new year.
Today, the Buckeyes and Wolverines are still careening in wildly different directions, except with a big twist and two new questions.
In Columbus: When does spring football start? In Ann Arbor: How soon is March Madness?
While the No. 17-and-falling Buckeyes' search for rock bottom continued Monday with their fourth straight loss — a 68-62 defeat at Nebraska — the Wolverines' stunning 77-70 win Saturday at previously third-ranked Wisconsin continued an unexpected climb.
Coach John Beilein has reinvented No. 21 Michigan (15-4, 5-0 Big Ten) as conference contenders heading into another big-stakes week. The Wolverines, whose win over the Badgers marked their first in Madison since 1999 and the highest-ranked road victory in program history, host 10th-ranked Iowa (15-3, 4-1) today before bussing to East Lansing for Saturday's primetime showdown against No. 3 Michigan State — the upended Big Ten's only other team without a league loss.
"This little run of games right here, I don't recall playing three top-15 teams in a row," Beilein said. "So going to Wisconsin and getting off to a good start was important. I really feel good."
Michigan's new identity begins with 6-foot-6 sophomore guard Nik Stauskas, who in the absence of all the old stars has become one his own.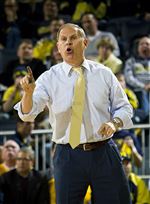 Michigan head coach John Beilein has his Wolverines undefeated in play Big Ten so far this season.
ASSOCIATED PRESS Enlarge
The reigning Big Ten player of the week averages a league-leading 18 points per game and is shooting 44 percent from beyond the arc — not quite the 90 percent clip (128 out of 142) from a backyard 3-point exhibition he put on YouTube two years ago but game-changing nonetheless. At Wisconsin, his silencing step-back 3 pushed Michigan ahead by four in the final minute.
Add in sophomore forward Glenn Robinson III (13.9 points), sophomore guard Caris Levert (12.0 points), and developing freshman point guard Derrick Walton (8.1 points), and Beilein has another Michigan team playing ahead of its years.
By now, it should be old hat. This is what Beilein does.
The 60-year-old is one of the nation's great program builders, a winner at West Virginia and Richmond and before that in every gym in Western New York — from Newfane High to Erie Community College to Division II Le Moyne to Canisius. Yet this coaching job could rank among his best.
The balanced Wolverines are averaging 77 points per game — about the same as they were at this point last season — and fourth nationally in Ken Pomeroy's offensive efficiency index, which measures points per 100 possessions.
"If you look at John over the years, he's one of the best coaches of our generation," Iowa coach Fran McCaffery said.
The Buckeyes (15-4, 2-4), meanwhile, have free fallen to their first four-game losing streak in six years.
Asked what has changed since the perfect start, Matta replied, "How much time do we have?"
Most concerning for OSU, the league's top-ranked defense is no longer hiding the flaws of a team overflowing with athletes but short on shooters.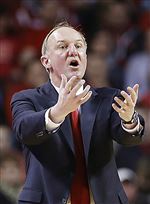 Coach Thad Matta and Ohio State have had their first four-game losing streak in six seasons.
ASSOCIATED PRESS Enlarge
Beyond a recent bout of careless play that should be fixable — starting guards Aaron Craft and Shannon Scott have a combined 31 turnovers the past four games — other issues may not be.
For one, the Buckeyes shot less than 40 percent in back-to-back road losses to Minnesota and Nebraska — a team without a league win they thumped by 31 points weeks earlier. Matta said he even bought a book on shooting for his "iThing."
"I'm at the point where I'm trying anything," Matta said Tuesday night on his weekly call-in radio show.
OSU also has no one to ride late in these unfailingly tight league games, with LaQuinton Ross (13.9 points) remaining too enigmatic to replace what left with the early departure of all-conference forward Deshaun Thomas.
"I would say, Jared Sullinger and your Deshauns, those guys had a knack for somehow, someway of finding a way [late in games], via the free-throw line or getting inside the defense, to score," Matta said.
Help is on the way, with home dates coming up against Illinois (13-6, 2-4) and Penn State (9-10, 0-6).
While doubting the Buckeyes is a rite of winter — OSU lost three of four games last February before rallying all the way to Elite Eight — their lack of dynamic scorers suggests this year may be an outlier. A team with the league's ninth-ranked scoring offense and without a win over a current top-25 opponent may soon find itself squarely on the tournament bubble.
What happens next? Expect more minutes from Marc Loving, the freshman forward and St. John's Jesuit graduate recruited as a deadeye shooter.
Beyond that? If Michigan's out-of-nowhere rise and Ohio State's fall has taught us anything, it's probably best to put away the crystal ball.
Contact David Briggs at: dbriggs@theblade.com, 419-724-6084 or on Twitter @DBriggsBlade.
Guidelines: Please keep your comments smart and civil. Don't attack other readers personally, and keep your language decent. Comments that violate these standards, or our privacy statement or visitor's agreement, are subject to being removed and commenters are subject to being banned. To post comments, you must be a registered user on toledoblade.com. To find out more, please visit the FAQ.