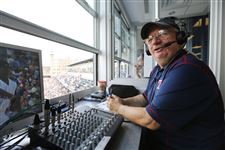 Weber
THE BLADE
Enlarge | Buy This Image
Mud Hens broadcaster Jim Weber, who votes for the International League Hall of Fame, found a surprise on this year's ballot.
His name was on it.
"When I got the ballot, I didn't even notice that right away," Weber said. "I did not feel it was right to vote for myself."
Plenty of other Hall of Fame voters did, though. In fact, Weber received enough votes to become one of three individuals selected to this year's induction class of the IL Hall of Fame.
"I was surprised [to be chosen]," Weber said. "Most of the voters probably knew me, which is the advantage of being around the league so long.
"And it sure was nice to have this happen before I am dead."
Weber, the first broadcaster selected to the International League's Hall of Fame, called his first Mud Hens game in 1975 and has not missed a scheduled broadcast since. That gives him a streak of 5,008 consecutive games entering the season.
His streak is believed to be the longest string of consecutive game broadcasts in baseball history.
"I never considered myself a candidate for this hall of fame," Weber said. "But I guess I've stayed around long enough. This honor would be the top of the game for me."
Joining Weber in this year's hall of fame class are Jeff Manto and Dave Miley.
Manto was the 1994 league MVP who played for seven different IL teams from 1992-2000, then spent five seasons with Cleveland (1990-91, 1997-99) and 16 games with Detroit in 1998.
Miley is a two-time IL manager of the year who has won 1,081 games in the IL with Indianapolis, Louisville, Columbus, and Scranton/​Wilkes-Barre.
Miley also managed the Cincinnati Reds from 2003-05.
"I've known Dave Miley since his first year managing at Indianapolis," Weber said. "I was even invited to his wedding.
"And I met Jeff Manto when he was in Syracuse. He's a good guy, and we seem to get together every time the Mud Hens have faced him since."
The International LeagueHall of Fame was established in 1947 but was dormant from 1964 until 2008, when it was revived as part of the league's 125th anniversary celebration.
The living Hall of Famers — along with longtime league executives, broadcasters, and media — conduct a vote in which the top three vote-getters who are named on a majority of ballots are chosen for induction.
Contact John Wagner at: jwagner@theblade.com, 419-724-6481 or on Twitter @jwagnerblade.
Guidelines: Please keep your comments smart and civil. Don't attack other readers personally, and keep your language decent. Comments that violate these standards, or our privacy statement or visitor's agreement, are subject to being removed and commenters are subject to being banned. To post comments, you must be a registered user on toledoblade.com. To find out more, please visit the FAQ.