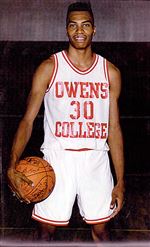 Jeff Massey is Owens CC's career scoring leader. He later helped Xavier reach the NCAA tourney.
Former Owens Community College men's basketball guard Jeff Massey has been named to the National Junior College Athletic Association hall of fame.
Massey of Elkhart, Ind., who played for the Express from 1991-93, led the Owens to back-to-back NJCAA Division II national championships, where he was named tournament MVP in both seasons
He was a two-time All-Ohio Community College Athletic Conference two-time player of the year, a two-time All-Region player of the year, and a two-time NJCAA All-America first-team pick.
In his two seasons, the Express finished 72-3 and won back-to-back conference championships, along with their regional and national titles (1992, 1993).
As a freshman, he scored 1,047 points (27.6 per game), the 13th most points in a single season at the NJCAA level.
As a sophomore, Massey scored 26 points per game and closed career with 1,894 points, ninth on the NJCAA career scoring list.
Massey is still the program's all-time leading single season and career scorer. He also still holds nine other records.
Following his career at Owens, Massey led Xavierto an National Invitation Tournament berth as a junior and an NCAA tournament as a senior. The Musketeers finished 45-13 in his two years. As a senior, he was a team captain while leading the team in scoring (18.9), steals, free throw percentage and blocked shots. As a junior, he averaged 12.7 points per game while being named the Midwestern Collegiate Conference Newcomer of the Year.
Following his collegiate career, Massey played overseas in several countries, such as France and Poland, for four years before entering the NCAA coaching ranks. After one year as the director of basketball operations at Owens in 2004-05, Massey spent two years as an assistant coach at Robert Morris before moving on to St. Bonaventure, where he is currently.
Massey, who will be officially inducted later this year, is the only male athlete to have his jersey retired at Owens CC. He also is the first person associated with Owens to be named to the NJCAA hall of fame.
Guidelines: Please keep your comments smart and civil. Don't attack other readers personally, and keep your language decent. Comments that violate these standards, or our privacy statement or visitor's agreement, are subject to being removed and commenters are subject to being banned. To post comments, you must be a registered user on toledoblade.com. To find out more, please visit the FAQ.