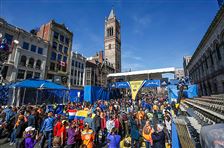 Runners and race fans crowd Boylston Street at the finish line on Sunday. Officials gave out extra bibs after those affected by last year's bombing stated their need to run the course today.
ASSOCIATED PRESS Enlarge
BOSTON — "I need to run."
The messages started arriving just hours after the bombings, pleading for an entry into the 2014 Boston Marathon. For months the calls and emails continued, runners begging for a chance to cross the finish line on Boylston Street and convinced it would lessen their grief.
"They'd say, 'I'm not a qualified runner; I don't think I ever will be. I train. I run. I could do it. But because of what happened last year, I need to run,' " Tom Grilk, Boston Athletic Association executive director, said last week.
"It might have been because they were present at the finish, or they knew somebody who was working or was affected. They might have been somebody who lives in Haverhill, Mass., and they were watching the race and it hit 'em hard. That was true for a lot of people.
"And we received some of these communications, and we thought, 'What do we do?' "
RELATED CONTENT: Victoria Dugger: Route all downhill from start
STORIFY: Follow The Blade's Victoria Dugger's progress at the race
The association had expanded this year's field to include more than 5,000 runners who were stranded on the course when the two explosions killed three and wounded 264 others. A few extra invitations were sprinkled among the first-responders and the victims or their families; others went to charities and the towns along the route; some who said they were personally touched by the tragedy were already given bibs.
But organizers felt they might still be missing people, people who perhaps didn't think their trauma was worthy amid all the lost limbs and physical scars. So, in November, they announced that about 500 bibs would be available for those "personally and profoundly impacted by the events of April 15, 2013."
In 250-word essays submitted over the Web site, 1,199 would-be runners made their case. About 600 had the connection the association was looking for.
"The anger, guilt, and heartbreak I still feel today will never go away," wrote Kate Plourd, who was in the medical tent, dehydrated and vowing never to run Boston again, when she heard the announcements: "Explosions at the finish line. Casualties. Dismemberments. Prepare yourself to treat the victims."
"Running the 2014 Boston Marathon will help me heal my mind," she said in the essay that landed her bib No. 28115. "I'll push myself ... to finish the 2014 Boston Marathon in honor of those who won't ever give up, who I won't ever forget."
The last year in Boston has been punctuated with memorial services, tributes, and fund-raisers that have raised more than $60 million for the victims.
RELATED CONTENT: Healing the wounds
But for those who feel a connection to the Boston Marathon, that connection is most often felt through running. And, when they decided they had to do something, they decided they had to run.
Dr. Alok Gupta, a trauma surgeon at Beth Israel Deaconess Medical Center, about 2 miles from the finish line, thought about treating so many leg injuries caused by the ground-level bombs and decided that running the race would be "just really poetic."
The now 37-year-old Gupta had no experience in distance running until he began to train for Monday's race. "We're on the second floor," he said in an interview. "I took the elevator."
Googling "How long does it take to train for a marathon," he got an answer of 18 weeks. Patriots' Day was 18 ½ weeks away.
He applied and received bib No. 35542.
Alan Hagyard ran Boston for the first time in 2012 and was back in the field last year, coming down Boylston when the first bomb went off about 30 feet away.
"The memories often bring tears to my eyes," he wrote in his application.
The blast left him deaf in his left ear. But he never considered sitting this one out.
RELATED CONTENT: A look back at the bombing
"The next day, that night, I was ready to go again," said Hagyard, 67, of Hamden, Conn. "Partly to say, 'You can't stop us.' "
He missed the qualifying time by 13 seconds, so he asked for a waiver. When organizers created the special invitation, he asked for a chance to rewrite the ending to last year's race.
"I want my current memory of Boston to be the perfect marathon," said Hagyard, bib No. 24812. "To run it again is to say, 'We're going to make it perfect this year, better than ever.' "
Orthopedic surgeon Sue Griffith wrote that she was celebrating her finish last year "until I found out that the cannons I heard at the finish line were actually bombs."
Returning to Doylestown, Pa., she found her running companion Amy O'Neill with shrapnel deeply embedded in her calf.
They are returning together, Nos. 21321 and 21648.
These are the people the Boston Athletic Association is hoping to find, Grilk said, when it opened up the usually rigorous entry process for those who might qualify on an emotional level too. Organizers heard from doctors and nurses and soldiers and victims and first-responders, but also ordinary individuals who rushed in to help.
The submissions were raw with emotion, heavily introspective, often desperate, and yet hopeful.
Finish-line volunteer Adrienne Wald, a nursing professor who had run the race five times, told her students, "You're going to be so inspired."
"I made them read articles about hypothermia, blisters, cramps. And instead they were carrying people with tourniquets around their legs and horrific injuries," she said on Tuesday, the anniversary of the attacks. "Instead they came into my office: 'I'm going to be an E.R. nurse now.' 'I'm going to work in trauma.'"
UMass-Boston student Krystle Campbell was killed by one of the bombs.
Wald received bib No. 24741 and was hoping to run in her memory, but the injury that kept her from running last year could put her back on the sweep team with her students.
The marathon can be brutal, even more so when one considers that the 26.2 miles run on the day of the event are the culmination of a years-long process that, in Boston's case, begins with training for a qualifying race.
Runners looking for a reason to stop can always find one: the heat, the hills, the blisters, the cramps. And now the threat of a terrorist attack, the memories of severed limbs, the ears ringing from the concussion of a bomb blast.
Yet for 118 years, runners have found a reason to go to Boston. On Monday, more than 35,000 will leave Hopkinton to reclaim the euphoria of the finish line that was taken from them.
This year, three-time Boston champion Uta Pippig said, no one needs to ask them why.
"Running gives me freedom, and for a moment our freedom was restrained," she said this week. "That's what I believe is the reason we run together."
Guidelines: Please keep your comments smart and civil. Don't attack other readers personally, and keep your language decent. Comments that violate these standards, or our privacy statement or visitor's agreement, are subject to being removed and commenters are subject to being banned. To post comments, you must be a registered user on toledoblade.com. To find out more, please visit the FAQ.