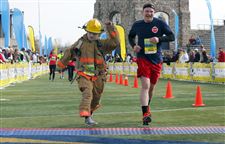 Matthew Riggle, left, Perkins Township firefighter, and Dan Fial of the Willard Fire Department finish the half marathon in honor of fallen Toledo firefighters James Dickman and Stephen Machcinski.
The Blade/Amy E. Voigt
Enlarge | Buy This Image
Minutes after crossing the finish line in the Glass Bowl stadium, Tyana Smith said she couldn't have been happier with her time in the 13.1-mile event of the Medical Mutual Glass City Marathon.
Mrs. Smith, 39, finished the half marathon — her first — at 2:18.
"I would say it has exceeded my expectations. I will definitely will do another half marathon, but I am not sure if I will do a full marathon," she said.
The more than 7,000 participants made the event's field its largest.
The temperature was 40 degrees, a little cool for this time of year — when the horns blared shortly after 7 a.m. to signal the start of the marathon, half marathon, and 5-kilometer events.
PHOTO GALLERY: 2014 Glass City Marathon
RELATED CONTENT: Kiprotich, Kay thrive in chilly conditions
The runners traveled through West Toledo and the city's western suburbs. The full 26.2-mile marathon course took participants through Old Orchard, Ottawa Hills, Wildwood Preserve Metropark, Sylvania Township, and Sylvania.
But a brisk, gusty east wind greeted them on their return route to campus.
Mrs. Smith of Twinsburg in eastern Ohio said friends and relatives had given the Glass City event high marks because of the organization, community support, smooth and safe streets, scenery, and volunteers. She said it lived up to all of that and more.
"It was awesome. The community should be proud. They do a great job," she said. "The first six miles I didn't really hurt because I was reading all the signs, and everyone was cheering. I really didn't begin to hurt until mile 9."
Mrs. Smith, a KeyBank manager, was greeted at the finish line by her husband, Kevin Smith, a Sylvania native, and their son Kolton, 3, and daughter Cassidy, 13.
She said she signed up for the half marathon, in part, to support her cousin, Jen Fish of Iowa, a Glass City marathon regular who was trying to qualify for the Boston Marathon.
The winner of the 38th Glass City Marathon was Geoffrey Kiprotich, 35, of Toledo, with a time of 2:24.02. He is a regular marathon competitor and Kenyan native. Katie Kay, 31, a mother of three from Fairview Park, Ohio, was the top female finisher at 2:56.27.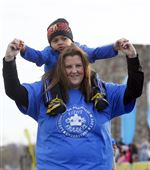 Keith Davis, 3, who has autism, sits on the shoulders of his mom, Amanda Davis of Genoa, near the finish line. The two raised funds for 'Keith's Krusaders' in the national event called 'Walk Now for Autism Speaks.'
The Blade/Amy E. Voigt
Enlarge | Buy This Image
Dan Raab, a Toledo Police sergeant, was one of the more than 1,200 runners who participated in the team-relay event, in which five people collaborate to run the entire marathon distance.
He ran the last leg for team "Toledo Police," which included officers Kevan Toney, Robert Orwig, Aaron Riter, and Don Comes. They finished with a time of 3:13:43 for second best in the corporate division and surpassed their efforts in last year's Detroit Marathon by 3 minutes.
Mr. Raab, 42, a SWAT officer, said they run to relieve stress and improve the image of law enforcement and the department.
"We are doing this to show our pride in what we are doing," he said. "We want people to know we are in shape."
Among the officers' goals are to compete individually at the Detroit Marathon in October and the Benton Harbor, Mich., Half Ironman, a grueling combination of swimming, biking, and running.
Jason Salyer, a Bowling Green State University graduate student and former BGSU cross-country runner, finished his first marathon. His time of 2:54 was good enough to qualify for the 2015 Boston Marathon.
"The weather was perfect for the first 13 miles. The second half was a little chilly. I noticed a drop in the temperature because I was running into the wind," Mr. Salyer, 23, said. "I am a little tired, but I'm a little bit relieved to get in under the time to qualify for Boston."
More than 60 people ran in the 5k, half marathon, and marathon events to support 6-year-old Mary Lucas, the special-needs daughter of Erin and Chris Lucas of Catawba Island.
"Team Mary" supporters raised $8,000 to be given to the Advocacy and Resource Center summer program of Ottawa County.
"This is a great way to bring awareness to special-needs children, especially children like Mary who have autism," said Nicole DeFeitas of Port Clinton, who participated in the 5k race and walk.
Mrs. Lucas finished the half marathon in 1:58. Her husband ran in the marathon. Their sons, Benjamin, 11 and Max, 8, participated in the 5-kilometer event.
"I just want people to understand about autism and to bring a face to it," Mrs. Lucas said.
Contact Mark Reiter at: markreiter@theblade.com or 419-724-6199.
Guidelines: Please keep your comments smart and civil. Don't attack other readers personally, and keep your language decent. Comments that violate these standards, or our privacy statement or visitor's agreement, are subject to being removed and commenters are subject to being banned. To post comments, you must be a registered user on toledoblade.com. To find out more, please visit the FAQ.