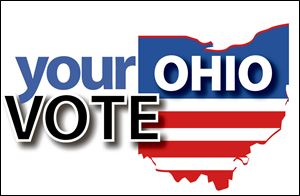 Your Vote Ohio logo

The Ohio Media Project, which includes The Blade, is undertaking a project called Your Vote Ohio. We'll provide accurate and insightful coverage of this year's presidential race in Ohio — from polls to campaign advertising. Stay in touch using #YourVoteOhio.
Poll: Poverty worries Christians less (6/28/2016)
When it comes to seeing the poor as a concern for the government, those who profess the Christian religion in Ohio are not in the front ranks. The unchurched are.
A survey of 1,000 Ohioans jointly conducted for the Ohio Media Project/​The Blade found that people who claim no religious affiliation are more than twice as likely to see poverty and/​or inequality as the top concern in the election as those claiming a Christian affiliation.
The question was: "To you personally, what is the most important issue facing the country?"
The poll found that 18.6 percent of those claiming no religion cited as their major concern issues relating to poverty and inequality, while only 8.4 percent of those claiming a Christian affiliation cited the same. FULL STORY
Ohioans torn between fears: jobs or poverty (6/27/2016)
The economy.
It's what Ohioans most often say when asked what troubles them. But what they mean when they say "the economy" requires asking when they were born and how life's been since they began working.
Ohioans, like most Americans, have fractured views of how to strengthen the fragile economic recovery of the past eight years, though many vaguely agree that more good-paying jobs might do it.
Much of that comes from perspective. Those who entered the work force in the last 15 years haven't tasted the good times.
But for those who had jobs in the roaring 1990s, despair and anger are common. FULL STORY
Voters unhappy, have little faith in politicians to help (6/26/2016)
In this divisive election year, Ohioans agree on two things:
They are not happy.
And they doubt the presidential candidates will change that.
Some 63 percent believe the nation is on the wrong track, compared with 38 percent saying it's on the right track, according to a poll conducted for Ohio media by the Ray C. Bliss Institute of Applied Politics at the University of Akron. FULL STORY
Want to run for U.S. Senate? Bring a thick skin and a whole lot of cash (5/19/2016)
Rounding page 80 in Dark Money — investigative journalist Jane Mayer's book on how billionaires influence American politics — Ted Strickland became justifiably concerned.
"It's very disturbing," said the U.S. Senate candidate and former Ohio governor.
Perhaps the reason is that his campaign coffers look empty next to the bank accounts of his opponent, Sen. Rob Portman, and the outside groups that plan to wage war on behalf of the two men.
He has 3.3 million reasons to fret over Ms. Mayer's book: One for every dollar spent against him already by super PACs funded by Charles Koch, a billionaire whose political activity and family business — the second-largest privately held firm in America — are the subject of Ms. Mayer's work. FULL STORY
Man surprised to be poster boy for mudslinging spot (5/18/2016)
Joel Botts doesn't remember the day it all happened — the day he became the center of attention in the most expensive U.S. Senate race in America.
All he remembers is that it was T-shirt weather in the fall of 2015. He drove up to Wilmington, Ohio, a city on I-71 north of Cincinnati, from his small town about 25 miles from the Ohio River.
THe popped in to see a friend, and there was the video camera crew. They were asking about his friend's job loss at the big DHL facility — one of 7,500 jobs back in 2008.
Mr. Botts had lost his job there, too. It was the most difficult chapter of his life, so he was asked to tell his story. FULL STORY
Campaigns looking to technology to harvest voters' habits, target ads (5/17/2016)
Matt Edson opened his front door to a couple of local college students and unknowingly became one of millions of Americans whose thoughts are being tracked by rich business people and political campaigns who hope to control the nation's government.
The 33-year-old man lives in Green, an Akron suburb neither too liberal nor too conservative. It is just right, in fact, for finding swing voters.
He cracked his front door on a sunny afternoon in late April as his dog pushed between his knees to get a peek at the visitors. Mr. Edson told the two College Republicans from Kent State that he hadn't settled on Republican Rob Portman or Democrat Ted Strickland for U.S. Senate this fall.
If he had chosen Mr. Strickland, the conversation would have ended. But Senator Portman's campaign, with help from thousands of door-knocking students, is seeking undecided voters and ticket-splitters (those rare ballot-casters who might pick a Democrat for president but a Republican for Senate.)
Mr. Edson fit the bill, so the solicitors continued with their script. FULL STORY
Scientists study how, why mudslinging has become such an election-year staple (5/16/2016)
Like the cicadas — only a lot noisier — political ads are about to blanket Ohio and other swing states. And what's coming is likely to be more negative, more misleading, and more targeted than ever.
For evidence, look to the 14 months leading up to the Iowa caucuses and New Hampshire primary. More than 133,000 national broadcast and cable TV ads aired — at a cost of more than $156 million. Those numbers from the Wesleyan Media Project don't include efforts to sway hearts and minds in any of the rest of the primaries and caucuses — including Ohio's — nor in the general election.
And while the ads started out on a positive note, they pivoted to nasty pretty quickly. And those who watch the claims and patterns of the ads say the reason is pretty simple: PACs and outside groups. FULL STORY
At Akron lab, participants get plugged in, turned off (5/16/2016)
Most of the willing participants wore a complex set of headphones with moistened tentacles reaching into their hair, touching their scalp. Tiny sensors measured brain waves.
A long, narrow bar sat below the computer screen in front of them, watching the movement of their eyes.
This was a test — an effort to determine if, and how deeply, political advertising affects people.
There was little doubt when it was all done. FULL STORY
High schoolers call candidates 'bad examples' (5/16/2016)
Donald Trump can't be trusted because his inflammatory and racially charged rhetoric is divisive.
Hillary Clinton can't be trusted because she could have compromised national security when she used her private email account for State Department business.
Bernie Sanders can't be trusted because he embraces socialist ideology.
Those are all claims that some Ohio high school students have heard about the presidential candidates. And those claims have the students wondering if a political process that allows candidates to sling mud at opponents and avoid focusing on their own platform is trustworthy. FULL STORY
For researchers at factcheck.org, key is to verify facts, not opinions (5/16/2016)
Political ad spending has been growing exponentially in Ohio and nationwide — especially among the outside groups airing more than 80 percent of the ads in the GOP primaries. WKSU's M.L. Schultze spoke with the head of one of the groups trying to keep up with the claims made in those ads, as well as those made in speeches, debates, and rallies.
Factcheck.org is a nonprofit at the University of Pennsylvania that sees itself as a consumer advocate for voters. This campaign cycle, Director Eugene Kiely and the handful of staff at Factcheck have been trying to keep up with claims made by and about many of the two dozen Democrats and Republicans who at least for some period were running for president. FULL STORY
How money talks in Ohio's Political campaigns (5/15/2016)
In the 2012 election, Ohio radio and television stations couldn't sign contracts for political advertising fast enough as a seismic shift occurred in American politics, playing out on TV screens and radios across the state.
Independent groups with confusing labels — such as super PAC, 501(c)(4), or 527 organization — singled out Ohio to divide tens of millions of dollars among dozens of broadcasters to lock up air time.
Their goal: Sway, if not manipulate, the famous swing-state's voters. FULL STORY
Ohio's politicians largely silent on money, politics (5/15/2016)
Concern over the corrupting effect of money in politics is universal: Americans want a change.
But when Ohio's congressional candidates were asked to address the public's concern, there was an overwhelming silence. FULL STORY
When Political ads attack, here's how to fight back (5/15/2016)
About those political ads: Stop. Look. Don't go crazy.
You can't stop political attack ads from invading your personal space. Mostly out-of-state millionaires and billionaires have made sure of that with court decisions and friends in Congress.
Here are a few steps to help you fight back. FULL STORY
Key characteristics of super PACs, 501(c)(4) groups, and traditional candidate committees and PACs. FULL STORY
Responses from the candidates on money in politics (5/15/2016)
Ohio media join forces to give voters more of a voice (4/27/2016)
A group of Ohio newspapers, including The Blade, and TV and radio stations have banded together to flip the conversation between presidential candidates and voters — allowing voters to get their concerns addressed by the candidates.
The project — Your Vote Ohio — will involve polling throughout the campaign and will study the effects of negative advertising on the campaigns and on voting patterns.
The John S. and James L. Knight Foundation has awarded a $174,990 grant to the University of Akron's Ray C. Bliss Institute of Applied Politics for the initiative.
The institute is working with the Ohio Media Project — led by the Akron Beacon Journal and the Minnesota-based nonprofit Jefferson Center — to give Ohio voters a stronger voice and to encourage more accountability from candidates. FULL STORY
Examples of negative ads (5/15/2016)
1. "Selling Out", Fighting for Ohio
2. "Two Trumps", American Future Fund
3. "Running Man", Senate Majority PAC
4. "Energy Ohio", Ending Spending Fund
5. "Muddier", New Day for America
6. "Math", Club for Growth
7. "Doing", Crossroads GPS
8. "Scare", Our Principles PAC
9. "Scandal", American Crossroads