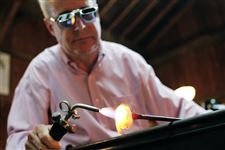 Glass artist Mark Matthews of Wauseon uses a blowtorch help shape a blob of molten glass that will become a marble during a demonstration at Sauder Village in Archbold, Ohio.
THE BLADE/JEFFREY SMITH
Enlarge | Buy This Image
ARCHBOLD, Ohio — Marble cake wasn't in the mix, or in the oven, even though Mark Matthews said his shop was similar to a pastry kitchen, only a couple thousand degrees hotter.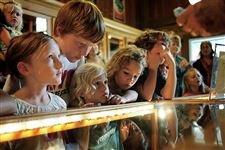 From left, Rosie Kelly, 6, Clyde Kelly, 10, Penny Kelly, 5, and Aubrey Wilhelm, 6, watch the marble-making demonstration. The children were visiting from Spring Lake, Mich.
THE BLADE/JEFFREY SMITH
Enlarge | Buy This Image
Mr. Matthews, glass artist for 25 years at Sauder Village, was on a roll, and not one you split and butter at the dinner table.
With a flair for the fanciful and an eye for complex geometric patterns, he was producing an array of amazing marbles, swirls of splendor, as part of the village's week-long celebration of its artisans.
As guests came and went during marble-making demonstrations Thursday, it was obvious that kids have lost interest in playing with such an old-fashioned toy.
PHOTO GALLERY: Click here to view images
But to watch marbles being made from scratch? That captures attention.
"Marbles are boring. They just aren't exciting, but it's fun to watch marbles being made," said Travis Brown, 14, of Stockbridge, Mich.
He and many other home-schooled students this week are visiting Sauder Village, Ohio's largest living-history destination.
Many young guests lingered in the glass shop as a red-hot blob of glass — gathered and heated on a rod in a multistep process by Mr. Matthews — dropped between two rotating wheels that shaped one marble at a time.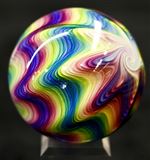 Various finished marbles are on display at Sauder Village.
THE BLADE/JEFFREY SMITH
Enlarge | Buy This Image
The finished product popped off the machine into a soup ladle, maneuvered precisely by guest artist John McCormick of Shawnee, Kan., who brought his homemade marble machine to Sauder Village for special demonstrations during "Celebrate Our Artisans" week, which ends Sunday.
Judy Mansfield of Defiance, who watched a demonstration with relatives, recalled that boys would take marbles to school and trade them.
Sometimes, boys would roll marbles down wooden floors of the study hall, taking great delight when glass balls click-clacked against the front of the room.
Terry Howarth, 65, of Defiance, a volunteer at the village, said he liked playing marbles as a child.
"You would try to beat your neighbor out of his marbles. You played for keeps," he said.
Mr. Matthews, whose spectacular glass spheres are on exhibit in museums around the world, truly goes for all the marbles as he spins masterpieces that blend ancient and modern-day techniques.
Several visitors asked details about the process that requires an extensive, controlled cooling-off period to prevent glass from cracking.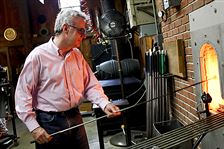 Glass artist Mark Matthews of Wauseon heats up glass in the furnace of the glass shop at Sauder Village in Archbold, Ohio..
THE BLADE/JEFFREY SMITH
Enlarge | Buy This Image
In early days of manufacturing, marbles often cracked. Folks who made money making marbles didn't much mind, though, Mr. McCormick said. When the glass balls cracked, kids trekked to stores to buy more marbles, he said.
Meanwhile, Mr. Matthews admired a marble in the making, featuring 14 hues of green twisted together, a design he referred to as "splush."
Mr. McCormick and Mr. Matthews met at a marble show in Amana, Iowa, in 2002.
Theirs is a colorful educational program. Mr. Matthews saves snippets of glass for projects such as the marble-making project this week.
Stored on shelves in the shop: thousands of glass scraps, some dating back to President Reagan's administration.
"Those are the prettiest scraps on Earth," Mr. Matthews said as he was shearing off, dressing up, and grooming glass, prepping it for Mr. McCormick's marvelous marble machine.
Mr. Matthews moved swiftly about the hot shop, no motion wasted. It was as though watching a masterfully choreographed glass slipper ballet ... the artist engaging the audience.
Erie Sauder, founder of Sauder Village, was a firm believer in fine craftsmanship, hard work, and creativity. All of those come together at Sauder Village, where craftsmen demonstrate what can be done with your hands and your God-given talents, said Debbie Sauder David, president and CEO of the village, located in the Fulton County community of Archbold.
"Putting together science and math, using your own strengths, my grandpa admired that," she said.
Sauder Village this week celebrates its artisans, the many craftsmen who demonstrate their skills in places such as the spinning shop, tin shop, weaving shop, and broom shop. Woodworkers, quilters, coopers, and basket makers who come to the village also share their talents.
As a new group of guests entered the glass shop, Mr. Matthews reached for his tools for yet another demonstration. Standing near a blazing hot glass furnace, he waved his arm and said: "The magic begins."
Contact Janet Romaker at: jromaker@theblade.com or 419-724-6006.
Guidelines: Please keep your comments smart and civil. Don't attack other readers personally, and keep your language decent. Comments that violate these standards, or our privacy statement or visitor's agreement, are subject to being removed and commenters are subject to being banned. To post comments, you must be a registered user on toledoblade.com. To find out more, please visit the FAQ.