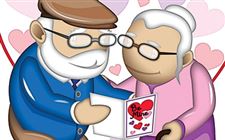 BLADE ILLUSTRATION/TOM FISHER Enlarge
For five years, after the death of his wife Marilyn, Tom Tweeddale of Toledo, sat waiting to die too.
When the late Mrs. Tweeddale died in 2007, the two had been married for 20 years. They raised six children together and had a number of grandchildren. Marilyn collected photography and traveling was one of their favorite hobbies.
"We had a great life and a great marriage," Mr. Tweeddale said. "When she died prematurely, it was like I was just waiting to die too. I didn't know what to do after that. I thought that was it."
Mr. Tweeddale, now 63, found love again in 2012. Using social media, he reconnected with Susan Barnes, a woman he'd known in his younger days. Ms. Barnes, now 58, was recently divorced at the time. Originally from Toledo, she now lives near Cape Town, South Africa. After a long-distance courtship, she and Mr. Tweeddale married in December. He will join her in South Africa later this year.
While marriage itself is in decline in the United States, previously married people age 55 and older, are as willing as ever to jump back into wedlock.
In 2013, two-thirds of previously married adults ages 55 to 64 had remarried, an increase from 55 percent in 1960. Fifty percent of adults ages 65 and older had remarried, up from just 34 percent in 1960, according to a 2014 report from the Pew Research Center.
"There's a lot more action going on with other adults than we think. They're experiencing these family changes we typically assume are occurring among younger adults," said Susan Brown, co-director, National Center for Family & Marriage Research, located on the campus of Bowling Green State University. "Remarriage rates are declining for all age groups except older adults and cohabitation among older adults has more than tripled since 2000."
In the United States, more than 417,000 people ages 50 and older got remarried in the past year, I-Fen Lin, associate professor of sociology at BGSU said. The Lucas County Marriage Bureau doesn't track marriage licenses by age.
Of adults whose first marriage ended in divorce or widowhood, men are more likely to take the plunge again. In 2013, 71 percent of eligible men age 55 to 64 had remarried, compared with 63 percent of women in the same age range. Of those age 65 and older, men had remarried at a rate of 66 percent compared to just 40 percent of women, according to the Pew Center report.
Some suggest the rise in remarriage of older adults may in part be fueled by longer life expectancies, as people realize they have longer to live and seek fulfillment during that time.
"It's like I was grieving the death of my old life and this is the birth of a new life," Mr. Tweeddale said. "It's the path I want to go on. She's been good for me."
Contact RoNeisha Mullen at rmullen@theblade.com or 419-734-6133.
Guidelines: Please keep your comments smart and civil. Don't attack other readers personally, and keep your language decent. Comments that violate these standards, or our privacy statement or visitor's agreement, are subject to being removed and commenters are subject to being banned. To post comments, you must be a registered user on toledoblade.com. To find out more, please visit the FAQ.