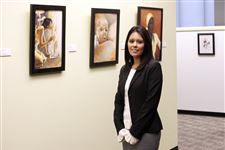 Diana Rodriguez stands in front of artwork made a prisoner named Raymond Towler in The Federal Public Defender's office.
The Blade/Amy E. Voigt
Enlarge | Buy This Image
For much of his adult life, Raymond Towler was known by a number.
Released last year from state prison in Lorain County after a DNA test exonerated him of a rape for which he spent nearly 29 years behind bars, Mr. Towler said many of those days he spent trying to feel human.
Painting helped him accomplish that.
Several of the oil paintings the Cleveland native created while enduring his life behind bars are now on display in the federal public defender's office in downtown Toledo. His are among several pieces by inmates in Ohio's prison system that are on display in the Adams Street office.
"I was forced to use my talents to get by, to survive," Mr. Towler said during a recent open house. "I think an exhibit like this is important to humanize these guys who are otherwise just another number."
Drawings and paintings created in a variety of mediums line the walls in the office. Next to each piece is the artist's name and the name of the work. The reason the artist is in prison is not listed.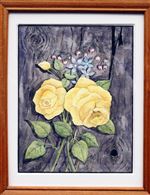 A colored pencil piece made by a prisoner named M. Hart in The Federal Public Defender's office.
The Blade/Amy E. Voigt
Enlarge | Buy This Image
Dennis Terez, federal defender for the Northern District of Ohio, said he worked to create a gallery of the office wall space to let the public know "a whole other side of our clients."
"Part of this is to challenge misgivings and misconceptions of those who are incarcerated," he said. "There is a huge resource in our prisons. Many are uncomfortable tapping into it, but it's there."
Mr. Terez said that the federal public defender offices in Cleveland, Akron, and Toledo house more than 200 works. He said that he hopes the general public takes advantage of the opportunity to see the pieces.
But they're not for sale — yet. Although Mr. Terez said he would like to get a gallery involved that would possibly sell the pieces, the public defender's office is simply a space to show the art.
The artwork, and subsequent lending of it to the federal public defender, was facilitated by the Re-entry Bridge Network, a Canton-based nonprofit organization.
The group says it designs and facilitates "nontraditional re-entry initiative programs, special events, and community services projects inside Ohio."
Carol Briney, the organization's executive director, said that re-entry programs offer inmates a way to reconnect with the outside world. The art that inmates produce helps "put a face" on these programs, she said.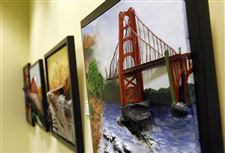 A mixed media piece made by a prisoner named Radar Varner in the lobby of The Federal Public Defender's office.
The Blade/Amy E. Voigt
Enlarge | Buy This Image
"The community thinks that prisons are filled with rapists and murderers, and that they won't be coming home," Ms. Briney said.
"The reality is that, in Ohio, of the 51,000 people who are locked up, 50 percent are nonviolent and 50 percent are in for less than a year."
Ms. Briney noted that many times, inmates are released and return to their hometowns "whether we're ready or not."
"The importance of an art show like this is to put a face on re-entry, so the community is aware that these are people," she said. "These are brothers, fathers, sons, mothers, daughters, and sisters that are locked up."
Adorning the bright walls of the expansive office are pencil drawings and oil paintings. Some depict faces, others outdoor scenes. They are made of bright colors and dark hues.
Near one piece, a motorcycle rider created of wood and metal, is a handwritten letter from the artist.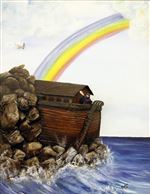 A mixed media piece called "Ark" made by a prisoner named Radar Varner in The Federal Public Defender's office.
The Blade/Amy E. Voigt
Enlarge | Buy This Image
"May this one be of help in your showing people that we are people, too, and not just a number and a convict," wrote Charles Geis, Inmate No. 517-874, who in March, 2006, began serving eight to 25 years in the Hocking Correctional Facility for three counts of attempted murder and other convictions from Perry and Licking counties.
Said Mr. Terez, "There is no question that there will always be folks who define these people by the worst thing that they did. Our effort is to move that thinking ever so slightly to show that you can have that attitude, but the fact is that as a society, we have to incorporate these people back into society."
The public is welcome to view the artwork at the federal public defender's office at 617 Adams St.
Contact Erica Blake at: eblake@theblade.com or 419-213-2134.
Guidelines: Please keep your comments smart and civil. Don't attack other readers personally, and keep your language decent. Comments that violate these standards, or our privacy statement or visitor's agreement, are subject to being removed and commenters are subject to being banned. To post comments, you must be a registered user on toledoblade.com. To find out more, please visit the FAQ.