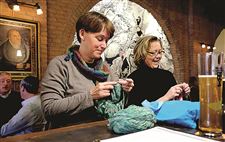 Carol Cierniak, left, and Laura Frailey knit and drink beer at the Black Cloister Brewing Co. bar in downtown Toledo.
The Blade/Lori King
Enlarge | Buy This Image
It's the first Monday of the month at Black Cloister Brewing Co. in downtown Toledo. The beer is flowing in the taproom, the regulars chitchat, and everything seems business as usual until about 6:30 p.m.
Little by little, women of all ages, armed with personalized bags, trickle in. Some alone, some in groups. Then in a flash, it's needles out. They begin working streams of yarn into the project at hand, and the bar's atmosphere is lifted by another wave of socializing.
The women (and the occasional man) are at the downtown brewery's needlework event Pints and Purls: Knit One, Drink Two.
"We kicked around the event idea the first of the year, just because we weren't really busy Mondays, and we were trying to figure out something to draw in people who weren't necessarily our target crowd," taproom manager Mandy Cufr said.
A knitter and crocheter, she brings her projects to work. She is working on a temperature blanket where each high and low temperature of the day is translated into colors.
"It's a conversation starter," she said, adding people are curious about what she is working on, even those who don't have an interest in fiber crafts.
In one corner of the bar, longtime friends JoAnn Newmeyer of Sylvania Township and Barbara Knipple, 65, of Northwood order a flight of beer while they concentrate on hand making clothing, a lace-patterned shawl and scarf.
"It's relaxing as well as challenging. It's nice to accomplish something. And it's low calorie," Ms. Newmeyer said.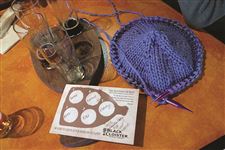 A hat is in the process of being knitted by Barbara Knipple at the Black Cloister Brewing Co.
The Blade/Lori King
Enlarge | Buy This Image
The craft is stepping out of its kitschy past. No longer is it a pastime solely for grandmas in rocking chairs creating tissue-box covers or predictable booties for little Sally.
The "cool" craft is also at the center of social events, whether at a bar, someone's home, or otherwise. Crocheting and knitting are "hot" in modern arts, as documented by the film Yarn.
"We recently went to a Stitch N' Pitch event at the Mud Hens. It's hosted nationally. I think it is getting the craft out in the open, and some exposure," Ms. Knipple said.
At another table, Whitehouse resident Diann Harrison is reintroducing the craft to her sister Deb DeBrosse, her 25-year-old daughter, Paige Harrison, and 22-year-old niece Tayler DeBrosse.
"Paige learned to knit when she was little, and Tayler a little too. Then life got in the way. I started knitting again when my kids got older," Mrs. Harrison said.
Because of its portability, she picked it up while waiting for her children at a sports game or doctor's appointment.
Tayler DeBrosse of Maumee noticed a divide in the activity. "There is this knickknack, crafty side, like the toilet-paper covers and the dolls. But with the Internet interest the DIYers elevated it to a trendy activity, creating unique projects. It's an art or a time to drink beer," she said.
There are several reasons for the boom in knitting and crocheting. Mary Colucci, co-executive director of the Craft Yarn Council, said retailers the group is in contact with, such as the national Michaels craft stores and independent yarn shops, say more people across multiple generations are discovering the benefits of the craft.
A major influence is the growth in do-it-yourself projects, especially among Millennials, Ms. Colucci said.
"Making" is an important part of their lives. "They enjoy working with the trendy designs and fashion yarns popular today because it's so easy to complete a project quickly and attractively," she said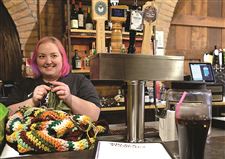 When Black Cloister Brewing Company manager Mandy Cufr isn't waiting on customers, she knits behind the bar.
The Blade/Lori King
Enlarge | Buy This Image
Every year, the council conducts a national tracking study that surveys knitters and crocheters of all age groups. The latest from 2014, with 3,178 respondents, reported 65 percent pick up needlework because it provides a creative outlet, 51 percent for the joy of making things for others, and 44 percent for its sense of accomplishment.
Michaels knit and crochet instructor Annie Johnson said she has a handful of students younger than 13 attending classes hosted on Monday and Thursday nights at the Talmadge Road location.
"Overall there are different reasons people are coming to the craft," she said.
Younger knitters and crocheters are inspired by Pinterest or will learn some basics through YouTube, and their parents see the interest and sign them up for class, she said. The older generation may see a project on YouTube and will come to Michaels for stitching expertise.
Younger students are interested in the "quicker" projects, such as arm knitting with chunky material, while older generations that are willing to spend more time on a design, Mrs. Johnson said.
When it comes to yarn, its applications are universal.
Handmade Toledo on Adams Street sells knit and crocheted items including cactus plants for decoration and practical accessories such as pocket change purses. Displayed in the window is a mannequin outfitted in a crocheted rainbow suit — from neck and arms to toes.
"We have a vendor, Amy Duvendack of Bad Amy Knits, that spins her own yarn," shop owner Jessica Crossfield said.
That vendor has been part of its semiannual Maker's Mart fair that showcases area artists' and creators' goods. The next one is scheduled for May 7. Miss Crossfield said she's observed a lot of younger makers interested in yarn-based arts, including weaving, which is becoming more popular.
A handmade item is not only fun to make, it is also cherished for its character.
"I go around to the Attic and see people who are like 'Oh Mitten Made made your scarf!' Or 'Oh Owl's Nest Crochet made yours!' … Each person has their own style so you recognize it. It doesn't look like something you can go to Target and get," she said.
Although many interviewed for this article noted the therapeutic benefits of knitting and crocheting, sometimes it can be frustrating to follow a complicated design. When that happens, Miss Crossfield said you can simply unravel it and start over again.
Contact Natalie Trusso Cafarello at: 419-724-6133, or ntrusso@theblade.com, or on Twitter @natalietrusso.
Guidelines: Please keep your comments smart and civil. Don't attack other readers personally, and keep your language decent. Comments that violate these standards, or our privacy statement or visitor's agreement, are subject to being removed and commenters are subject to being banned. To post comments, you must be a registered user on toledoblade.com. To find out more, please visit the FAQ.