Bowling Green State University has been offering degrees in the arts for more than 70 years.
It's a school perhaps best known for its exemplary glass program in a region celebrated for its influence on the studio glass movement.
VIDEO: BGSU art professors inspire in and out of the classroom
The university, however, boasts one of the largest art programs in Ohio and offers its students bachelor's and master's degrees in a variety of concentrations in studio art, digital art, art history, and art education, said art department chair Charlie Kanwischer.
This year, 38 faculty members juggle personal art careers while educating 542 undergrads and 33 graduate students in those different fields. The Blade interviewed three BGSU professors who work in different media but have common goals.
"You have world-class artists in this building," said Dennis Wojtkiewicz, head of drawing and painting at the university. "They have no expectations that what they put on their students they wouldn't put on themselves as artists."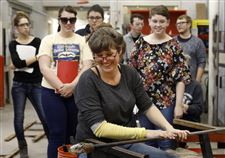 Alli Hoag, heads the glass program at Bowling Green State University, demonstrates how to craft a bowl for a class Thursday, November 2 at BGSU.
The Blade/Katie Rausch
Enlarge | Buy This Image
Clay
Ceramicist John Balistreri grew up working in the dirt, helping out with the family's greenhouse business in Denver.
When it comes to the materials he works with, not much has changed.
"The wonderful part about it is it's mud. It's so primitive and basic," said the 55-year-old, who's been teaching ceramics as head of the department at BGSU since 1996. "For me, teaching this is the perfect thing to teach, because it's so human. We know about all of these old cultures through clay, because that's what's lasted."
Balistreri fell in love with ceramics in high school. A supportive teacher, and his experience with gas-powered systems and other machinery at the greenhouse, made him a natural at the potter's wheel.
He received his bachelor's degree in fine arts at the Kansas City Art Institute and his master's degree at Kent State University.
He built his first gas-fired kiln on the family property before he left for art school, and later, during grad school, he built a 30-foot-long wood-fired kiln, one of the largest in the country. He brought that expertise to BGSU; Balistreri and his students recently finished construction of a 17-foot kiln in the back of his studio.
His early work concentrated on the process of wood firing and pottery, but as time passed, he realized he wanted to accomplish other things with clay. His series Problems in Sailing features large ceramic sculptures of airplane and boat forms, touching on human beings' sense of adventure and our relationship with nature.
"I think one of the most important things in my work is I'm a maker," he said. "I like to scare myself with clay. I like to figure out how to do things that nobody else has done. So my work has always pushed scale, it's always pushed sort of what is thought of as the norms in ceramics with what the material can do."
His work has sometimes taken on an extremely large scale, most evident in his more recent By and Large series. The sculptures, created in a studio in Omaha over a nearly three-year period, could be as much as 13 feet tall and weigh 2,000 pounds.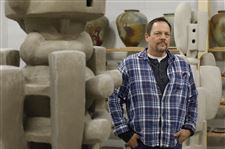 John Balistreri, the head of ceramics at Bowling Green State University, teaches and maintains a studio off-campus to craft his own work, pictured. He has been with BGSU for 21 years.
The Blade/Katie Rausch
Enlarge | Buy This Image
Balistreri lived and worked closely with internationally known sculptor Peter Voulkos in the last years of the famed ceramicist's life. He has lectured and exhibited his work all over the world. March 14-17, he will show several of his pieces at the National Council on Education for the Ceramic Arts' 52nd conference in Pittsburgh.
At BGSU, Balistreri runs an open studio, allowing his students the freedom to work on their projects around work and other classes. He divides his time between the university and his own studio a few miles away, where ceramics majors also spend some of their time learning more about the craft.
"Students need to learn to manage how clay dries, when you need to be there to make the right kind of thing happen. And if you arbitrarily close the studio at 8 o'clock at night, or at midnight, you do such a huge disservice to the student's ability to control what's going on with the material," he said.
To see more of Balistreri's work, go to johnbalistreriartist.com.
Glass
Eleven students in an introduction to glassblowing class at BGSU watch with intrigue as glass artist Alli Hoag heats a glob of glass in an orange hot kiln until it's soft and pliable, one of several steps in making a glass tube.
"There's a lot of potential with this; you can play with colors inside or use it for building blocks in larger pieces," she tells them before blowing through the end of the rod, causing the hot molten glass to bubble out, appearing as though it may burst but holding fast.
Hoag encourages a student to help her stretch malleable glass fixed to metal rods on both sides. The faster you pull it, she said, the thinner the tube will become.
"She had me pull this string all the way out the door," said Nicole Edelbrook, 20, a graphic design major. "They can be really thin; that's how they create fiber optics."
Hoag works and shapes the piece with the ease of someone who has done this before — many times.
"Glass is one of those things that has to be instantly problem solved," she said. "It engrosses my sense of curiosity, and it hasn't stopped."
Hoag, who grew up in West Palm Beach, Fla., surrounded by a family of engineers, discovered her love for glass artistry when she took a glass class as an elective while she was studying as a pre-med student. She decided to pursue it as a career, transferring and getting her bachelor's of fine arts at the University of Hawaii at Manoa in 2006. She received her master's in 2012 from Alfred University and taught both sculpture and glass there.
She was offered a chance to hone her craft during artist-in-residence opportunities overseas, where she studied and worked at both Cite Internationale des Arts in Paris and S12 Galleri og Verksted in Bergen, Norway.
"I dropped everything and went to Norway for a year. That was incredible," she said.
She became interim head of the glass program at BGSU in 2014, which was followed by an offer to take on a full-time, tenured position two years later.
It takes an inquisitive person to be engaged in glassmaking, and Hoag wants her students to feel curiosity when they are creating.
"In the classroom, I create the space and introduce approaches for students to exercise their curiosity within the world," she said. "It is my greatest hope that I can support students to discover what they are passionate about, give them the tools to follow that passion, and that materials and making are a vocabulary to communicate and connect with the world they are a part of."
In her own work, Hoag addresses the topic of magic as it relates to science and the physical realm, focusing on "the ordering of the natural world and the distorted lens of perception."
"The imagery and way I work folds over and over between science and magic and things that function in the spiritual world as well," she said.
She also replicates forms she finds through mold making, to be able to manipulate the authenticity of an object through the wax surface.
In addition to glass, Hoag works in several different media, including video, mixed media, and performance. Bowling Green students performed in a show she organized with sound artist Tinna Thorsteinsdóttir titled Bylta, a performance that celebrates the convergence of musical and visual arts that premiered at the Corning Museum of Glass in New York in December, 2015.
Hoag has exhibited with other glass artists and in solo shows all over the world, including the Distance of the Moon exhibition at UrbanGlass in Brooklyn and at the 2013 Glass Invitational in Corning, N.Y.
To see and read more about Hoag and her work, go to allihoag.com.
Paint
Dennis Wojtkiewicz, head of painting at Bowling Green State University, stands for a portrait in one of the university's drawing classrooms Thursday, November 2, at BGSU.
The Blade/Katie Rausch
Enlarge | Buy This Image
Dennis Wojtkiewicz, who has been teaching painting and drawing at BGSU for just shy of three decades, wants to make sure his students see the world, an opportunity he was offered many decades ago that he said changed his life.
A professor at Southern Illinois University, where he got his bachelor's degree in fine arts, couldn't teach Wojtkiewicz (pronounced voit-KEV-itch) the Richard Estes style of photorealistic painting that he wanted to learn. But the professor knew someone who could.
Patrick Betaudier was a master of the craft at Atelier Neo-Medici in Paris, and Wojtkiewicz needed to study under him, his former professor, Bob Paulson, told him. Wojtkiewicz had never even traveled on a plane let alone traveled overseas.
"It was that absolutely life-changing experience, from the food I was eating to being in a different culture to being totally immersed in the idea of being an artist," Wojtkiewicz said. "I was just flirting with making art; I wasn't committed to anything. I think it was out in France that I crossed over."
His art students — he estimates thousands of them have come and gone in the last 30 years — visit museums and other cultural institutions not only locally but in Chicago, New York, or Washington every school year. Some, he said, have never been to bigger cities, and if they have, it wasn't to visit museums.
"Students, after they experience, they change, their work changes, their fear of the unknown changes. I think it's really crucial for our kids to get out and see what's happening out in the world and not be in this bubble in Bowling Green, Ohio," he said. "Almost all of the students I see or hear from (after graduation) talk about one of the trips."
Wojtkiewicz grew up in Chicago in a working-class neighborhood. He knew he liked art, but said he really had no clear idea what true art was until he went to college and was mentored by Paulson.
He studied under Betaudier in 1978 and 1979 and returned to the states to get his master's degree in painting and drawing. He returned to France to teach in the same studios where he learned before taking on a position as a drawing and painting professor at BGSU in 1988.
Wojtkiewicz started out his career as a figure painter, something he said he is getting back into, but by 1991, he considered himself a "tabletop still life artist." His signature is the way light encases the subjects in his current large-scale Realism paintings of fruit and flowers.
Wojtkiewicz has shown his work all over the world, most recently closing his solo show, Luminosities, at the Robert Kidd Gallery in Birmingham, Mich.
The 61-year-old artist said it takes him more than a month to complete a painting in his studio. It's time that is as crucial to him as sleeping or eating, he said, and something he tries to help his students understand.
"It's like a sustenance. I try to explain that to my students," he said. "It's like trying to explain falling in love with somebody. This is how it's going to feel when you fall in love with someone. You can't explain that. You can talk about it, you can try to describe it, but you don't really know until it hits you.
"But you need to have role models. Someone has to take you by the hand and show you the way. Its pretty hard to find it on your own," he said.
For more on Wojtkiewicz and his art, go to wojtkiewiczart.com.
Contact Roberta Gedert at rgedert@theblade.com, 419-724-6075, or on Twitter @RoGedert.
Guidelines: Please keep your comments smart and civil. Don't attack other readers personally, and keep your language decent. Comments that violate these standards, or our privacy statement or visitor's agreement, are subject to being removed and commenters are subject to being banned. To post comments, you must be a registered user on toledoblade.com. To find out more, please visit the FAQ.