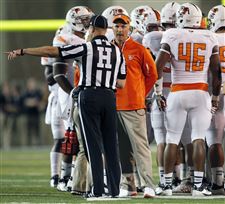 Bowling Green head coach Dave Clawson argues a call with an official Saturday at the Glass Bowl In Toledo. BG was able to overcome a 352-yard passing day in beating Idaho, but wasn't able to endure a 322-yard passing day by Toledo and suffered a 27-15 loss to the Rockets.
The Blade/Jeremy Wadsworth
Enlarge | Buy This Image
The defense of the Bowling Green State University football team may be starting to feel like the Dutch boy standing next to a dike.
The Falcons have improved against the run since last season, when they ranked among the worst FBS schools in the country in that area. But with this year's improvement against the run, a new problem has cropped up: stopping the pass.
BG was able to overcome a 352-yard passing day in beating Idaho, but wasn't able to endure a 322-yard passing day by Toledo and suffered a 27-15 loss to the Rockets at the Glass Bowl Saturday.
RELATED ARTICLE: Clawson's decision still hard to figure
"We have been very poor at defending the run game the last two years, so we really wanted to make an effort to stop the run," Bowling Green coach Dave Clawson said. "We wanted to make [Toledo] one-dimensional, and if they were good enough to beat us doing that, then they're better than us.
"And they were able to execute that."
Toledo completed 21-of-29 passes against the Falcons, marking the second straight pinpoint passing day against BG after Idaho connected on 30-of-38 pass attempts.
Two in particular knocked the Falcons into a 17-0 first-half hole they weren't able to crawl out of. One was a 66-yard catch-and-run strike from Terrance Owens to Alonzo Russell for the first touchdown of the game, and the other was a 14-yard pass from Owens to David Fluellen midway through the second quarter that moved the ball to BG's 1-yard line and set up a Fluellen TD run.
"I think there were three really pivotal plays that changed the whole first half," Clawson said. "They hit the 66-yard touchdown on a third-and-12, we turned it over, and we blew a coverage and they got the ball to the 1-yard line on that blown coverage.
"There was 14 points. If you take away those three plays, it's probably a 3-3 game that's really back-and-forth."
Part of Bowling Green's problems was caused by the Rockets' Owens, who completed a sizzling 18-of-22 passes (81.8 percent) for 286 yards after struggling on his team's first drive.
"Owens is a good quarterback, and he has good receivers," Clawson said. "Last year they pounded us pretty good in the running game, so a lot of what we did was try to get an extra safety in the box.
"We knew we were putting our cornerbacks 'out' there a little bit, but they were going to have to step up and make plays."
BG defensive tackle Chris Jones said the Rockets didn't run anything the Falcons hadn't prepared for.
"They just ran their game plan, and we just ran our defense," he said. "They just got us on a couple of plays."
He put the Falcons' defensive problems against the pass on the defensive line.
"We've got a lot of great guys on the defensive line, and we've got to get pressure [on the quarterback]," Jones said. "And a lot of times we just didn't. He had time to make throws, and he's a good player — and he made them."
Toledo coach Matt Campbell praised the BG defense and said he thought his team's offense deserved credit for its success.
"I thought for us it was trying to execute and get into a rhythm," he said of his team's 452 yards of total offense. "We also wanted to get the ball to our playmakers.
"For us, it's a simple philosophy: Players, formations, plays. Who our players are dictates what formations we get into and what plays we run."
Contact John Wagner at: jwagner@theblade.com, 419-724-6481 or on Twitter @jwagnerblade.
Guidelines: Please keep your comments smart and civil. Don't attack other readers personally, and keep your language decent. Comments that violate these standards, or our privacy statement or visitor's agreement, are subject to being removed and commenters are subject to being banned. To post comments, you must be a registered user on toledoblade.com. To find out more, please visit the FAQ.