MAJOR donors to the Toledo Museum of Art celebrated the Polishing the Gem campaign that raised $43 million with a formal gala at the museum. A program and champagne toast were in the Great Gallery with campaign chairman Deke Welles. Honorary campaign co-chairmen were Georgia Welles, Pat and Robin Stranahan, and the late Bill and Molly Boeschenstein. The campaign committee co-chairmen were Betsy Brady and Jim Hoffman, with the assistance of board chairman Cynthia Thompson and Sara Jane DeHoff.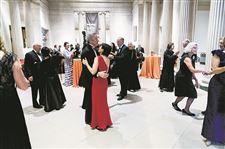 Toledo Museum of Art board member Susan Palmer and her husband Tom Palmer take to the dance floor with other attendees during the Toledo Museum of Art's formal celebration of The Polishing the Gem campaign that raised $43 million.
A big announcement was that the director's title has changed to the Edward Drummond and Florence Scott Libbey director, and Brian Kennedy is the first to have the honorary title.
And since it was Veterans Day, veterans who were in attendance were recognized.
The Peristyle was the setting for the elegant and artfully displayed dinner, which included wines from France and Austria, a pureed concoction representing glass and jewelry, a giant lamb meatball depicting a pendant, halibut decorated to represent a brooch, and Moussaieff Cake, named in honor of the exquisite Moussaieff Red Diamond.
Dancing followed in the Libbey Court.
Among the nearly 300 celebrants were George and Kathy Jones, Michael and Carlotta Boeschenstein, David and Katherine O'Connell, Mike and Carol Anderson, Susan and Tom Palmer, Jay and Trina Secor, John Hadley, Tony and Debbie Knight, Carol Bentley, Steve and Julie Taylor, Randy and Barb Oostra, Harley and Stacey Kripke, Paula and Bill Fall, Mary and John Fedderke, Walt and Lois Churchill, Billie Johnson, Joe and Judith Conda and Susan Conda, Elizabeth Emmert and John Henzler, Christy and Spencer Stone, Dr. Gregor and Helen Emmert, Mary Galvin, Karen Merrels, Ryan and Brienne Laskey, Mark and Barb Dangler, Joe and Annette Napoli, Pat and MaryLouise Bowe, Susan and Frazier Reams, Lynn and Frank Jacobs, Don and Barb Rettig, and Brook Simonds.
■
THE Toledo Club presented its annual Armed Services Recognition and Appreciation Dinner on Veterans Day. A bugle mess call by Army Sgt. Jeff Worthen beckoned guests from the reception to the dining room, where Lt. Haraz N. Ghanbari, United States Navy Reserve, gave the invocation.
David Quinn welcomed everyone, then all stood for the presentation of the colors by the Lucas County Sheriff's Office Color Guard accompanied by their Bag Pipers and Drums. The singing of the national anthem with Candice Coleman followed.
Lieutenant Ghanbari explained that an empty table setting was in honor of prisoners of war and those missing in action.
Special guests were Air Force Maj. Daniel Etue and his wife Natalie, formerly of Toledo. They flew in from Washington, where he works for the Pentagon. He is Peter Ujvagi's nephew.
Military guests also included representatives of the five United States military branches including the Army, the Marines, the Navy, the Coast Guard, and the Air Force, plus two gold star wives.
A tasty surf and turf dinner was enhanced with music by the Secor Road Municipal Brass Ensemble, directed by Sgt. Elliott Nickeson, Army National Guard.
Sponsors included The Blade, Hylant, Ed Schmidt/Perrysburg Auto Mall, Theresa Carroll, TTL Associates, Taylor Automotive Family, Mike Hensien and Cindy Holmes, Yark Automotive Group, Vin Devers Autohaus of Sylvania, WTVG-TV, Channel 13, and the Appliance Center.
■
THE third annual 11/11@7 Chili Cook-Off fund-raiser for Veterans Matter presented by local Exchange Clubs at Fleetwood's raised more than $8,000. Local clubs included West Toledo, Greater Maumee Bay, Perrysburg, Fremont, Maumee, and Toledo. The Toledo-area event chairman Louise Kachmarik, a member of the Toledo and Maumee clubs, said there were about 80 Veterans Day events hosted simultaneously by Exchange Clubs throughout the country.
About 200 supporters filled the room adorned in red, white, and blue. The evening included dance performances by the Off Broadway Dance Company, music by veteran and deejay Mike Mitchell, an auction, raffles, and baked goods.
Twenty-three pots of chili, ranging from vegetarian to white chicken to more traditional recipes, were submitted by entrants competing to win the overall fan favorite. Winners were Exchange Club of Perrysburg's Big P's Prime Rib Chili (People's Choice, individual category), Brimm House at the Renaissance Hotel (People's Choice restaurant category), Veronica Mora's Chili for Veterans Matter (Judge's Choice, individual category), and Adams Street Café (Judge's Choice, restaurant category). Among the celebrity judges were Denny Schaffer of Q105.5 FM and Sarah Oehler of WTOL-TV, Channel 11.
■
THE Wow Foundation paired with H.O.O.V.E.S (Healing of Our Veterans Equine Service) for its Chili Cook-off and craft beer tasting at the Stables in Whitehouse. The Veterans Day event raised approximately $9,000, and donations are still being received, according to H.O.O.V.E.S. founder Amanda Held.
The funds go toward free workshops and retreats that facilitate healing for local veterans.
There were assorted chili recipes, raffle prizes, and live music for the 250 attendees. Beer tastings were by Maumee Bay Brewing Co., Wild Side Brewery, Brew Kettle, and Earnest Brew Works.
Emcee Fred LeFebvre of iHeartRadio announced the champions. The winners were Outlaw Attitude BBQ of Liberty Center, Ohio, (Judge's Choice) and Mail Pouch Saloon in Haskins, Ohio, (People's Choice).
Thanks go to the celebrity judges including pastry chef Susan Allan Block, wife of Allan Block, chairman of Block Communications, Inc., owner of Buckeye Broadband and The Blade; Diane Rogers of Syd and Diane's; Bruce Slusher of WTVG-TV, Channel 13, and James Salway, commander Chief master SGT at the 122nd Fighter Wing in Indiana.
Sponsors included Foundation Steel, Stirring Creations, Pepperoni Tony's, Buckeye Broadband, Waterford Bank, Horizon Health, Guardian Angels, Mail Pouch Saloon, Jensen Jewelers, BAZ Group, Serendipity Photography, Heidelberg Distributing Co., Simonton's Lake Erie Bass Fishing Guide Service, and others.
Barbara Hendel is The Blade's Society Editor. Contact her at bhendel@theblade.com or call 419-724-6124.
Guidelines: Please keep your comments smart and civil. Don't attack other readers personally, and keep your language decent. Comments that violate these standards, or our privacy statement or visitor's agreement, are subject to being removed and commenters are subject to being banned. To post comments, you must be a registered user on toledoblade.com. To find out more, please visit the FAQ.