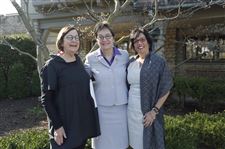 Sara Jane DeHoff, left, Congressman Marcy Kaptur, and Rita Mansour at the Ladies' Cocktails and Conversation on April 30, 2018.
The Blade/Amy E. Voigt
Enlarge | Buy This Image
LADIES Cocktails and Conversation to honor congressman Marcy Kaptur was in the riverfront home of Sara Jane DeHoff with co-host Rita Mansour.
Miss Kaptur is the longest-serving woman in the history of the U.S. House of Representatives and the second-longest serving member on the House Appropriations Committee.
"You are living the change," she said to the ladies. "It's been a revolution for women."
She said because she was female, she couldn't join the Air Force, attend Notre Dame, or work for the the FBI. How things have changed.
CARTER and Joan Bayer opened their Ottawa Hills home in support of Cherry Street Mission Ministries. Steering committee members were recognized for raising money to help lift people out of poverty.
THE Woodward High School Alumni Hall of Fame induction ceremony and dinner at Inverness Club raised more than $18,000 for scholarships.
Emcee Glynis Kolling, an alumnus and Hall of Fame member, welcomed everyone. The Hall of Fame honors graduates, staff, and friends for their contributions to Woodward, their communities, or their professions.
The 2018 inductees, all alumni, are: James Adray, Emmett Beavers, Diane Vizneau-Churdar (posthumous), Edwardo Jaramillo, James McGill, and Edna Robertson.
Mr. Adray of Adray and Grna law firm is a founder of the Islamic Center of Greater Toledo. He was featured in the documentary Indus River: The Journey of a Lifetime and Islamic Toledo, produced by WGTE. He has contributed a chapter in the Arab Americans In Toledo book. He has also served on city of Perrysburg's planning board, Boys Scouts of America, and Metro Toledo Baseball Umpires Association.
Mr. Beavers, a U.S. Marine Corps veteran, was on the Anne Grady Center board, helped found the Spina Bifida Association, and is a Metroparks Toledo volunteer. He has assisted with the Old Newsboys Goodfellows Association's annual charity paper sale since he was a student. He also helped form the first HMO in the Toledo area.
Ms. Vizneau-Churdar was a tireless volunteer and fund-raiser for the Toledo Symphony League, the Toledo Opera Guild, the Toledo Museum of Art Ambassadors, the Toledo Ability Center, and many more. She died in 2009.
Mr. Jaramillo works for WTVG-TV, Channel 13, and each year donates a vacation week to help at Woodward's band camp. Toledo Public Schools awarded him the Silver Slate Award volunteer of the year award.
Mr. McGill, an educator and coach for 35 years in Toledo Public Schools, has been honored with multiple awards including Ohio High School Athletic Association coach of the year and National Federation of High Schools national coach of the year.
Ms.Robertson has been in the education field for more than 40 years has been an active community volunteer. She has also been an advocate for the Toledo Public Schools levies, YWCA, and the United Negro College Fund.
Nine student scholarship finalists were also honored: Esperanza Barnosky, Richard Dixon, Crystanika Gudger, Angel Holmes, Alejandra Jimenez, Rayanne Leake, Letzy Mandujano, Luis Mendez-Guerrero, and Corvon Williams.
THE EAST Toledo Family Center's annual gala, It's A Mad Mad Plaid World, was presented by Mercy Health St. Charles Hospital at St. Michael's Hall. The 250 guests dined on a tasty dinner, shopped the auctions, and vied for raffle prizes. Honorary chairmen were Dick and Sandy Fisher, who have been event chairmen for 21 years.
The event raised $32,000.
The Distinguished Citizen award went to Toni Moore a community activist, and Scott Williams, former family center board president. The Richard Fisher Educators of the Year honors went to Joan Curran, Kevin Dalton and Nan Zawisza.
Barbara Hendel is The Blade's society editor. Contact her at bhendel@theblade.com or call 419-724-6124.
Guidelines: Please keep your comments smart and civil. Don't attack other readers personally, and keep your language decent. Comments that violate these standards, or our privacy statement or visitor's agreement, are subject to being removed and commenters are subject to being banned. To post comments, you must be a registered user on toledoblade.com. To find out more, please visit the FAQ.