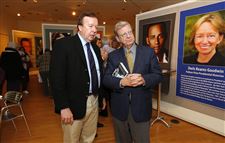 Author Jeff Greenfield, left, speaks with Clyde Scoles, director of the Toledo-Lucas County Public Library, at Authors! Authors! at the Main Library downtown.
THE BLADE/ANDY MORRISON
Enlarge | Buy This Image
Calling Ohio a Brigadoon that rises from the mist every four years in the fall, longtime political analyst Jeff Greenfield entertained and provoked a sold-out audience Thursday night in Toledo.
The Buckeye state, he noted, had been known as the mother of presidents (he characterized its seven presidents, from 1840 to 1920, as ranging from scandalous to corrupt), but it now could be known as the midwife of presidents. Only two Democrats have taken the White House without winning Ohio: Franklin D. Roosevelt and John F. Kennedy.
Mr. Greenfield, 70, addressed about 275 people in the Main Library's McMaster Center at Authors! Authors! co-sponsored event by The Blade and the Toledo-Lucas County Public Library. He discussed his new book, If Kennedy Lived (The First and Second Terms of President John F. Kennedy: An Alternate History). Given its premise that JFK survived the Dallas assassination and finished eight years in office, Mr. Greenfield explores how the political landscape might have been different.
A fan of alternate history and a believer in individuals being mightily affected by small twists of fate, he said he grounded the book in plausibility, as he did another book two years ago, Then Everything Changed, and an article about how life could be different had Al Gore won the 2000 presidential election instead of George W. Bush.
Pondering what might have happened helps clarify what did, he said. Had JFK lived, his vice president, Lyndon B. Johnson, might have been forced to resign because of two Congressional inquiries under way in 1963 about whether he'd taken kickbacks over long and lucrative career.
It posits that JFK would have eased the U.S. military out of Vietnam without appearing soft on communism, but his second term would have been haunted by his extramarital affairs.
Asked how he thinks history will perceive President Obama, Mr. Greenfield said it's likely to hinge on whether the Affordable Care Act. If it doesn't succeed, he may be remembered as simply being the first African-American president.
Authors! Authors! continues with British novelist Zadie Smith on March 5, military historian Rick Atkinson May 1, and actor Henry Winkler, who has cowritten 12 children's novels based on his struggles with dyslexia, May 14. Tickets are available at library branches.
Contact Tahree Lane at: tlane@theblade.com or 419-724-6075.
Guidelines: Please keep your comments smart and civil. Don't attack other readers personally, and keep your language decent. Comments that violate these standards, or our privacy statement or visitor's agreement, are subject to being removed and commenters are subject to being banned. To post comments, you must be a registered user on toledoblade.com. To find out more, please visit the FAQ.