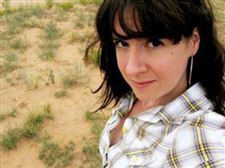 Author Tracie McMillan will visit Monroe to discuss her 2012 New York Times best-selling book.
MONROE — When Tracie McMillan spent two months working undercover in California as a field laborer, two more at Applebee's, then two more in Walmart's produce department, she wanted to learn more about America's food industry. She wanted to spark conversation.
At 7 p.m. Wednesday that discussion will hit Monroe.
"I want to shape and frame the debate," said the native of Holly, Mich. "I'm incredibly lucky to see that conversation is one others want to have."
The American Way of Eating: Undercover at Walmart, Applebee's, Farm Fields and the Dinner Table (Scribner, $14.72) was selected by a Monroe community panel of nearly 20 people. One reason the group picked it was because food is an issue that affects everyone, said Cheryl Johnston, co-chair of the committee and a Monroe County Community College instructor.
"We're an agriculture county, we grow a lot of food here," Ms. Johnston said. "There is a big movement to eat local and go from farm to table."
Ms. McMillan will be at MCCC to lead a book talk and discussion Wednesday. The free event will be at the La-Z-Boy Center's Meyer Theater. Ms. Johnston is expecting more than 300 people to discuss the 2012 New York Times best-seller.
Her students related to Ms. McMillan's undercover work at Applebee's and Walmart, but not the California fields.
"Many of them work fast food and retail, but they were most surprised with the hardship for workers in California," Ms. Johnston said. "It is difficult work in an extremely difficult climate, and they're poorly paid."
Ms. McMillan went undercover and was paid less than minimum wage exhausting herself in the fields. Injuries made her quit. While the food we eat is a large part of the book, Ms. McMillan also crossed labor issues while working in California.
"There is sort of a narrative I had where immigrants come to the new country and don't know the labor laws," she said. "They are vulnerable and being taken advantage of."
The discussion also will cover food sources.
"It's easy not to pay attention and think this is not McDonald's, it's much nicer," Ms. McMillan said about Applebee's. "But it can be pretty close. There is not much cooking."
The MCCC reading and English teacher thinks the book has made an impact on her students.
"They are more aware about what they are going to eat," Ms. Johnston said. "They are thinking and talking about these issues. That is why you have a community read."
Guidelines: Please keep your comments smart and civil. Don't attack other readers personally, and keep your language decent. Comments that violate these standards, or our privacy statement or visitor's agreement, are subject to being removed and commenters are subject to being banned. To post comments, you must be a registered user on toledoblade.com. To find out more, please visit the FAQ.