COLUMBUS — One of Ohio State's prized recruits from a season ago remains away from the team indefinitely because a family issue, but Buckeyes coach Urban Meyer said he remains enrolled and is expected to return.
Trevon Grimes, a highly recruited receiver from Florida, returned home in October to be with an ill family member.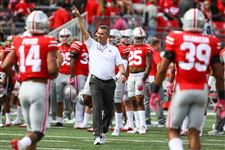 Ohio State head coach Urban Meyer before a game against Maryland earlier this season. Meyer said Wednesday that he thinks receiver Trevon Grimes will return to the team.
BLADE/JEREMY WADSWORTH Enlarge
Meyer typically meets with the media on Mondays during football season, but Ohio State canceled his Oct. 9 press conference because Meyer was out of town to be with a current player whose family member had a serious health issue.
As of Wednesday evening, Grimes still had not returned to the team.
"He's still there," Meyer said Wednesday. "He's finishing up his classes online. It's a personal situation with him."
Asked if Grimes will return to the team at some point, Meyer said, "I think so."
The 6-foot-4, 202-pound Grimes remains listed on Ohio State's current roster.
Grimes played in two games this season, and caught 3 passes for 20 yards before taking the indefinite leave of absence.
As a recruit, Grimes picked Ohio State against offers from Alabama, Clemson, and Georgia, among others.
PROBLEMATIC PATTERN: In six of Ohio State's past seven losses, the Buckeyes' quarterback carried the ball more than the team's leading rusher, which again was the case in Ohio State's loss at Iowa. J.T. Barrett's 14 attempts outpaced J.K. Dobbins and Mike Weber combined.
Asked why that is, Meyer pointed to two things: Option plays where the defense takes away the running back, and scrambling because teams pass more frequently when trailing.
"A lot of times when you're struggling that's your kind of get-out of-jail-free card," Meyer said of the quarterback running.
In the future, Meyer said Ohio State would prefer its quarterback not run as much as Barrett did last week.
"You don't want to have that many," Meyer said. "You want eight to 10 to 12 [carries]."
IN THE FAMILY: There was big news on the recruiting front in the Meyer household, but it had nothing to do with football. Meyer's youngest child, Nate, signed to play baseball at the University of Cincinnati, where his father played football in the 1980s. A senior at Bishop Watterson High School, Nate Meyer officially signed his letter of intent Wednesday.
"It was great," Meyer said. "That's our third one. Nate's mom did a really good job."
SPREAD OFFENSE: Since Meyer came to Ohio State before the 2012 season, the favorite in the OSU-Michigan State game has yet to cover the spread. In four of the five games, the favorite lost outright. For this week's game, the line opened with Ohio State as a 17-point favorite and has dropped to 15½.
Spartans coach Mark Dantonio smiled when informed that his team was a 16-point underdog Tuesday.
"I didn't know the spread," Dantonio said. "But there you go. We'll just have to roll the dice."
Contact Nicholas Piotrowicz at: npiotrowicz@theblade.com, 419-724-6110, or on Twitter @NickPiotrowicz.
Guidelines: Please keep your comments smart and civil. Don't attack other readers personally, and keep your language decent. Comments that violate these standards, or our privacy statement or visitor's agreement, are subject to being removed and commenters are subject to being banned. To post comments, you must be a registered user on toledoblade.com. To find out more, please visit the FAQ.