For a brief moment after the final seconds ticked off the clock and he was freshly drenched in a Gatorade shower, University of Toledo football coach Jason Candle allowed himself to relax.
He took a moment to soak in all that was happening around him and all that it meant historically. His Toledo team had just dominated Western Michigan 37-10 on Friday afternoon at the Glass Bowl and earned a trip to the Mid-American Conference championship for the first time since 2004.
The win, coupled with a Northern Illinois loss to Central Michigan on Friday, means the Rockets are outright MAC West Division champions for the first time since 1998.
VIDEO: Toledo-Western Michigan
RELATED CONTENT: Briggs — Rockets make believers of their "starving" city ■ Rocket defense stingy in win over WMU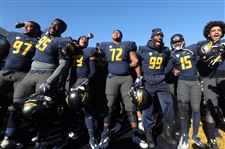 The University of Toledo football team celebrates defeating Western Michigan 37-10 on Friday at the Glass Bowl and earned a Mid-American Conference West title and a trip to the MAC championship game for the first time since 2004.
THE BLADE/AMY E. VOIGT
Enlarge | Buy This Image
"There is a little bit of validation for your work and your efforts," Candle said. "A little bit. But, there is a lot left out there for us to still play for. I'm just really happy for the seniors.
"For us to send our seniors out here and their last memory of the Glass Bowl is that they went undefeated here this year, and they beat Western Michigan, who has taken this from us the last two years, and now they get a chance to go play in Detroit. If that is the last memory they will have after we had a pretty good locker room celebration, then that is pretty good."
Toledo (10-2, 7-1 MAC) turned in a complete performance, led offensively by senior quarterback Logan Woodside's 300 passing yards and two touchdowns, and Terry Swanson's 94 yards rushing and a touchdown. Redshirt freshman Shakif Seymour added 54 rushing yards and a 1-yard score.
During the game, Woodside became the first player in Toledo history to surpass the 10,000-yard passing mark.
"It's not just me, it's the whole offense," Woodside said. "Our offensive line has stepped up tremendously throughout this whole year. Our running game has been really, really good. That has just made it a lot easier on me, and I just try to get the ball to the playmakers and limit the mistakes out there."
An efficient pass offense and a solid run game were complemented by an outstanding defensive effort in limiting the MAC's leading rusher Jarvion Franklin to just 52 yards on 15 carries. The Rockets stacked the box and dared Western Michigan's freshman quarterback, Reece Goddard, to beat them over the top.
The University of Toledo football team celebrates defeating Western Michigan 37-10 on Friday at the Glass Bowl and earned a Mid-American Conference West title and a trip to the MAC championship game for the first time since 2004.
THE BLADE/AMY E. VOIGT
Enlarge | Buy This Image
Goddard managed to complete just 13 of 29 passes for 180 yards with one touchdown and two interceptions, one by Kahlil Robinson and one by Ka'dar Hollman.
"We've preached turnovers and flying to the football," UT senior cornerback Trevon Mathis said. "I'm just proud of our guys. We are really stepping up to the plate."
Toledo scored 14 points both in the second and third quarters and scored on its first four possessions of the second half before running out the clock on its final possession.
Jameson Vest kicked field goals from 33, 40, and 35 yards. Swanson scored on a 13-yard run, Seymour bowled in from 1-yard out, and Woodside found Danzel McKinley-Lewis on a 20-yard touchdown strike and added another score on a 13-yard pass to Diontae Johnson.
Western Michigan never led and scored on a Josh Grant field goal from 24 yards out and a third-quarter, 26-yard touchdown pass from Goddard to Tyron Arnett.
Toledo outgained Western Michigan 455-275.
The Rockets earned a spot in the MAC championship game against MAC East champion Akron on Dec. 2 at Ford Field in Detroit.
"It's a great feeling, and we are right on pace," Mathis said. "We still have one more so we can't get too high. We are going to celebrate this victory today, and then we have to get right back to it. We still have unfinished business. It was great, especially with it being senior night. Hats off to the seniors. We've put in a lot of work the past four or five years. And hats off to the younger guys, too, who contributed to this win. It was just a great win."
Toledo was able to erase some past November heartache that had caused what at times had been a perplexing conference title game drought based on how consistent UT has been throughout the past decade-plus.
But that is all in the past now as Toledo can look ahead to the matchup with the Zips.
"It's a once-in-a-lifetime feeling," Woodside said. "Since 2004 we haven't been there, but we aren't satisfied. It was a great win today, and we are going to cherish it today, and then get right back to work tomorrow. I think [the MAC title game] will be everything we dreamed of and imagined, especially since I've been here. We expect a huge crowd from Toledo to come up and support us. It's going to be a really great atmosphere, and we are excited to get up there and play."
Contact Brian Buckey at bbuckey@theblade.com, 419-724-6110, or on Twitter @BrianBuckey.
Guidelines: Please keep your comments smart and civil. Don't attack other readers personally, and keep your language decent. Comments that violate these standards, or our privacy statement or visitor's agreement, are subject to being removed and commenters are subject to being banned. To post comments, you must be a registered user on toledoblade.com. To find out more, please visit the FAQ.