ANN ARBOR — What world do we live in?
There's a December signing period; recruits can email their national letters of intent, eschewing the time-honored fax machine; and Michigan signed a player from Germany.
The Wolverines welcomed 16 new players into the fold Wednesday during college football's first-ever early signing period, which ends on Friday. Michigan began the day with 18 verbal commits, and by nightfall, it had 19 members of the class of 2018.
"The thing I like best is these are guys who really wanted to be at Michigan," coach Jim Harbaugh said. "They appreciate what Michigan has to offer and they can understand it both as a football powerhouse and an academic powerhouse. There's nobody that thinks they're doing us the favor. It's equal. That's what I like the most."
VIDEO: Jim Harbaugh discusses Michigan's recruiting class
Michigan's class currently ranks 11th in the country, according to ESPN, and third in the Big Ten, behind Ohio State (second) and Penn State (fourth). However, those numbers are certain to change between now and Feb. 7, the traditional signing day. The Wolverines could sign as many as five more players depending on the amount of roster turnover.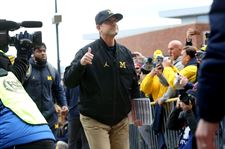 Michigan head coach Jim Harbaugh signed 16 recruits on Wednesday with the Wolverines expected to add more in the February signing period.
BLADE PHOTO Enlarge
"Overall, I think most Michigan fans will see Wednesday's signing class as a bit of a disappointment, but it's the Big Ten's third-best group," said Jeremy Birmingham, who covers Midwest recruiting for The Athletic. "With six weeks to work on a few more big names, it's still an incomplete class right now. There are a few big names on the top of the list and a host of developmental types that have very high ceilings but haven't earned the national accolades that lead to lofty star rankings.
"There are future stars, in my opinion, in quarterback Joe Milton, defensive lineman Aidan Hutchinson, and I'm a major fan of Atlanta's Myles Sims."
German defensive end Julius Welschof, who committed to Georgia Tech in October, flipped to Michigan, saying on Twitter, "It was a hard decision. I stayed up last night until 3 in the morning. I was thinking about every scenario, what's best for me."
The 6-foot-6, 253-pound Welschof's goal is to make it to the NFL, a path he believes can be achieved at Michigan.
"Raw talent, motivated," Harbaugh said. "If you broke down football to me in the simplest form, it would be guys who what they're coached to do as hard as they're capable of doing it. I think that'll be a great vision for him. I believe we'll be able to mold him and coach him into a tremendous football player."
It was mostly a quiet day inside Schembechler Hall. Michigan expected to sign all but two of their previously committed recruits, and that's essentially how the stress-free afternoon ended. The lone holdouts were four-star linebacker Otis Reese, three-star quarterback Kevin Doyle, and two-star wide receiver Ronnie Bell, who didn't even receive an offer from UM until Monday. He was previously committed to Missouri State on a basketball scholarship.
Doyle, the Gatorade Player of the Year in Washington, D.C., and Bell are considered firm commitments who will sign in February. Bell signed his financial-aid agreement but must wait to sign his national letter of intent because he already signed one for Missouri State.
The biggest mystery Wednesday and beyond is Reese, who committed to Michigan in June, 2016, but hasn't been on campus in more than a year. In the 18 months since his pledge, his home state Georgia Bulldogs have put on a full-court press. Reese took three unofficial visits to Georgia this season, and it also doesn't hurt that the Bulldogs are in the College Football Playoff.
Reese, the 42nd-ranked player in the country, is Michigan's top-rated commit and a former high school teammate of UM freshman Aubrey Solomon.
"The Bulldogs appear to be in a position to flip Reese, but according to sources close to the Bulldogs, questions remain in Athens as to whether they'll have room for the talented linebacker prospect and top-100 player," Birmingham said. "It sure seems like Reese is looking for reasons not to go to Michigan, a place he's not visited since November — of 2016."
Shea Patterson's transfer into the program from Mississippi didn't appear to scare off either of Michigan's two quarterback recruits. Joe Milton, a four-star prospect from Orlando, signed Wednesday and will enroll in January. Ironically, Ole Miss is one of Doyle's strongest suitors.
Harbaugh took a similar approach with the 2018 class as he has with others at Michigan: identifying under-the-radar prospects and zeroing in on them. Signing with the Wolverines on Wednesday were 10 three-star prospects.
"I like the production," Harbaugh said. "Guys who are record-setters, we've got state champions and productive players who are also productive in the classroom. They're coming here to get a degree, and their parents expect them to get a very good degree. They're not going to college to major in eligibility. They're going to major in a legitimate discipline. There's going to be rigor here, and they welcome that."
Michigan currently has zero five-star recruits, which hasn't happened since Harbaugh hastily put together in first class in 2015. Stockpiling talent in recent seasons has given Michigan the opportunity to take chances this year.
"There's no doubt that Michigan's 2018 class has a lot of less recruited players in it compared to both expectations and Jim Harbaugh's previous classes," Birmingham said. "That said, Jim Harbaugh's staff is very strong and is among the country's best in talent development. They see bodies, frames, potential, and develop those things into NFL talents. The track record is indisputable.
"However, what is also indisputable is that recruiting rankings do matter, and in general, you'd expect a program like Michigan to be able to make waves without as many reaches as we see in the current class."
The entire day had an air of intrigue because an early signing period had never been attempted. It was mostly favored by the 'have-nots,' who constantly deal with bigger programs picking off their recruits as the February signing day approached. While parity was cited, so too was alleviating 17- and 18-year-old kids from a barrage of phone calls and text messages from coaches.
Nick Saban and Urban Meyer were against the proposal; Harbaugh was in favor.
"I was very excited last night," Harbaugh said. "I could hardly sleep, the way I am the night before signing day in February. Experienced the joy from the players and their families. Now we have two of those days. We managed [our time] well. It was maybe a little busier than it normally would be. You love doing it, though, so it doesn't seem like work."
Contact Kyle Rowland at krowland@theblade.com, 419-724-6110 or on Twitter @KyleRowland.
Guidelines: Please keep your comments smart and civil. Don't attack other readers personally, and keep your language decent. Comments that violate these standards, or our privacy statement or visitor's agreement, are subject to being removed and commenters are subject to being banned. To post comments, you must be a registered user on toledoblade.com. To find out more, please visit the FAQ.