BOWLING GREEN – The Bowling Green State University hockey team hoped to jump-start the second half of its season with a home game against nationally ranked Western Michigan Thursday.
Instead the Falcons took a first-period pratfall, allowing four goals in the first 14 minutes of a 5-2 loss to the Broncos at the Slater Family Ice Arena.
"We couldn't stop their momentum," BG coach Chris Bergeron said. "We looked as if we had been off for 14 days, and they looked to be in midseason form. …
"Sometimes you play a certain way and your opponent can't expose you for it. But Western Michigan is not one of those opponents – they will expose you."
The Broncos, ranked No. 12 in the country, scored twice on the power-play and twice at even strength in that 14-minute flurry to improve to 11-8-1 on the season and sweep a home-and-home series.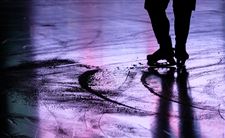 A hockey player stands during the National Anthem before Bowling Green State University plays Western Michigan.
THE BLADE/JEREMY WADSWORTH
Enlarge | Buy This Image
The Falcons (8-6-6) were beaten 3-1 at Western Michigan on Oct. 10 in the season opener for both schools.
"Coach talked about getting off to a good start, and obviously we didn't do that," said BG's Alec Rauhauser, who scored one of the team's two goals. "They can skate, and you just can't play like that against a nationally ranked team."
The problems began almost immediately for the Falcons as Cameron Wright was hit with a tripping penalty just 56 seconds in the contest, and teammate Jacob Dalton was whistled for holding less than a minute later.
That resulted in a 5-on-3 power-play goal by WMU's Hugh McGing at the 1:48 mark of the opening period.
"The first penalty was a lazy tripping penalty on Wright, and the second was a lazy hooking call on Dalton," Bergeron said. "So we put a really strong power play on a 5-on-3 in the first minute.
"You talk about handing them an opportunity. And they 100 percent took advantage of it.
"Then the second goal was a bad goal, and we couldn't stop their momentum."
Western Michigan's Cam Lee scored at the 9:22 mark, which touched off a three-goal flurry which included a goal by Austin Rueschhoff at 13:01 and a power-play tally by Wade Allison at 14:08.
"We knew there was going to be some rust," Rauhauser said. "But we didn't think there would be that much rust, and we didn't want to get into a hole like that. …
"We have to play better against a team whose forwards are as good as theirs are. If you make a mistake, the puck's going to be in the back of the net."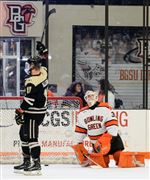 Bowling Green State University goalie Ryan Bednard (35) reacts to giving up a goal to Western Michigan right wing Wade Allison (17) during Thursday's game.
THE BLADE/JEREMY WADSWORTH
Enlarge | Buy This Image
After the fourth goal, Ryan Bednard was replaced in net by Eric Dop, who saved all but one of the 15 shots he faced.
"Ryan was on an island, but I don't think he was playing very well," Bergeron said. "Four goals on eight shots isn't good enough, although he had no chance [on the third goal].
"To me, it was an obvious decision."
The Falcons upped their level of play in the second period and Rauhauser scored on the power play at 1:09. But that far too little and way too late; WMU's Reuschhoff netted a power-play goal at 3:24 of the final period, which BG's Mitch McLain answered with a power-play goal of his own with just 35.5 seconds left.
The result gives Bowling Green a 1-4-1 record in non-conference play this season, which greatly hinders any chance at an at-large bid to the NCAA Tournament.
"If we look at the game at Western, the two games at Miami, and this game – we're not an at-large team," Bergeron admitted. "The results say that we're not. We had claw and scrap for a tie against Miami the second night, and the first night we got outclassed.
"The game at Western was probably the best of the four, and we still found a way to lose. … The measuring stick says we're not an at-large team."
The Falcons will play their final non-conference games at the Great Lakes Invitational held at Little Caesars Arena on Jan. 1-2. BG will face Michigan on New Year's Day in a 6 p.m. start, then play against either Michigan State or Michigan Tech the following day.
Contact John Wagner at jwagner@theblade.com, 419-724-6481, or on Twitter @jwagnerblade.
Guidelines: Please keep your comments smart and civil. Don't attack other readers personally, and keep your language decent. Comments that violate these standards, or our privacy statement or visitor's agreement, are subject to being removed and commenters are subject to being banned. To post comments, you must be a registered user on toledoblade.com. To find out more, please visit the FAQ.