COLUMBUS — Next week, Denzel Ward is a near certainty to be the sixth Ohio State defensive back in four years to be selected in the first round of the NFL draft.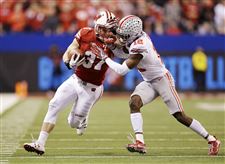 Denzel Ward, right, is a projected top-10 pick in next week's NFL draft.
ASSOCIATED PRESS Enlarge
While Ohio State has lost top-tier players in the secondary almost every season, the Buckeyes have not seen much of a drop in production. Ohio State has been among the country's top 15 teams in passing efficiency defense four years in a row, and in the top 15 of scoring defense three consecutive times.
Ohio State has kept the standard largely because of its recruiting, during which it is especially careful about the defensive backs it pursues.
"The thing we tell recruits is that at Ohio State, we don't have to make compromises," safeties coach and defensive coordinator Alex Grinch said.
Grinch estimated 95 percent of football programs make some sort of concession when recruiting players, whether in terms of size, athleticism, or academics. He said Ohio State has the luxury of recruiting players who fit all of its criteria, and the program is "extremely" picky when recruiting prospective players in the secondary.
"We're quite blunt in talking to families and kids that when you're being recruited at Ohio State, understand you fit all those categories. If you didn't, we'll find someone that does," Grinch said. "The pool of guys shrinks when you do those things, but it obviously brings in the right type of kids to have success at an elite university and an elite football program."
Ward, who is projected to be a top-10 pick, likely will join the company of Bradley Roby (2014), Eli Apple (2016), and the trio of Marshon Lattimore, Malik Hooker, and Gareon Conley (2017) as Ohio State defensive backs to go in the first round of late.
The Buckeyes have made cornerbacks and safeties a priority in recruiting, and done well as a result.
Five-star safety Tyreke Johnson was the highest-rated player in the Buckeyes' 2018 class, in which the team signed four defensive backs. Ohio State signed six defensive backs in its 2017 class, and as many of three of them — cornerbacks Kendall Sheffield and Jeffrey Okudah as well as safety Isaiah Pryor — could start this season.
The Buckeyes' coaches will be back on the road recruiting Thursday, and defensive coordinator Greg Schiano had one task fill Wednesday morning: Watching just a little bit more film on prospective cornerbacks.
Because there are not many high schoolers in a given year capable of playing the amount of man coverage Ohio State plays, Schiano said the program seriously recruits only a handful of players.
"We're looking for longer, athletic, fast guys, so that really dwindles [the pool], and those are just physical characteristics," Schiano said. "Then we want good people, great workers, good students, and all that stuff, so just picture how that just whittles down the pool as you go."
Cornerbacks coach Taver Johnson said Ohio State, naturally, is worried about losing a first-round talent like Ward.
Part of OSU's method on the recruiting trail, and how it keeps surviving similar departures, is by being honest about how much the program asks of its cornerbacks.
"When we go out recruiting guys, we let them know up front that whatever they've done, whatever it is they think they went through, some tough times — multiply it by 15," Johnson said. "It only takes even half a play for it all to fall apart."
Almost every program is pickiest recruiting quarterbacks, which is also true of Ohio State.
But at OSU, Schiano the secondary often is the next-highest priority.
"I wouldn't say it's quite to that [quarterback] level, but I do think it's probably second," Schiano said. "I think it's a very hard position to find for the things we look for."
Contact Nicholas Piotrowicz at: npiotrowicz@theblade.com, 419-724-6110, or on Twitter @NickPiotrowicz.
Guidelines: Please keep your comments smart and civil. Don't attack other readers personally, and keep your language decent. Comments that violate these standards, or our privacy statement or visitor's agreement, are subject to being removed and commenters are subject to being banned. To post comments, you must be a registered user on toledoblade.com. To find out more, please visit the FAQ.